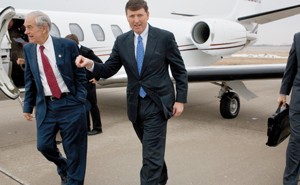 The Iowa Caucus Kingmaker
Bob Vander Plaats offers GOP candidates a choice: join his crusade against gay marriage or lose the primary.
What Happened to Roy Moore's Ten Commandments Monument?
Tips on the current status of "Roy's Rock" are welcome
Roy Moore Runs for President
Will the Ten Commandments monument run, too?
What Meltdown? Nuclear Energy Rolls Along
The Fukushima disaster hasn't changed Washington's appetite for developing nuclear power
Deficit Hawks Target the Grateful Dead
Sen. Tom Coburn sets his sights on the archive at UC Santa Cruz
Rand Paul for President?
The tea party senator tests the waters in South Carolina
The World's First Aerial Bombing: Libya, 100 Years Ago
The bombs were dropped by hand--and hit a hospital
Netflix Bets on a Political Thriller
But can it top the BBC's epic miniseries "House of Cards"?
Ronald Reagan Loved Unions and Collective Bargaining
Video of Reagan crying out, "Where free unions and collective bargaining are forbidden, freedom is lost!"
White House Standing Firm on Nuclear Energy
Obama hasn't reversed his support for nuclear expansion—yet
The Right-Wing War Against Sarah Palin
It's heating up. But will it have the desired effect?
The Missing GOP Presidential Field and Its Costs
Forced to agree with policies like Walkers anti-bargaining bill and Arizona's immigration law, Republican White House lose out
Ron Paul Was Right: Will GOP Voters Care?
The financial crisis vindicated much of what he's spent his career arguing about. But he's still a longshot to be president.
Republicans Can't Talk About Divorce
Trump and Gingrich offer eerily similar, equally self-centered explanations
Will Trump Make a Surprise Appearance Tonight?
His plane is in Iowa—but is The Donald on it?
Iowa Blogging (UPDATE)
Prospective 2012 candidates will gather at the Faith & Freedom Coalition forum tonight