Dinosaurs Join the Boiled Frog Wars
For background on why no one should use the "like a frog in a pot of slowly warming water" metaphor…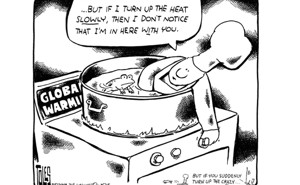 Et Tu, QZ? The Boiled-Frog Watch Returns
You don't often have a chance to use the word "decerebrated." But it applies here.
I Trust This Is Meant Ironically
Can the frog jump before the water boils?, wonders a New York Times headline about China's political scene.
The (Apparent) Return of Xi Jinping, Plus West Coast Live Update
A missing Chinese figure returns to the scene.
Labor Day Special Part Deux: 'Ooops!' in Four Acts
Tennis players, politicians, robots, and Canadians -- all gone wild.
At Last! Good News on the Boiled-Frog Front
If you drop some frog eggs into a pot of boiling water, they hop right out. But put them in a nice pool of pleasantly warm water...
I Know That PIMCO's Bill Gross Is Supposed to Be Smart And All ...
A savant uses a fresh and accurate metaphor
The Greatness of Tom Tomorrow, Chapter 514
A reminder of why pictures, and even drawings, are worth so many words
Carl Pope and the Boiled Frogs
When looking for an animal-themed metaphor, down with the boiled frogs, and up with the scorpions!
The Liberals' Equivalent of Birtherism ...
If you throw an environmentalist into a convention of Birthers, he'll storm right out. But if you gradually start whispering Birther theories...
Animals in the News Dept: Boiling Frogs, Rapping Pandas
Someone figures out the boiling frog conundrum
I Agree With the Underlying Political Point, But....
What would boiled frogs say about the "Ground Zero mosque"?
It Never Ends: The Boiling Frogs
The two latest occurrences of a fictitious but irresistible cliche
This Is Gruesome, but....
A tragic and unintended human case study of what happens if living things are plunged into a cauldron of boiling water. Do they jump right out, like the famous "boiled frog"? Unfortunately, no.
Boiled Frog Does a Surreal Meta-Backflip
A scientist tells us that it's hard to separate fact from fiction these days. How right he is!