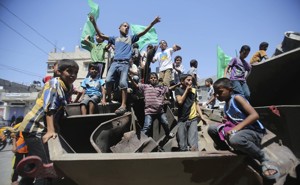 What Does Hamas Do Now?
In its war with Israel, the Palestinian group has accomplished none of its aims.
Obama at the UN on Israel-Palestine: Good Politics, Poor Diplomacy
His UN address was like so much of the U.S., Israeli, and Palestinian conduct in the peace process -- restricted by politics at home and unlikely to bring the parties together
Is Civil War in Syria Inevitable?
Why the country appears on track for the worst, and what happens when it gets there
Defusing Palestinian Statehood Bid at the UN
Palestinian leaders need a reason not to ask the United Nations for recognition in September, which would be risky for everyone involved
The Bahrain Stalemate
Neither the monarchy nor the opposition appears able to overcome the other. When will they stop fighting and start settling?