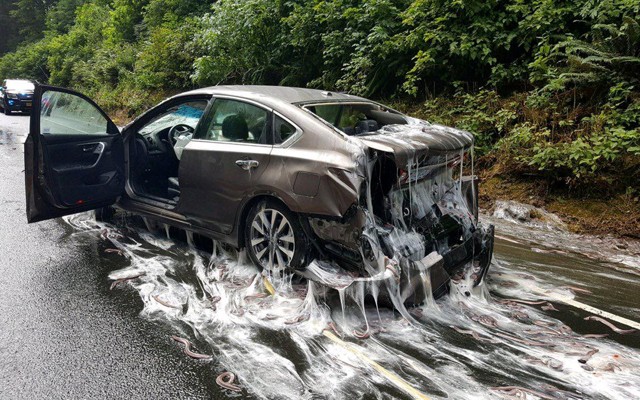 No One Is Prepared for Hagfish Slime
It expands by 10,000 times in a fraction of a second, it's 100,000 times softer than Jell-O, and it fends off sharks and Priuses alike.
Arterra / Universal Images Group / Getty

Apes Might Know That You Don't Know What They Know

The latest volley in a decades-long debate about apes' theory of mind involved one scientist dressing up as King Kong and stealing from his colleague.

Kelly Cheng Travel Photography / Getty

Has Humanity's Homeland Been Found?

A contentious new paper traces the origins of modern humans to ancient wetlands in Africa, a claim other researchers have called far-fetched.

Iain Lawrie / Getty Images

A Textbook Evolutionary Story About Moths and Bats Is Wrong

For 50 years, researchers have thought that moths evolved ears to detect the ultrasonic calls of attacking bats—but a new study shows that ears came first.

ROV KIEL 6000 Team / GEOMAR Kiel

A Hidden World of Strange Starfish-Like Creatures in the Abyss

It has only now come to light, and could be destroyed if deep-sea mining is allowed to go ahead.

Shutterstock

The Real Danger of Booze-Making Gut Bacteria

Microbes can produce so much alcohol that people become drunk—and sustain liver damage—without touching any booze.

Vicki Jauron / Babylon and Beyond Photography / ...

The Quiet Disappearance of Birds in North America

Though the continent has 3 billion fewer birds than it did in 1970, those losses are hard to glean because it's the commonest species that have been hit hardest.

Gabriella N. Baez / Reuters

How Ancient DNA Can Help Recast Colonial History

The people of pre-colonial Puerto Rico did not disappear entirely—a new study shows that the island's residents still carry bits of their DNA.

Reinhold, Sanguinetti-Scheck, Hartmann, and Brecht

The Game That Made Rats Jump for Joy

Scientists taught rats to play hide-and-seek in order to study natural animal behavior—but it was also fun, for both the researchers and the animals.

L. Sousa

The Truth About Electric Eels Has Long Been Overlooked

I'm shocked, shocked, I tell you.

Jessica Meir

An Astronaut Reared the World's Highest-Flying Birds

To understand how bar-headed geese cross the Himalayas, the astronaut Jessica Meir had to raise some herself.

Tom Shlesinger

Another Blow for the Future of Corals

Certain species of coral release their eggs and sperm with perfect synchronization. But a new study suggests their incredible timing is starting to slip.

Damir Sagolj / Reuters

An Ingenious Microscope Could Change How Quickly Disease Is Detected

By analyzing blood samples 120 times faster than a traditional microscope, Octopi can lighten the load of overworked lab technicians.

Science Photo Library

A Tissue Sample From 1966 Held Traces of Early HIV

To understand the virus's history, a team worked to reconstruct its genome from a time before anyone knew the virus existed.

Sheila Patek

One Giant Leap for Maggotkind

Even the squishy can make great bounds.

Juhari Muhade / Getty

A New Clue to How Life Originated

A long-standing mystery about early cells has a solution—and it's a rather magical one.

Kim Kyung Hoon, Reuters

Some Fish Are Still Full of Mercury, for a Worrying Reason

Emissions of mercury have declined, but levels in fish could still increase thanks to overfishing and a changing climate.

Eric Gay / AP

The Rank Hypocrisy of Trump's Ebola Tweets

Five years ago, the doctor Kent Brantly was evacuated back to the U.S. after being infected with Ebola—against the wishes of the man who is now president.

Jules Clark / Getty

Thousands of Years Ago, a Dog Gave Rise to an Immortal Entity

The story of CTVT—a contagious cancer that spreads from dog to dog—gets weirder all the time.

Kevin Langergraber / Ngogo Chimpanzee Project

A Scientist Witnessed Poachers Killing a Chimp

When Kevin Langergraber heard a scream in the rain forest, he ran to see what was happening.

Whitetherock Photo / Shutterstock

Why the Placental Microbiome Should Be a Cautionary Tale

A new study suggests that evidence for microbes found on placentas was the result of lab contamination.