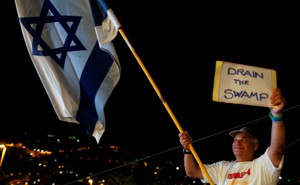 Trump Leaves Israel in the Lurch
The president's precipitous decision to withdraw U.S. troops from Syria provided many Israelis with a rude awakening.
How Not to Measure Americans' Support for Israel
It's true that the issue has become politicized. But Americans are far more divided on the Israeli-Palestinian conflict than they are on Israel itself.
What Does Trump Want From Netanyahu?
It's clear enough what the Israeli prime minister expects. But the Americans are in a position to make their own demands.