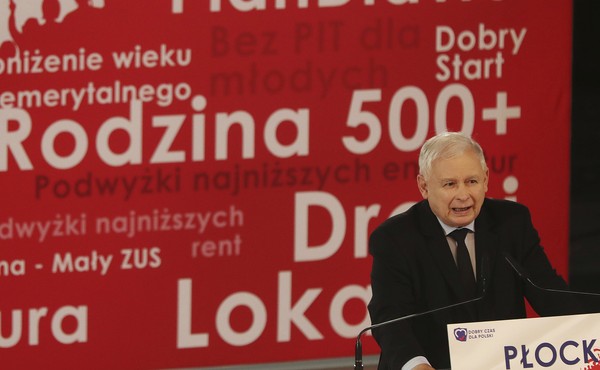 The Poland Model—Promoting 'Family Values' With Cash Handouts
The country's governing party, which just won another election, has married right-wing social policy with left-wing economic policy.
In Lebanon, a Tangle of Religious Laws Govern Life and Love
The Ottoman-era personal status laws apply differently to each of 15 religion-based groups, effectively outlaw secular marriage or divorce, and codify discrimination against women
Why Turkey Is Backsliding on Women's Rights
The ruling party's political rhetoric -- and its odd reorganization of government ministries -- has women worried that the government wants to reassign them to a more traditional role
Turkey's Many Disabled, Long Shunned by Society, Play New Role in Politics
Government failures to address the causes of disability or fix antiquated social services have left disabled Turks seemingly invisible. But a handful of organizers are pushing for change
With Reelection, Turkey's Islamist Party May Further Consolidate Power
Prime Minister Recep Tayyip Erdogan of the ruling Justice and Development Party, which has just won its third majority term, has pledged to redraft the country's constitution
Is Rape Inevitable in War?
From ancient Rome to Libya today, armed conflict has been marked by sexual violence on a mass scale. But what links the two, and can it ever be stopped?
Prominent During Revolution, Egyptian Women Vanish in New Order
Sidelined within weeks of helping lead the revolution, women face new challenges in post-Mubarak politics
The Berlusconi in Us All: Bunga Bunga's Real Meaning
Behind the name of the Prime Minister's debauched and allegedly criminal parties are the injustices of a troubled nation
'Miral': Taking the Israel-Palestine Conflict Personally
Julian Schnabel's latest film tells the story a Palestinian teenage girl, and is inspiring both praise and controversy
After Mideast Uprisings, Will the Arab League Finally Lead?
Its call for a no-fly zone over Libya could set a new precedent for protecting people over regimes
Laugh, O Revolution: Humor in the Egyptian Uprising
Protesters deployed satire, irony, and outright mockery against the government