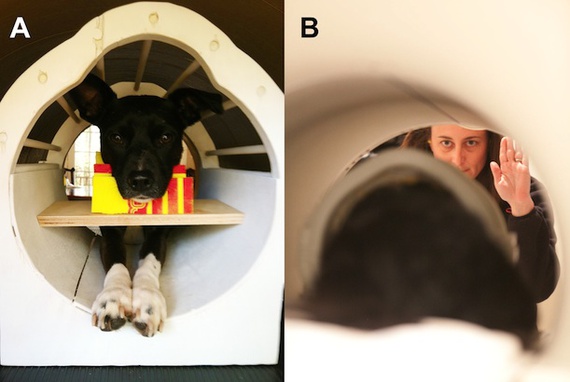 1. People are putting dogs in MRI machines to determine if they love us like we love them. But will they love robots, too?
"But [Emory University's Gregory] Berns hopes to respond with future fMRI work, which will compare brain activity in dogs being fed by automated mechanisms with that of dogs being fed by humans."
2. You can't beat this robot at rock-paper-scissors because it detects your initial hand movement and forms its own fingers into a winning configuration before you can finish.
"If you want a picture of the future, imagine a robot hand playing rock paper scissors with a human hand — forever" -- @MatthewOgle
3. AOL's dial-up Internet business generated almost $150 million in income in the last quarter.
"...more than offsetting losses in other divisions."
4. Julian Assange helped M.I.A. find words with T-E-N-T in them for a song about the plight of refugees.
"So he took my computer and sort of typed a few things, and right in front of me he downloaded, like, 4,000 words from the pool of the Internet."
5. Whole Earth Catalog founder Steward Brand shot this footage in the desert in 1971.
"The camp was centered around a beautiful wild hot spring. 70 miles to the nearest phone. They erected a dome in the desert and then battled the winds while trying to erect an inflatable structure. It was Burning Man 40 years ago."
This article available online at:
http://www.theatlantic.com/technology/archive/2013/11/5-intriguing-things/281160/