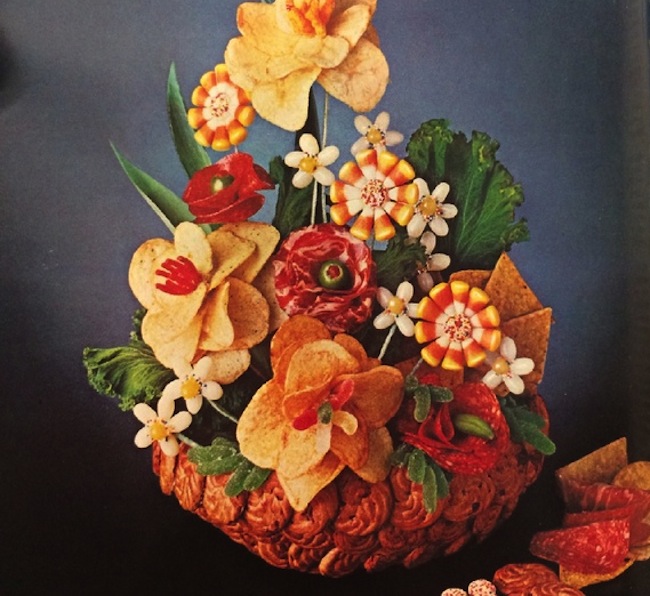 I love food technology because it's such a strange combination of things: process engineering, flavor science, and things I ate yesterday. So, every Thanksgiving, I write a bunch of stories about how we breed larger turkeys, or why potato flakes exist, or the nature of cranberry jelly in a can.
To do so, I end up leafing through trade magazines like Food Manufacture, Food Processing, Food Engineering, Food Technology, and the Journal of Food Technology. And when I do, I marvel at the advertisements, especially the ones from the 1960s through the 1980s, the heyday for this sort of trade lit.
The ads are simultaneously gross and fascinating. How do companies that make flavors or smells or deboning machines sell their services to each other? There's braggadocio and proto-Geico weirdness, jokes and puns, flattery and chemistry.
This is a trip into the day-to-day work concerns of the people who brought you Pringles, Cheez Whiz, Pop-Tarts, frozen juice in a can, TV dinners, boxed mac-n-cheese, and all the other stuff in the center aisles of the grocery store. These are the people Michael Pollan warned you about, or at least their ancestors.
Anyway, enjoy: You have to check out the ads to really see what I'm talking about.
No, you know what, your new food idea is not great. That is just hamburger glued onto a cow bone.
This is, roughly, the ideology of the American food industry. I mean, where else would an old-timey corn grinder and patriotism be used to sell Isomerose high-fructose corn syrup?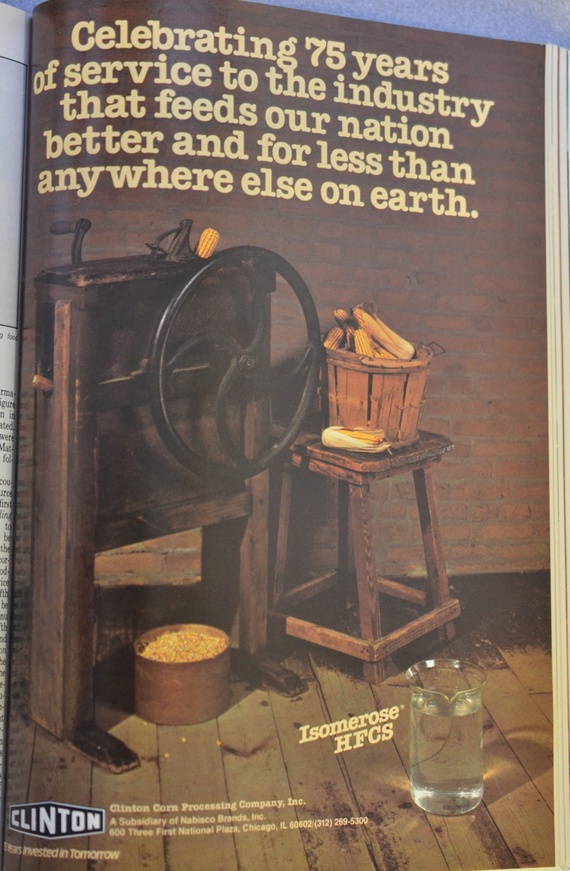 This is the crux of things. To processors and manufacturers, food is just another "process industry" like coal or non-ferrous metals. But food is different. It goes inside our bodies, repairs our bones, refreshes our blood. Import ideas from ore and minerals to food and you get the strangeness of processed foods.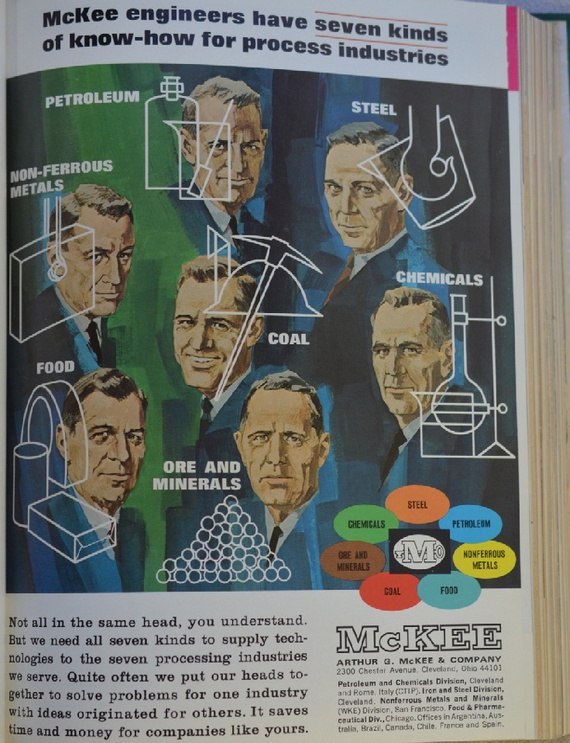 But I can't lie to you: I've always wanted a high-speed encrusting unit. (Just think of the nuggets!) And one that comes attached to an extruder with many nozzles. What more could one guy ask for?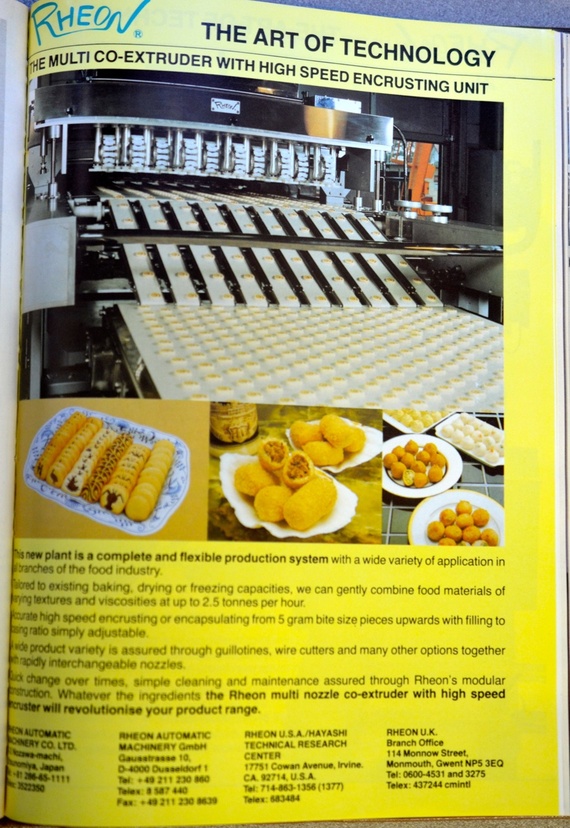 This is why heirloom tomatoes happened: "CRYO-MAID freeze-dried tomato granule."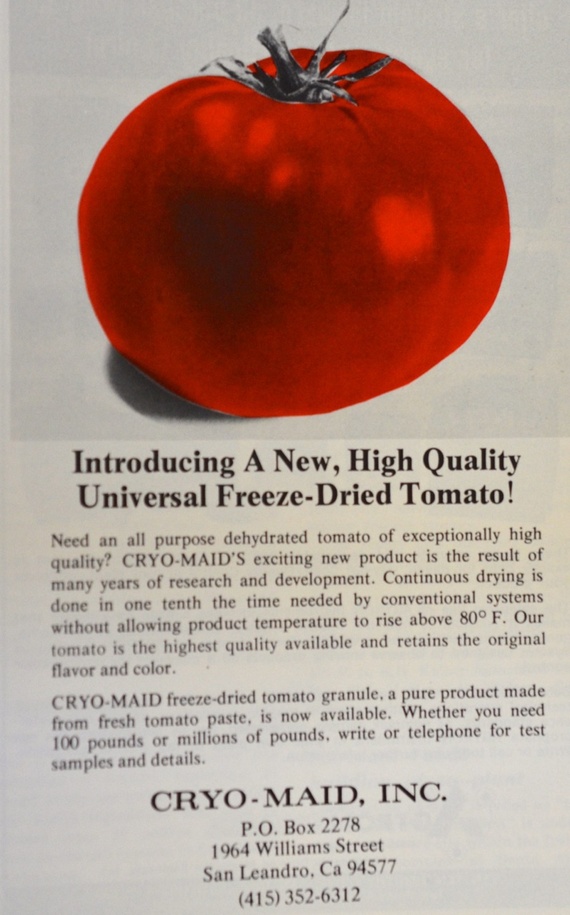 "Institutional feeding" is not a pleasant combination of words.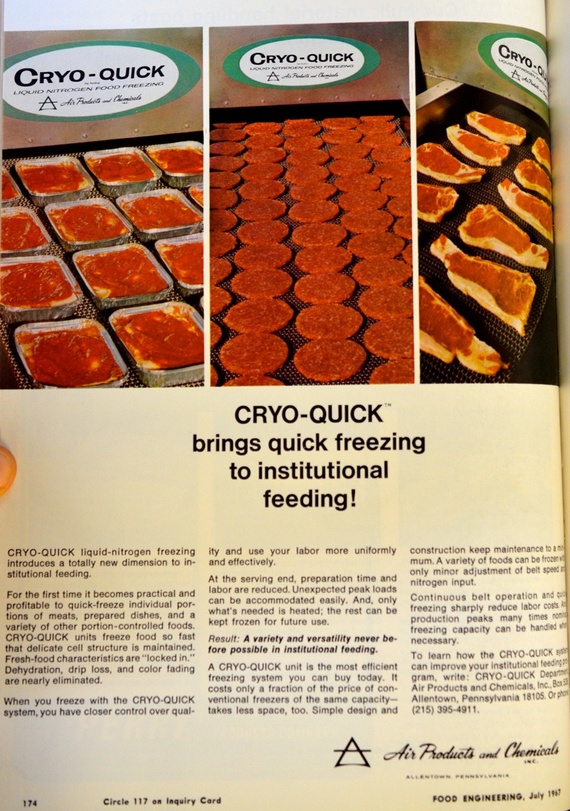 I mean, dream a little.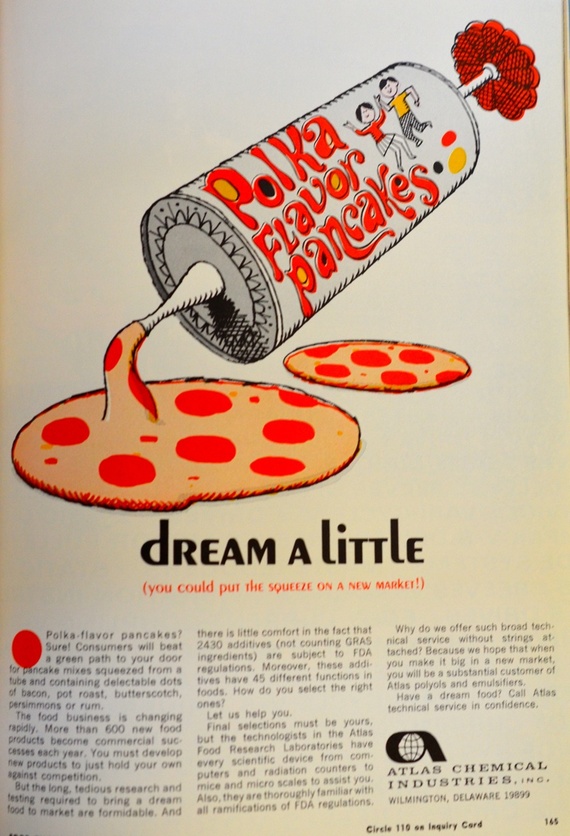 "..."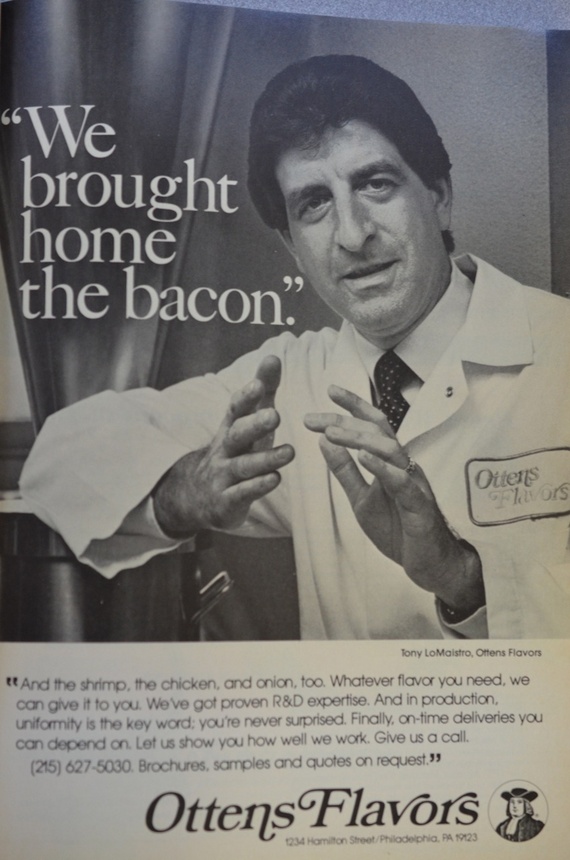 The conceit of this advertisement is that your product is a man and that Miles Laboratories' citric acid is a woman, and they are getting married: "From the moment you match them up, you'll know that this is the acidulant to have and to hold from that day forward."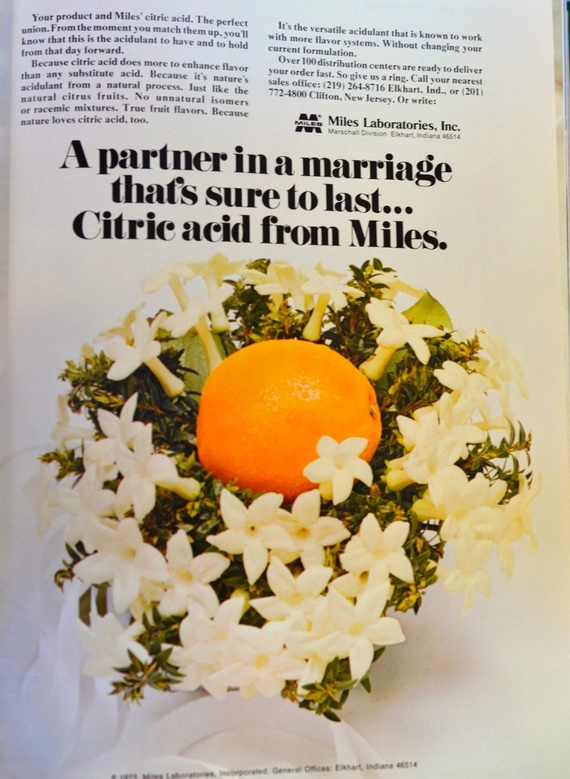 Long have I wondered where exciting gum systems come from. The answer is space, apparently. (Gums are usually used as thickeners in processed foods.)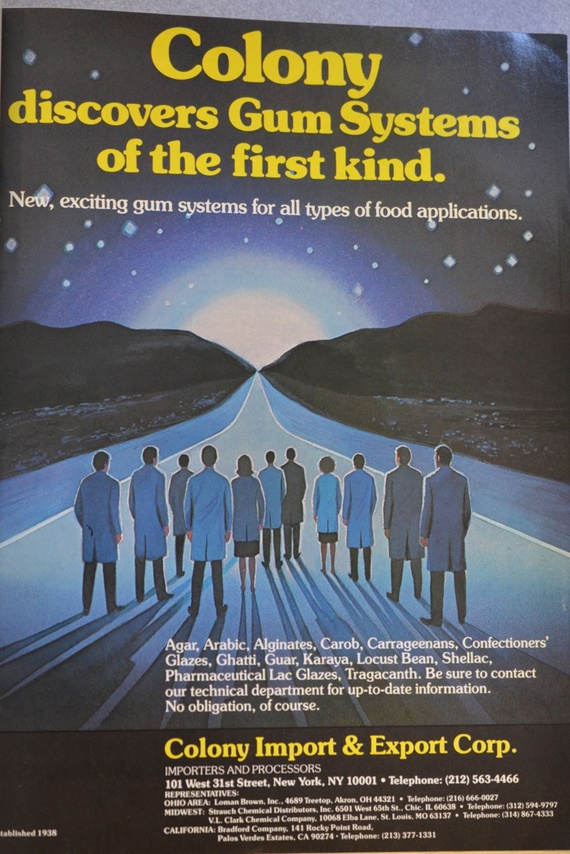 Oh boy! Meals like these, you say?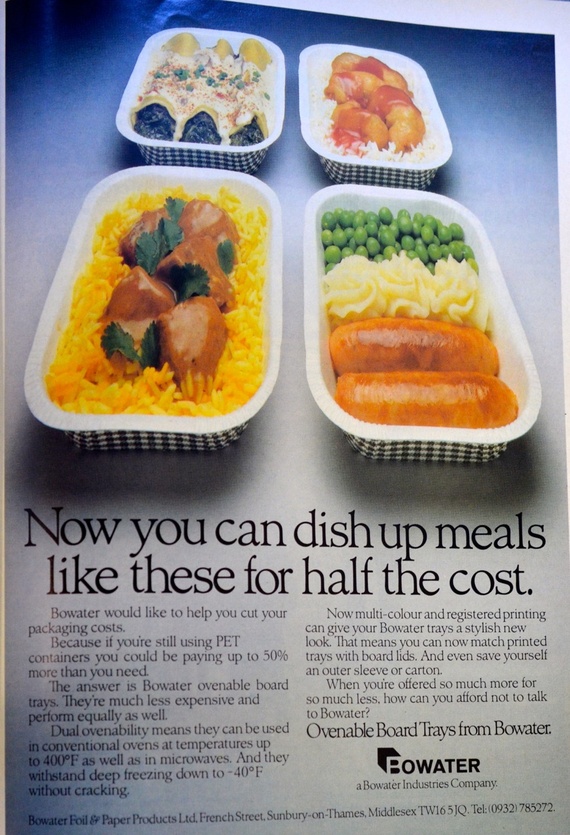 From STARCH ... to finish. Get it?! :| (Brought to you by the makers of the JUMP ... to Conclusions doormat.)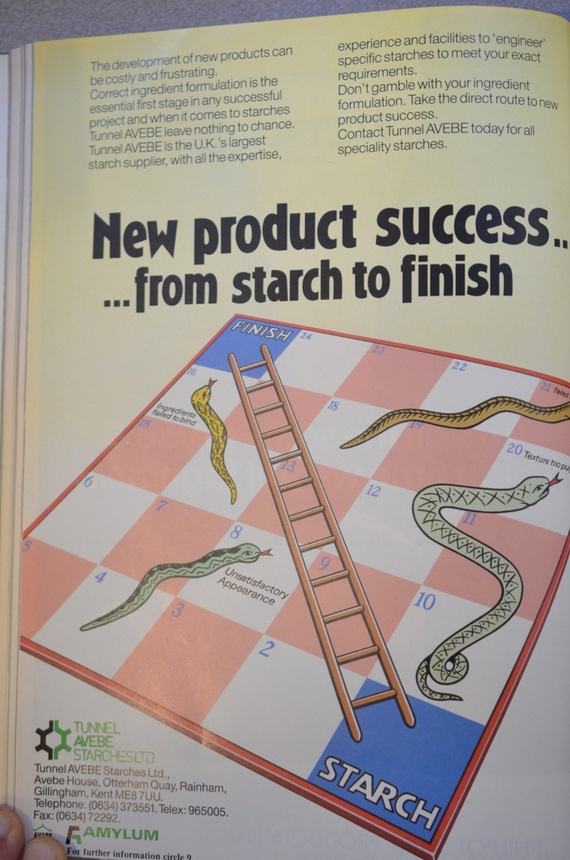 Just a simple question: "Converting flavors, fragrances, or other essential oils and liquids into powder form?"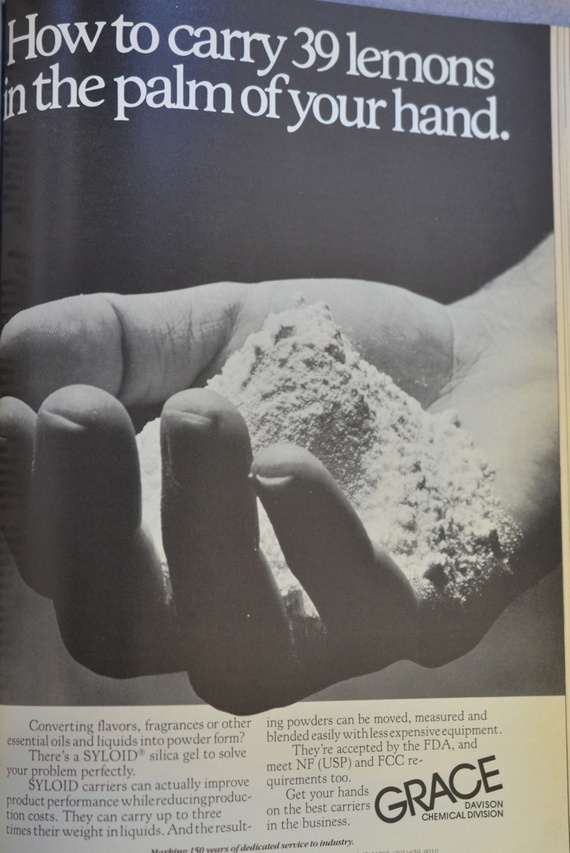 The Flavor & Color Creators will never tell. It'll be your little secret.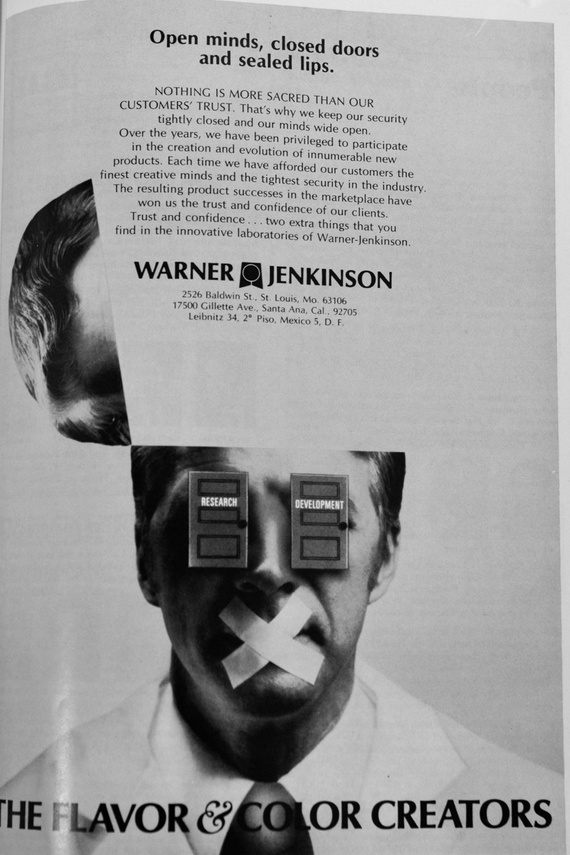 So, given the time frame, I'm almost positive this is a cocaine joke, but I'm not sure who was in on it. Possibly not the Philpot Dairy Products company of Rayleigh.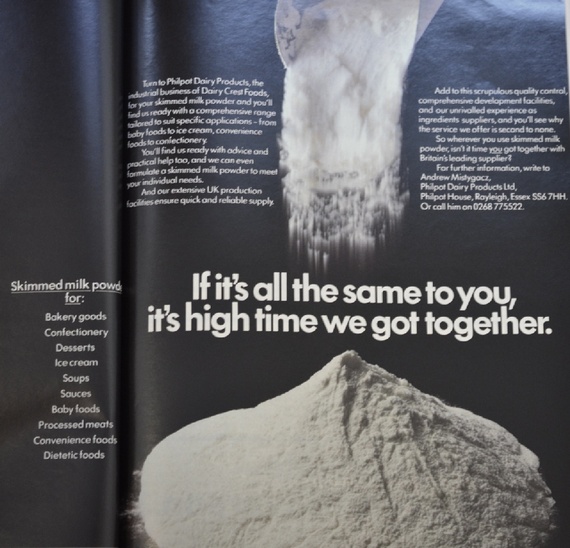 July 1983: "Today more and more people are rejecting the idea of artifical colours being used in food and drink. At Roche we dismissed it back in the 1940's when we started research into food colouring .... We make pure carotenoids."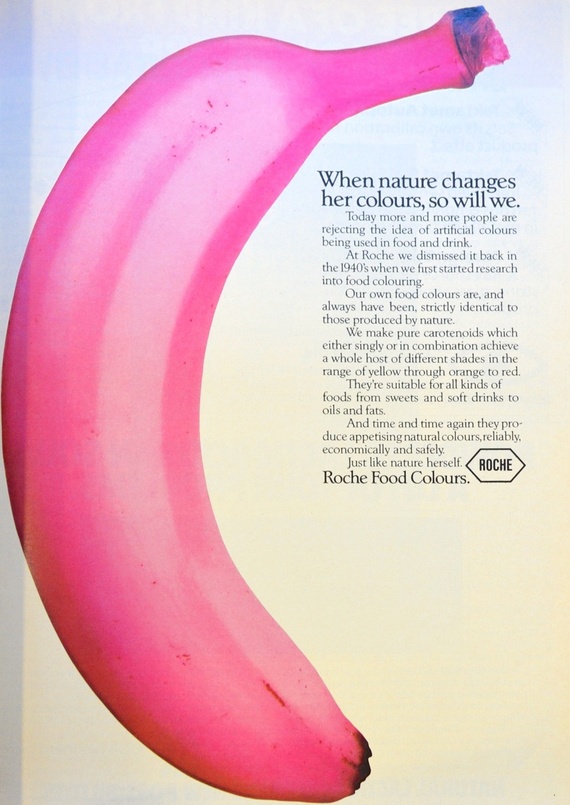 Flavors that are GOING PLACES! Like mountains! On snowmobiles!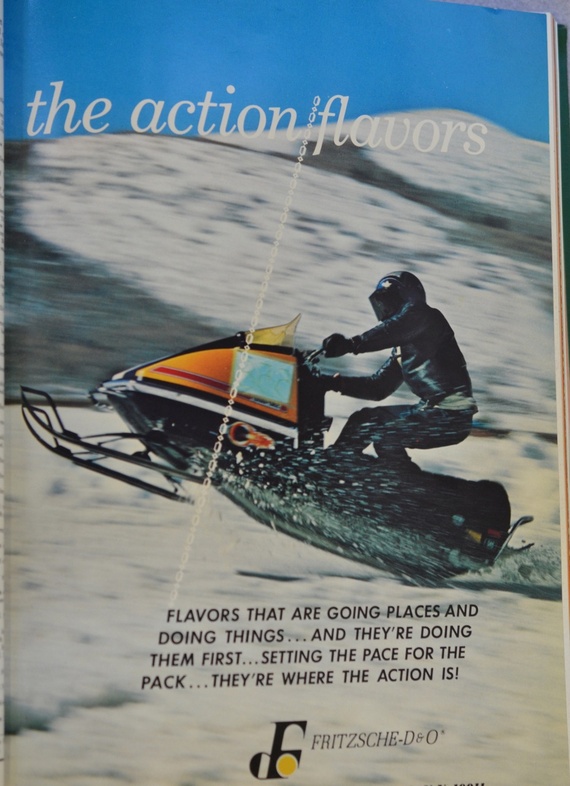 It's about time we got some new waxy maize starches. Also, what's that stuff in the spoon at the bottom? Oh, cream corn.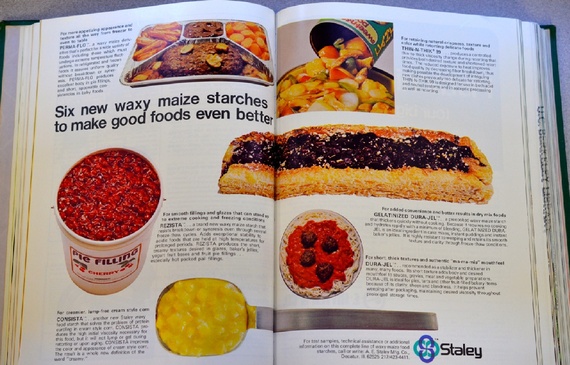 Can't really add much here.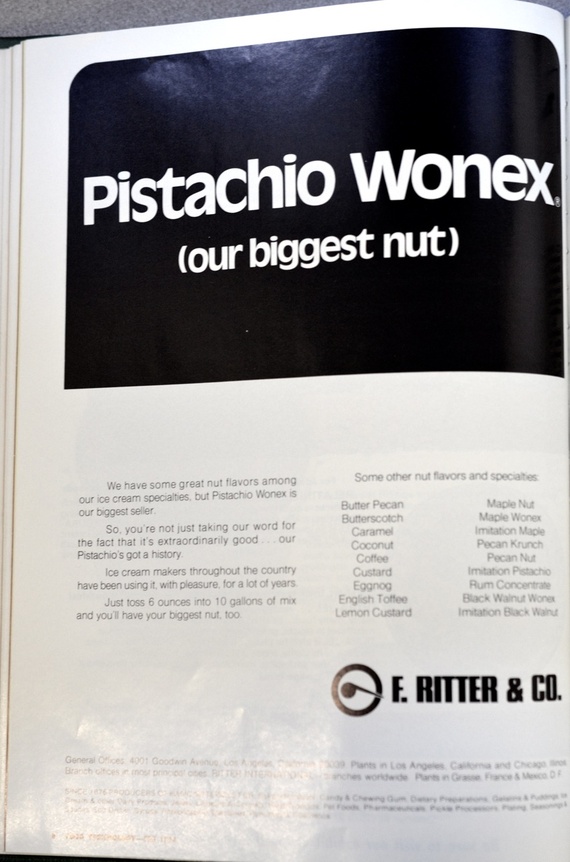 "OK, Tom, what do you want the ad to say? 'Nuts and bolts of desserts?' I know just the thing."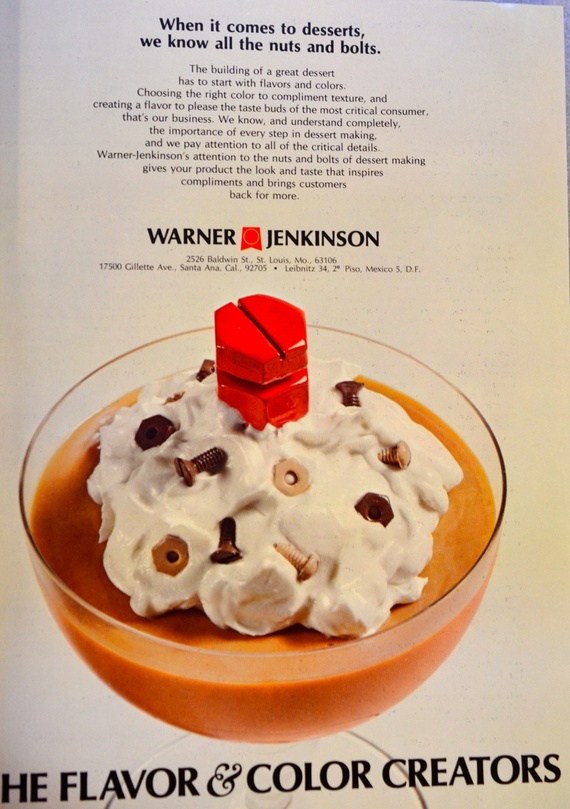 So wait, is this still pronounced Cheese-Tone? Or does the ē make it something else? Chaise-Tone? Shay-Tone? Anyway, I love dehydrated chaise.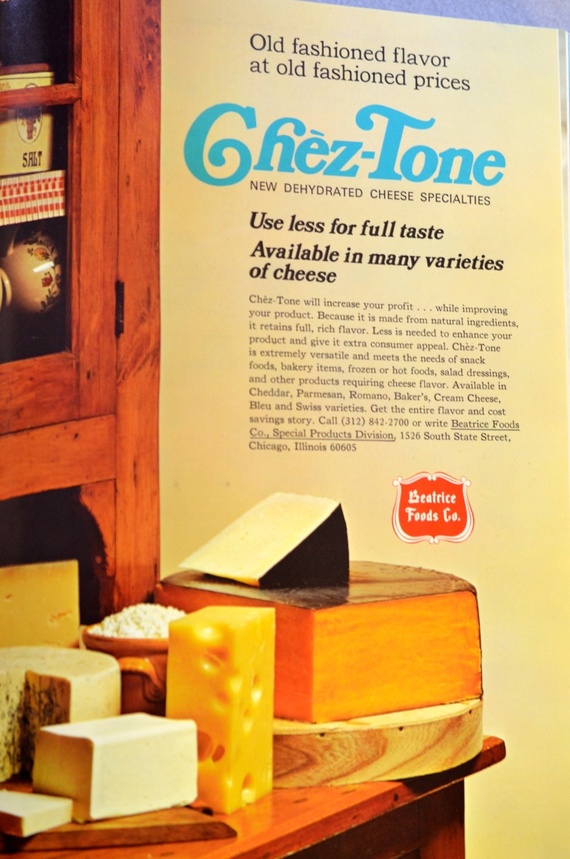 "So concentrated that just 2 ounces approximates the flavor and aroma of 30 bushels of ripe tomatoes." Approximates.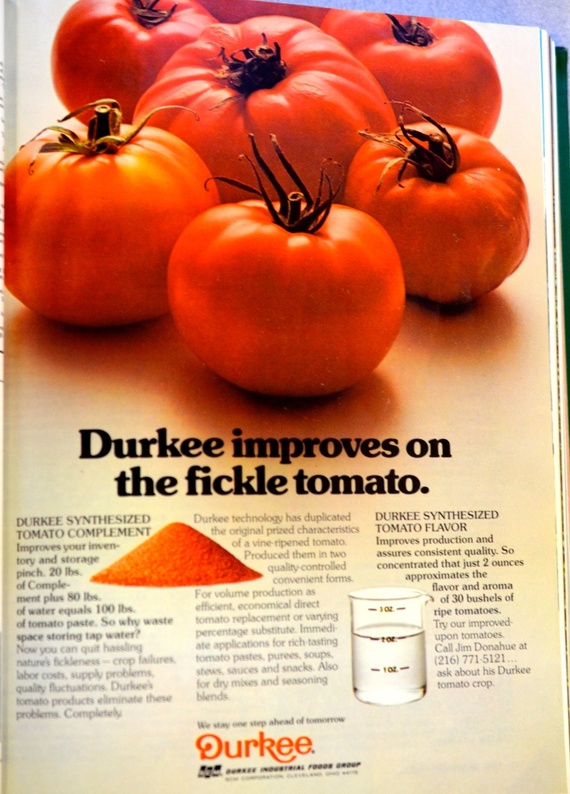 What I love about this ad is how Allied Chemicals is so obviously tired of being pigeonholed as the "apple acid guys."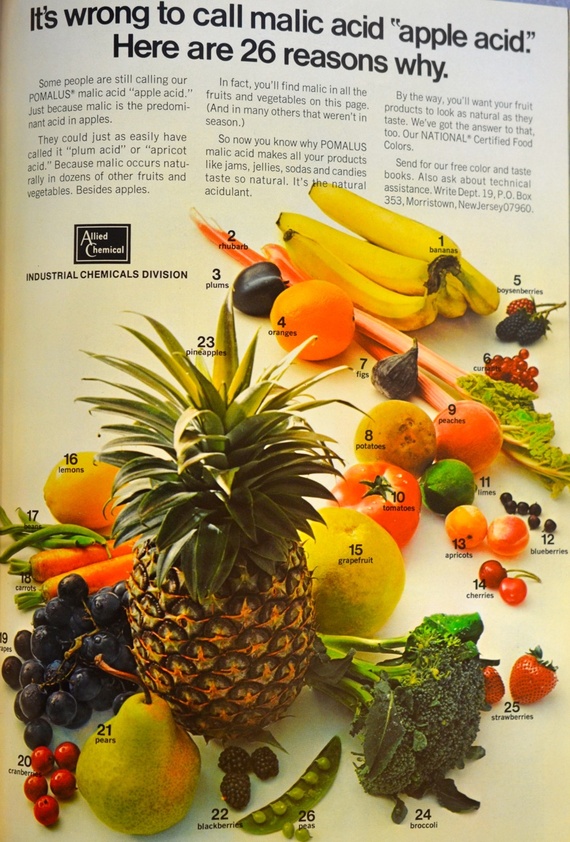 Meet the company that likes funky fruit hats!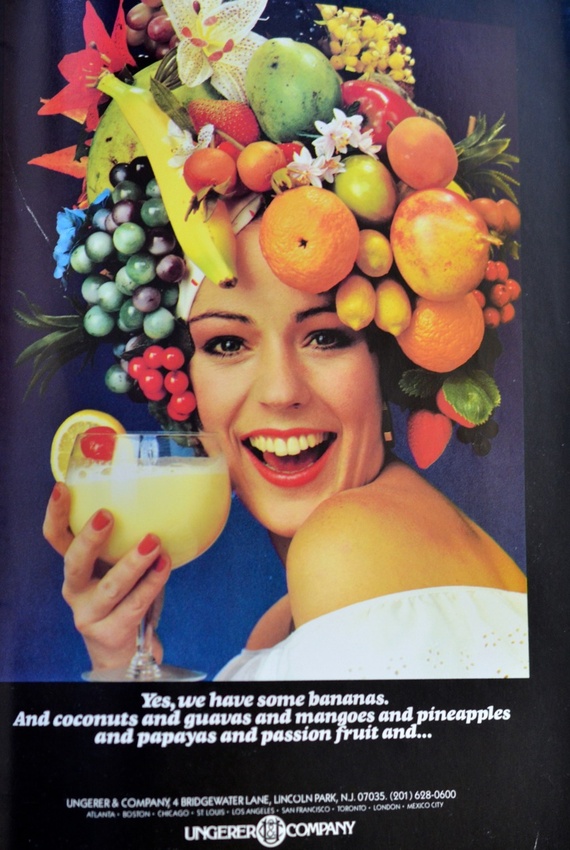 You know what I expect from my pectin? MORE.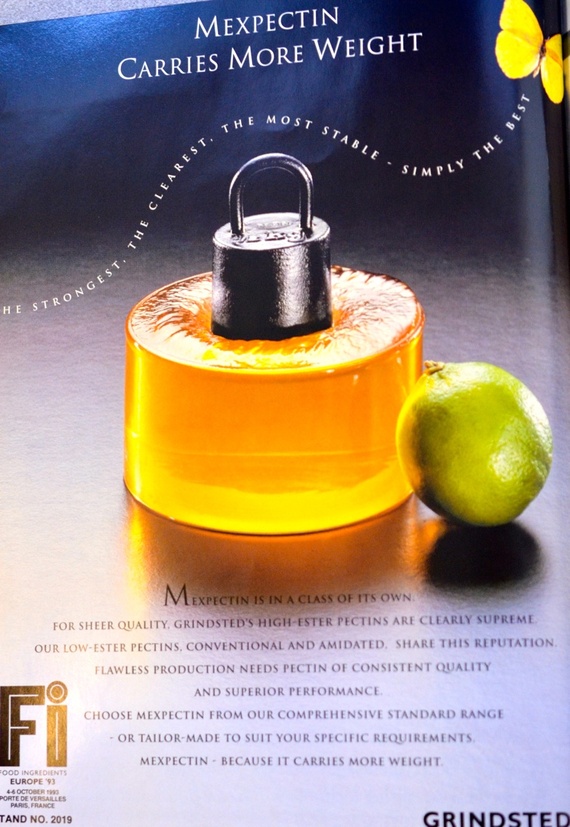 I mean, who doesn't?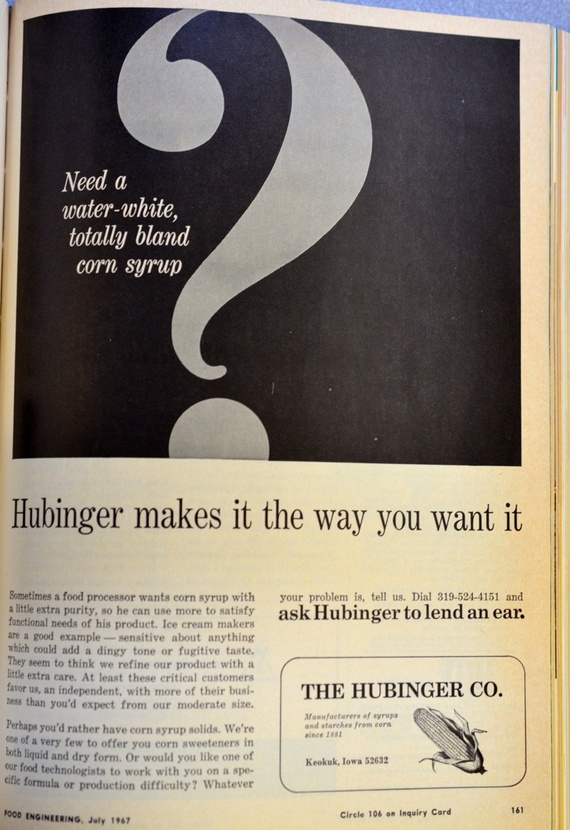 What could go wrong?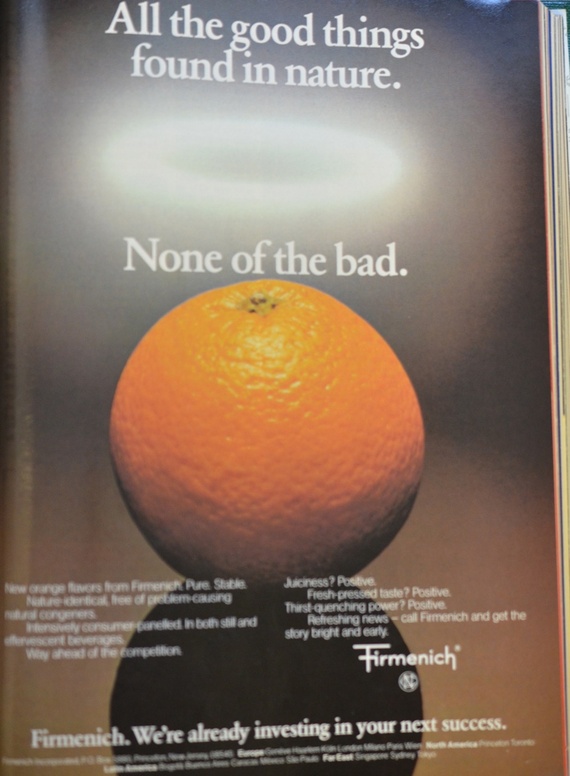 FORGET ALL YOU'VE KNOWN ABOUT BACON BITS. WE'VE REWRITTEN THE BOOK. (Where is this book? Seriously: I would like to read the bacon bits book.)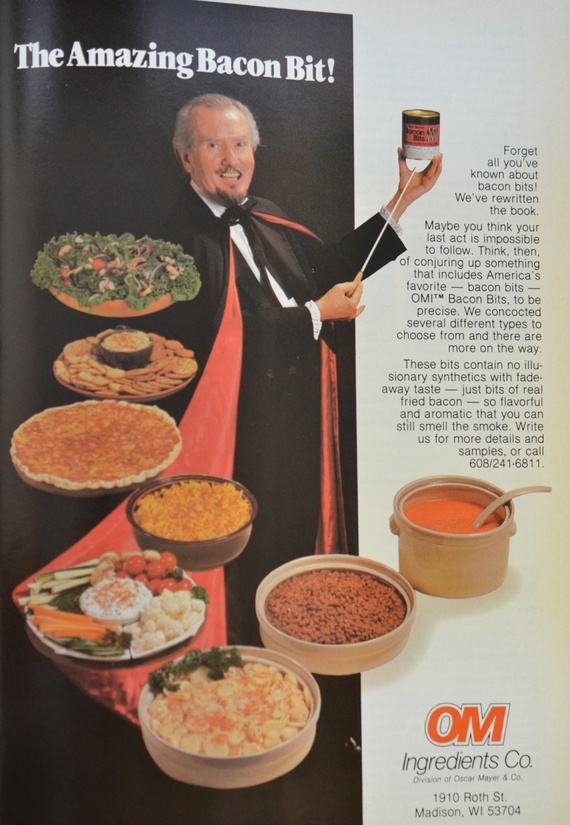 Why buy the cow when you can get all the commercially known forms of concentrated milk proteins at a very low cost?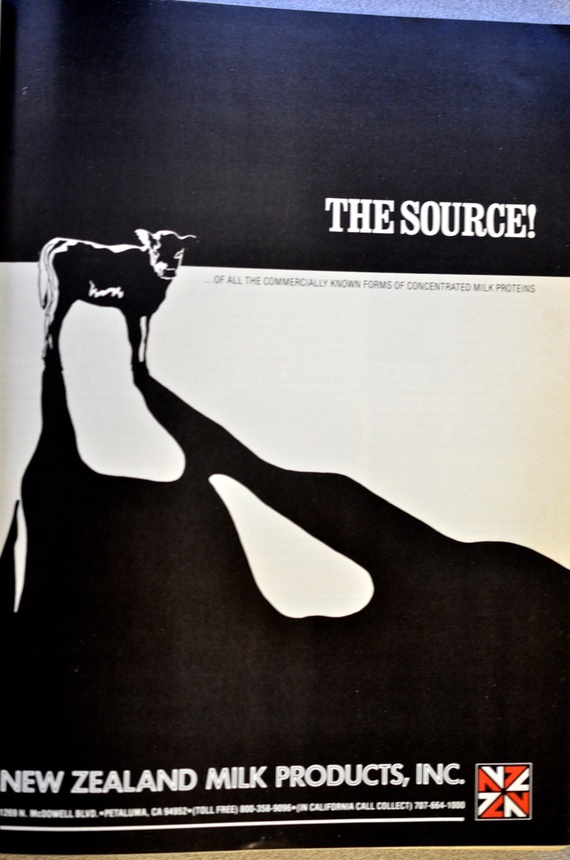 The sixth sense being kebab, obviously.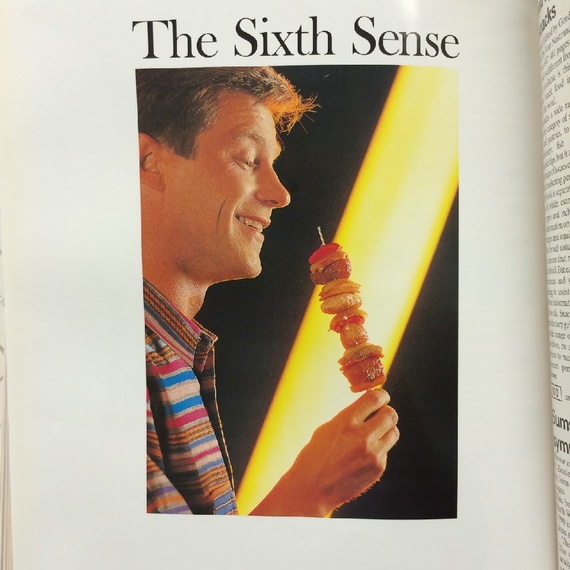 And, finally, the salami/potato chip/candy-corn flower arrangement that started it all.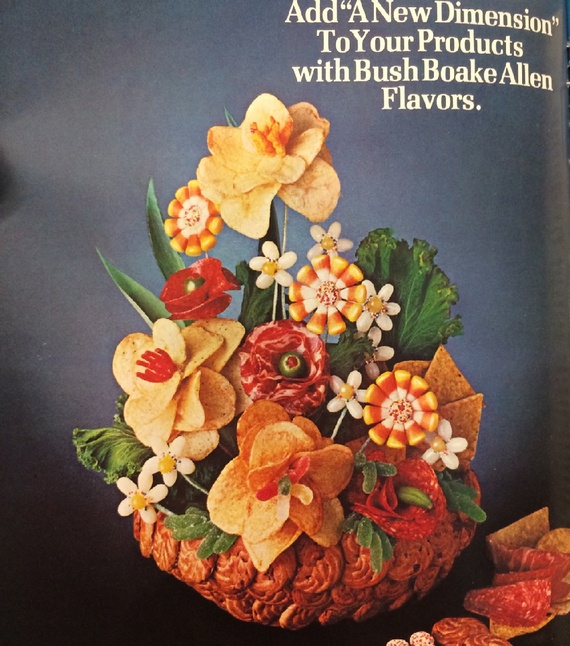 This article available online at:
http://www.theatlantic.com/technology/archive/2013/11/31-food-manufacturing-ads-to-dull-your-thanksgiving-appetite/281908/