British Members of Parliament Introduce Legislation to Pardon Alan Turing
Lord Sharkey said, "If my Bill becomes law, as I hope it will, then this will finally go some way towards acknowledging the debt we all owe to Alan Turing and grant him the free pardon he so clearly deserves."
The Great Pretender: Turing as a Philosopher of Imitation
Such is Turing's legacy: that of a nested chain of pretenses, each pointing not to reality, but to the caricature of another idea, device, individual, or concept.
The Turing Test's Blind Spot
Turing's biggest proof was its own limitation: computers can do more than imitate men.
A Barrage of Turing Tests: Daily Life in the 21st Century
Everyday life in the 21st century is a barrage of Turing tests -- and it's pushing us all to find a voice that is distinctly our own.
Alan Turing Saved My Life
Thoughts on a war hero whose country turned on him
My Brother, the Genius
John Turing's meditation on the life of his younger brother Alan. "He lived ... in some strange world of his own, full of nervous tensions of which we lesser mortals know nothing."
'A Perfect and Beautiful Machine': What Darwin's Theory of Evolution Reveals About Artificial Intelligence
Charles Darwin and Alan Turing, in their different ways, both homed in on the same idea: the existence of competence without comprehension.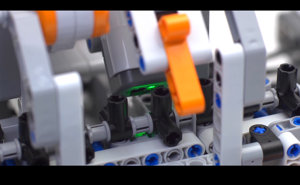 A LEGO Turing Machine Calculates 2+2
Jeroen van den Bos and Davy Landman honor the computer scientist Alan Turing by recreating his calculating machine with LEGOs.
What Happens When We Turn the World's Most Famous Robot Test on Ourselves?
For years the Turing Test has been used to compare humans with computers. Now sociologists are using it to compare humans with each other.