In 1978, Star Wars won seven Academy Awards. But if you want to watch that original version, the first of George Lucas's soon to be seven-part saga, you'll find it difficult. In fact, it's actually impossible to buy an official copy of Star Wars as it was first released. Lucas doesn't want you to see that version. Instead, he wants you to watch the continuously updated special editions—movies with added CGI, changed sound effects, and whole new scenes.
According to some fans, every element that prompted the Academy to recognize the original Star Wars  has been changed in these new versions. And some of those fans are now taking it upon themselves to recreate the original Star Wars in a process they call "despecializing." They gather in online forums and share their work—painstakingly reassembling the movie from a handful of different versions of the film, from VHS to DVD to 35mm print scans using photography and animation software.
One of the most well known despecializers goes by the name "Harmy," and he recently released a little behind-the-scenes look at the various sources he used for his despecialized edition.
People like Harmy who create despecialized versions of Star Wars go through and correct all kinds of additions and changes that the later special editions added. In the original versions of the films, for example, it's clear that Han Solo pulled out his gun and shot the bounty hunter Greedo. In the 1997 version, Greedo shoots first. In the 2004 version, they shoot at the same time. With the release of the later films, later versions of the original trilogy were edited to add in appearances from Jar Jar Binks and Hayden Christensen. Lucas even replaced the voice of Jason Wingreen*—the original Boba Fett—with the voice of Temuera Morrison who played Jango Fett in Episode II: Attack of the Clones. 
There are huge lists of these inconsistencies online at places like SaveStarWars.com and OriginalTrilogy.com, where fans dissect the films and point out discrepancies. And on these message boards, Harmy is a bit of a superhero—although in many ways an unlikely one.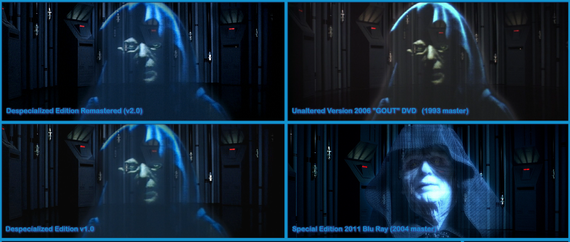 Harmy—a 25-year-old from the Czech Republic—never saw the original Star Wars in theaters. Instead, he had a VHS tape that he watched as a kid. And when he first saw the special editions, he actually liked them. But as his Star Wars fandom grew—he did his undergraduate thesis on the cultural impact of the original movies—so did his desire to see the film in its earliest state. Using skills he picked up in college, he created his first despecialized version four years ago. Now, he's on version 2.5, and between new copies of the movie being made available, and the techniques he's learned along the way, he's confident this version is the best one yet. "I'm pretty proud of these latest ones," he told me. 
For Harmy, the project is all about being able to show people who haven't seen the original Star Wars what the film was like when it first became a phenomenon. "Look at this awesome film that was made in the '70s," he says, "I want to show that to people. I wanted to show my brother. He was three when I started working and I showed it to him when he was five and he loved it." 
It's not that fans want to ban the new versions of Star Wars—no matter how much they may dislike them. They simply want to have a choice. Harmy even admits that he might watch the special edition every now and then. "If both versions were available in the same quality I would probably enjoy watching the special edition once in a while. It's not about George Lucas not being able to do these special editions. If people like the special editing, they can continue watching those. As long as both versions are available."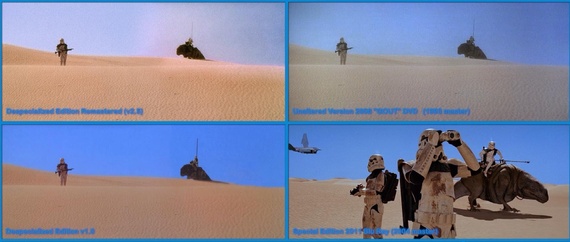 For his part, George Lucas doesn't really care what Harmy and his cohort want. In 2004, when a new DVD special edition came out, Lucas told the Associated Press he had little sympathy for fans who yearn for the 1977 original.  "It's like this is the movie I wanted it to be, and I'm sorry if you saw half a completed film and fell in love with it," he said. "But I want it to be the way I want it to be."