When Roy arrived in California, Project Wing's initial focus was on delivering defibrillators to help people who have had heart attacks. The key factor in the success of using a defibrillator is how quickly it is deployed, so saving a few minutes of transit time could make for a lifesaving application. But as time went on, the Google team realized that tying into the 911 system and other practical exigencies eliminated the speed advantage they thought they could deliver.
So, now, Teller's—and, by extension, I will assume Brin's—big-picture vision has shifted to the ways ubiquitous, two-minute delivery can transform people's relationship to stuff.
The idea goes like this: Because people can't assume near-instantaneous delivery of whatever they need, they stockpile things. They might have a bunch of batteries, slowly decharging in a drawer, or a drill that they use for 10 minutes a year. Each of these things is a personal possession that sits around, embodying all this energy and industrial effort unproductively.
If this sounds familiar, it should: It is the argument—even down to the drill example—that organizations like Worldchanging made in the mid-00s for the creation of "product-service systems." Those ideas, in turn, became key planks in the original conception of the "sharing economy," imagined as one in which the world could make much less stuff because efficient, digital logistics would let each asset be used by more people.
"It would help move us from an ownership society to an access society. We would have more of a community feel to the things in our lives," Teller preached. "And what if we could do that and lower the noise pollution and lower the carbon footprint, while we improve the safety of having these things come to you?"
And unicorns might win the Kentucky Derby, too! But one would need to find a unicorn first before it could enter the race.
Google had to build a vehicle and teach it to fly itself.
* * *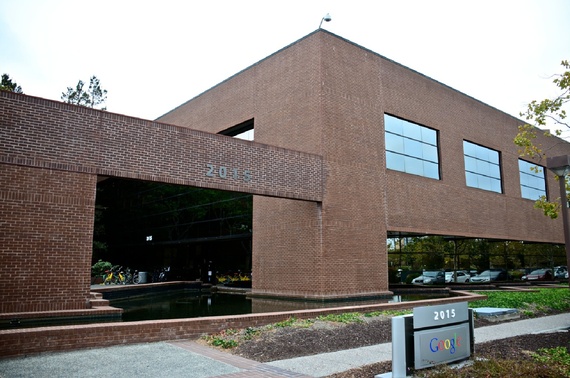 Off one of the many hallways inside Google X's simple red brick building in Mountain View, there is a door labeled "The Hatchery." Roy swipes his badge and we step inside the guts of the secret Project Wing.
This is a workshop. Scattered about, I can see fishing line on a table, three colors of tape, a tall half-stuffed trash can, drawers of fasteners, spare antennae, several glue guns, and some drills. Off to my right, through glass doors, there are four identical plane bodies lined up, wingless. At the back, a man is hand-building some electronics, copper gleaming in the overhead lights.
Carapaces of different species of unmanned aerial vehicles are piled on shelving units and anywhere else they might fit. The horseshoe-crab shaped bodies of several editions of the current drone sit down at my feet. Their electronic innards are visible through clear plastic. Above me, a Cessna model hangs from the ceiling. On shelving units, there are the familiar bug-like quadcopters, a strange craft with helicopter rotors built into its single wing, and a remote control monster truck.
The main attraction, however, is the gleaming white prototype sitting atop the wheeled table in the center of the room labeled Chickadee. It sits on its tail in the angle of repose of the Space Shuttle, nose pointed to the sky. This is the tail-sitter, just like the one that dropped the dog treats in Australia.
The design is simple. There is a tail that serves as a stand, a central plastic body, and two wings made out of foam board covered in a thin skin for protection from the elements. There are four rotors attached to the vehicle, two on the underside closer to the body, and two on the outside towards the edges of the wings.
The build quality is fascinating. From afar, it looks shiny and complete, and it's loaded with custom-built electronics, but up close, it's clear that the body itself is handmade and hacked together. Fingerprint smudges smear it. Some pieces have been professionally fabricated, it seems, but other bits look made in the on-site shop. It is a work in progress.
The class of vehicles that it belongs to is not common. Most flying things are fixed wing—like a plane—or some type of helicopter, which uses one or more rotors to stay in the air. To fly, fixed wing craft primarily move air horizontally, while helicopters move air vertically. The tradeoffs are pretty obvious: The fixed wing craft are more aerodynamic and efficient. They can go farther, faster with less fuel. Meanwhile, the choppers can maneuver well in many different conditions, don't need a runway to take off or land, and can hover in place.
In the military drone world of Predators and Global Hawks, fixed wing, long-range craft predominate. In the hobbyist drone world, quadcopters like the DJI Phantom 2 and Parrot AR.Drone are most popular among enthusiasts, although a strong model-airplane community exists.
In aeronautics, hybrid craft that combine elements of fixed-wing planes and helicopters do exist, and certainly aerospace companies experimented with them. But they are more complex because they have to execute two entirely different tasks: moving air on different axes. In some cases, such as the new F-35B, Lockheed Martin built rotating jets into the plane body that can be pointed at the ground to achieve liftoff, then rotated in the air, to push the jets through the sky.