He spent last year at Harvard, where he taught a course on policy reform and developed a framework for water management that he said can work throughout the world. He's currently advising other states and countries that want to reform, including the United Kingdom, The Netherlands, and Texas.
While each place is unique, "there are some very fundamental principles and concepts that are the same throughout the world," said Young.
Like many places experiencing water stress around the world, California is exacerbating its water stress by using it inefficiently. "We really need to think about the demand side of the equation more than the supply side," said Gleick. Opacity of water rights, unmeasured usage, and laws with perverse incentives enable waste.
California's water rights laws are based on seniority. Unfortunately, there are more rights to water than actual water in many years. "There are a lot of water claims out there and we don't have a fully adjudicated system," said water board president Marcus. "What people say are water rights might not be." In fact, the state has allocated five times more surface water than the state actually has, according to a new report from U.C. Davis researchers.
It's also unclear how much water some rights holders can take out, said Gray. The most senior water rights, called riparian, are "not quantified," said Gray. "They are a reasonable share of what's available."
And no one knows how much water many senior rights holders are actually extracting because, while they are required to file statements quantifying their surface water use, only about half of them do, said Gray.
Colorado spent 20 years adjudicating all its water rights to address these problems, said Marcus. But in California there's no movement in that direction, she said.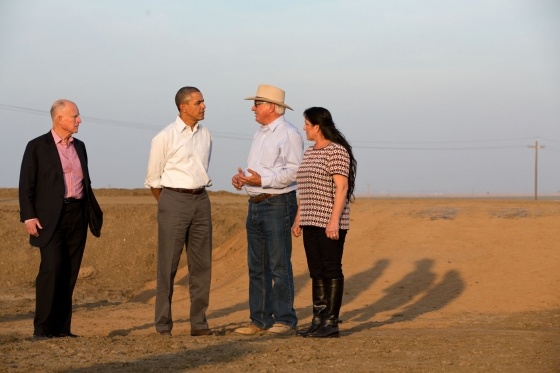 Also, the law has long encouraged waste. It requires water to be put to "reasonable and beneficial use," which includes supplying cities, industry, irrigation, hydroelectric generation, livestock watering, recreation, and fish and wildlife habitat. "Reasonable use" sounds … well, reasonable, but a "use it or lose it" clause incentivizes profligate use: If you don't use your historic water allocation in a beneficial way, you forfeit your water rights, said water attorney Gray.
To cope with not just current but future demands on water resources, "you have to build a system that's better than the one they have," said Young, referring to some of the governments he's advising, which does not include California. "And that's actually not hard." First, courts need to adjudicate the basins and convert all of the water rights into shares, he said, which eliminates the problem of overdrafting a watershed. "You cannot give anybody a guaranteed volume," said Young.
* * *
One way California—and other states—has tried to introduce flexibility into the existing system is by pushing market solutions by tweaking laws to make selling water more attractive. "The law explicitly says the transfer of water itself is a beneficial use," said Gray.
In the market, senior rights' holders, typically farmers, can sell water to other users, often cities. Montecito, an idyll near Santa Barbara, is famous for sweeping ocean vistas and seacliffs dotted with luxury homes—including one of Oprah's. The city has taken measures to conserve in recent years, pricing water depending on usage, but in February, the water board declared an emergency and began rationing. 
It's also started to look for more supply. "It is not an option for a water district to run out of water," said Tom Mosby, the general manager of the Montecito Water District. After considering various options, Montecito joined a deal with some of its neighboring towns, including Santa Barbara. The Central Coast Water Authority brokered a deal on their behalf through the State Water Project to buy water from the Biggs West-Gridley Water District north of the Sacramento Delta. While the water ultimately came from rice farmers who agreed to sell their shares of water and fallow their fields, that level of complexity is typical of such deals.
The choice farmers face in California, either watering a crop or fallowing land to sell the water "is all or nothing," said Young.
That's true, said Thad Bettner, who facilitates water transfers in his role as general manager of the Glenn Colusa Irrigation District in the northern Sacramento Valley. Governing agencies don't recognize conservation as an allowable measure to make more water available for sale, he said. Neither can they use water they've conserved the following year. "We use what we can use and that's it," he said.
Young said that's ridiculous. "It should be possible to just apply water more efficiently and still grow a crop and, at the same time, sell the savings," he said.
An optimized water rights system would remove penalties for efficiency. "At the moment, a person who is efficient runs the risk of losing their water right," he said. "Changing it around, as Australia did 20 years ago … if you save the water, it's yours to sell. That inspired lots of innovation."
Rather than being penalized, efficient water users were rewarded. "The value of the senior rights in Australia increased 20 percent per annum for the first decade because of all the incentives and opportunities for people to make money from saving water," Young said.