There are currently 22 adjudicated groundwater basins in California, according to the California Department of Water Resources (DWR). Adjudication can be time-consuming and expensive for all concerned. In San Luis Obispo County, the Santa Maria Groundwater Basin adjudication "is now going on its 12th year and is still in court appeals. Total costs for all parties are over $11 million," said the San Luis Obispo County website, and could go significantly higher.
* * *
The property rights narrative for groundwater rights "is called into question if your neighbor pumps out so much water that your well runs dry," said California Assembly member Roger Dickinson, a Democrat from Sacramento and author of the assembly bill. When this happens, farmers begin to recognize that if they don't act collectively, their personal property rights could become "hollow and without much meaning," he said.
Groundwater legal reform was on the table 40 years ago, during Governor Brown's first tenure. But the current drought has heightened water anxiety to the point where the current groundwater free-for-all might be brought under a legal framework at last. If successful, the law could help avoid future conflicts.
"We should never let a good crisis go to waste," said Dickinson.
California has lagged other states in this area because a strong political lobby of groundwater users resisted state regulation—and many still do, said Brian Gray, a law professor at the University of California Hastings, who has argued water resources cases before the California Supreme Court. But now, both the Association of California Water Agencies, a water utilities trade group, and the California Water Foundation, a nonprofit focused on balancing California's water needs, support the new bill.
Lester Snow, executive director of the California Water Foundation, said, "The basic model is that we empower local agencies, give them tools and authority, and then set up the state as a backstop" in case local regulation doesn't happen.
That approach acknowledges the work already completed in the 22 adjudicated basins and a handful of others that have come to collective management agreements, including Orange County, Santa Clara Valley, and Coachella Valley.
"All the places that have good groundwater management have it because they had problems," said Ellen Hanak, a senior fellow at the Public Policy Institute of California.
The law also seeks to remedy another big problem: The state does not currently require groundwater supplies or pumping rates to be measured.
Snow said that the new bill would require each groundwater basin to report everyone's pumping quantities and depth of groundwater each year as part of their sustainability plans. They would also be required to set specific objectives for stabilizing the water level at a certain elevation.
"We didn't require meters, but we're requiring the adequate ability to monitor," said State Water Resources Control Board Chair Felicia Marcus. "We're trying to be as flexible as we can in a way that will allow locals to get us further, faster."
But in fact, such metrics are key to understanding the problem and crafting the solution, says a Stanford project called Water in the West. It recommends keeping well-drilling logs, measuring aquifer levels over time, metering water pumped from a basin, and measuring changes in temperature, salinity, and contaminants, which can be a sign of overpumping. That information will help create groundwater models that can manage supply and demand as the climate changes. 
Intriguing technologies are beginning to help us measure groundwater resources more accurately. A NASA project called GRACE uses two satellites to measure subtle shifts in gravity from month to month. The addition or subtraction of water is one factor that changes the gravity field.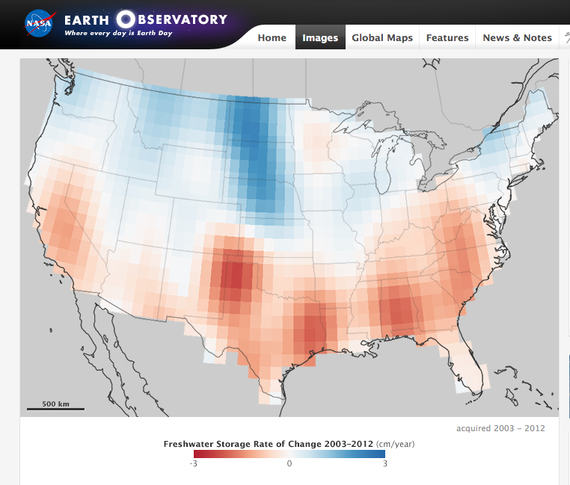 Still, "the challenge to metering groundwater is not technological, it's political," said Peter Gleick, cofounder of the Pacific Institute, an independent research organization focused on water issues. "There are certain people who benefit enormously from a lack of information and inefficiency—and those people have lawyers."
And that's likely why this bill isn't pushing metering—because its sponsors want it to actually pass. Marcus said that local basins don't need to use such technology in their sustainability plans. "There are proxies for measurement that are pretty accurate, like farmers' energy bill for pumping, that can get you fairly close," she said. 
Still, despite the flexibility built into the bill, the California Farm Bureau Federation opposes it. Danny Merkley, director of water resources for the federation, said, "Groundwater management must protect the property rights of overlying landowners. Otherwise, there could be huge, long-term economic impacts on farms because of the potential to devalue land."
He attributed groundwater supply problems not to lack of regulation but to "inflexible, outdated environmental policies" as well as population growth and climate change.
The Farm Bureau is calling for more surface supplies as part of the solution to seeming water scarcity, but in places where pumping is increasing, it could ultimately diminish surface supplies, Snow pointed out.
* * *
While groundwater reform and other efforts may get California out of the current crisis, "in five to ten years, a new set of problems will emerge," said Mike Young, who holds a research chair in water and environmental policy at the University of Adelaide in Australia. The state's existing water laws "were never designed to deal with the challenges California now faces," he said. "The system is broken."
Young speaks from experience. He played a key role in developing improved water entitlement, allocation, and trading systems in Australia and won a national award for his efforts. He said that ultimately California needs that type of radical reform.