Grape vines march across wires strung along rolling hills, their little trunks improbably supporting heavy black fruit. Cindy Steinbeck's family has been farming this land since 1920. They grow Zinfandel, Viognier, Cabernet, Merlot, and Petite Syrah grapes but are best known in this area of Central California for a blend called The Crash, named after a remarkable incident in 1956, when a B-26 crash-landed 200 yards from the family home. Four of the five Air Force men aboard survived, bailing out in the nearby fields.
Now a new crash threatens, as groundwater levels beneath the vineyards plummet. California produces nearly half of U.S.-grown fruits, nuts, and vegetables, according to the state's Department of Food and Agriculture. It is in the midst of one of the worst droughts ever recorded, with more than 80 percent of the state in extreme or exceptional drought. But so far, the Steinbeck Vineyards' 520 acres of grapes are growing well under the hot August sun, thanks to the family's access to all the groundwater they need: up to two acre-feet per acre per season. An acre-foot is the amount of water required to flood an acre of land one foot deep—about 326,000 gallons. The Steinbecks' sole source of irrigation is groundwater.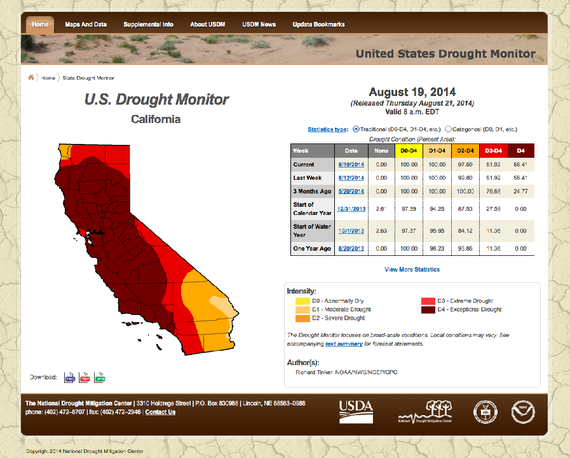 However, groundwater and surface water—rivers, lakes, streams—are part of the same hydrological system. Excessive groundwater pumping can overdraft aquifers, emptying them faster than natural systems can replenish them; dry up nearby wells; allow saltwater intrusion; and draw down surface water supplies. Taking so much water out of the soil can cause the dirt to compact and the land to sink, an action called subsidence. Because land can subside as much as a foot a year in the face of aggressive pumping, it can destroy infrastructure such as irrigation canals, building foundations, roads, bridges, and pipelines.
The Steinbecks have been able to tap this subterranean resource at will because they own the land above it—and because California is the only western state that lacks groundwater regulation. But that boon to farmers is also a looming disaster, as groundwater levels free fall. Groundwater is a huge piece of California's water supply, making up approximately 40 percent of the state's water demands in an average year and up to 60 percent or more during droughts, according to the Department of Water Resources.
"In the absence of governance, it's become a pumping arms race," said Felicia Marcus, chair of the State Water Resources Control Board. "He with the biggest pump or deepest straw wins."
But now a bill on the floor of the California legislature could turn that around. Although water rights holders in California have been resistant to change, this week the state is considering one big step forward: Senate Bill 1168 and Assembly Bill 1739, which would provide state-wide groundwater regulation for the first time. These bills "embrace the concept that groundwater is best managed locally," said Senate bill author Fran Pavley, a Democratic representative from Agoura Hills, as she brought the vote on the assembly bill August 27. "Manage your groundwater basins, and the state will not have any reason to interfere with your right to have your own governance board and to set your own rules and regulations," she said.
The assembly bill passed the senate and will now return to the assembly for a final "concurrence" vote. The senate bill must still pass the assembly and, once again, the senate, before the session ends August 31. Then California Governor Jerry Brown will have 30 days to sign or veto it. He has been supporting the bill throughout the process.
However, even if the bill becomes law, it's unclear whether it will help the folks in Paso Robles avoid the current spate of neighbors suing neighbors. Groundwater basins would have two years to form a local management agency, five years to adopt a sustainable management plan, and 20 years to achieve a sustainable supply of groundwater.
The Paso Robles groundwater basin has been declining for years, said San Luis Obispo County board of supervisors chair Bruce Gibson, but "the drought has magnified the effect." When wells began to dry up last summer, the board passed a moratorium on new water use in the basin that prohibits both new buildings outside of city limits and planting new crops without fallowing others.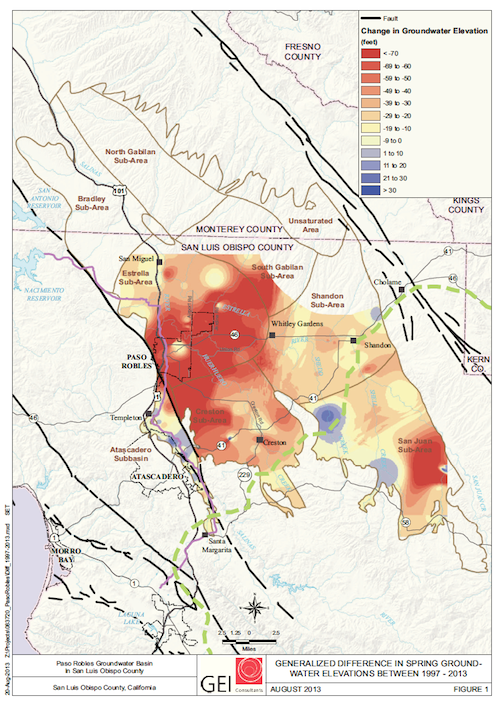 Historically, landowners in California have considered water beneath their land to be part of their property rights.
That's how Steinbeck and her neighbors see it. Any limitation to their right to pump and use the water under their land, such as the moratorium, is "taking over our rights," said Steinbeck.
Gibson said the county is "exercising its land use authority. Property rights are not absolute: One can do a range of activities on their property as long as it doesn't infringe on others' similar enjoyment of their property."  
The landowners filed suit last fall against San Luis Obispo County and four municipal water companies. This summer, this and a related lawsuit have recently been transferred to San Jose, a city to the north—because everyone agrees that no one local can be impartial.
Suing has become standard practice in California when groundwater basins are overdrafted because the state lacks regulation and pumping is largely unmeasured. In these cases, a court decides who may extract how much and who will manage the basin to ensure everyone is using water according to the court's decree, a process called adjudication.