In other words, people are doing their best to blend in with the crowd.
The challenge of achieving true anonymity, though, is that evading surveillance makes your behavior anomalous—and anomalies stick out. As the Japanese proverb says, "A nail that sticks out gets hammered down." Glenn Greenwald explained recently that simply using encryption can make you a target. For me, this was all the more motivation to disappear.
Aaron had a face, but lacked "pocket litter"—an espionage term that refers to physical items that add authenticity to a spy's cover. In order to produce this pocket litter, I needed money—the kind of currency that the counterfeit professionals of the darkweb would accept as payment. I needed bitcoin, a virtual currency that allows users to exchange goods and services without involving banks. At that time, one of the few services that exchanged cash for bitcoin was a company called Bitinstant. I made my way to a small computer shop in the Chinatown neighborhood of Manhattan to make the transfer.
At a small, teller-like window, I filled out the paperwork using fake information. Unwisely, I wrote down my name as Aaron Brown— thus creating one of the links to my real identity I should have been avoiding. As a result, my receipt had "Aarow Brown" printed on it. It seemed fitting that the first physical evidence of Aaron's existence was a misspelled name on a receipt from a computer shop.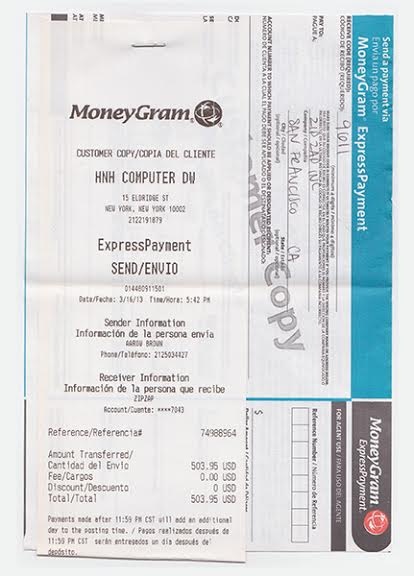 When I got home, 10 bitcoin were there waiting for me in my virtual wallet, stored on an encrypted flash drive. I made the necessary contacts and ordered a counterfeit driver's license, a student ID, a boating license, car insurance, an American Indian tribal citizenship card, a social security card scan (real social security cards were a bit out of my budget), and a cable bill for proof of residency. The final bill came out to just over 7 bitcoin, roughly $400 at the time.
As I waited for my pile of documents, I began crafting Aaron's online presence. While exploring message boards on the darknet, I came across the contact information for a self-proclaimed hacker called v1ct0r who was accepting applications to host hidden services on a server he managed. I messaged him with a request to host Aaron's website. He was happy to offer a little space, under two conditions: "no child porn nor racism; Respects the rules or i could block/delete your account."
I also set up a simple web proxy so that anyone could contribute to Aaron's online presence. The proxy serves as a middleman for browsing the Internet, meaning any website you visit is first routed through the proxy server. Anyone who browses using the proxy is funneling traffic through that one node—which means those web pages look like they're being visited by Aaron Brown.
Aaron's Twitter account worked much the same way. There was a pre-authenticated form on the project website, allowing anyone to post a tweet to Aaron's feed. As Aaron's creator, it was fascinating to see what happened once strangers started interacting with it regularly. People would tweet at their friends, and then Aaron would received confused replies. Under the guise of Aaron, people tweeted out, jokes, love messages, political messages, and meta-commentaries on existence. I even saw a few advertisements. Ultimately, the account was suspended after Spanish political activists used it to spam news outlets and politicians.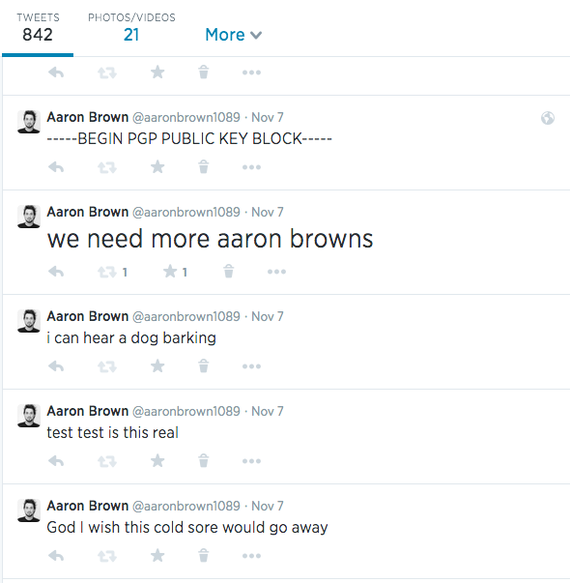 In a sense, I was doing the opposite of astroturfing, a practice that uses fake social media profiles to spread the illusion of grassroots support or dissent. In 2011, the Daily Kos reported on a leaked document from defense contractor HBGary which explained how one person could pretend to be many different people:
Using the assigned social media accounts we can automate the posting of content that is relevant to the persona. … In fact using hashtags and gaming some location based check-in services we can make it appear as if a persona was actually at a conference and introduce himself/herself to key individuals as part of the exercise ... There are a variety of social media tricks we can use to add a level of realness to all fictitious personas.
Aaron Brown turned that concept inside out. With a multitude of voices and interests filtering through one point, any endeavor to monitor his behavior or serve him targeted ads became a wash. None of the information was representative of any discrete interests. The surveillance had no value. I'd created a false human being, but instead of a carefully coordinated deception, the result was simply babble.
***
"The Internet is what we make it," wrote security researcher Bruce Schneier in January 2013, "and is constantly being recreated by organizations, companies, and countries with specific interests and agendas. Either we fight for a seat at the table, or the future of the Internet becomes something that is done to us."
For those of us who feel confident that we have nothing to hide, the future of Internet security might not seem like a major concern. But we underestimate the many ways in which our online identities can be manipulated. A recent study used Facebook as a testing ground to determine if the company could influence a user's emotional disposition by altering the content of her or his News Feed. For a week in January 2012, reseachers subjected 689,003 unknowing users to this psychological experiment, showing happier-than-usual messages to some people and sadder-than-usual messages to others. They concluded that they had "experimental evidence for massive-scale contagion via social networks" because users responded by publishing more positive or negative posts of their own, depending on what they saw in their own feeds.