Curtis Wallen
On April 8, 2013, I received an envelope in the mail from a nonexistent return address in Toledo, Ohio. Inside was a blank thank-you note and an Ohio state driver's license. The ID belonged to a 28-year-old man called Aaron Brown—6 feet tall and 160 pounds with a round face, scruffy brown hair, a thin beard, and green eyes. His most defining feature, however, was that he didn't exist.
I know that because I created him.
As an artist, I've long been interested in identity and the ways it is represented. My first serious body of work, Springfield, used the concept of a Midwestern nowhere to explore representations of middle-American sprawl. A few years later, I became interested in the hundreds of different entities that track and analyze our behavior online—piecing together where we're from, who we're friends with, how much money we make, what we like and dislike. Social networks and data brokers use algorithms and probabilities to reconstruct our identities, and then try to influence the way we think and feel and make decisions.
It's not an exaggeration to say everything you do online is being followed. And the more precisely a company can tailor your online experience, the more money it can make from advertisers. As a result, the Internet you see is different from the Internet anyone else might see. It's seamlessly assembled each millisecond, designed specifically to influence you. I began to wonder what it would be like to evade this constant digital surveillance—to disappear online.
From that question, Aaron Brown was born.
* * *
My project started at a small coffee shop in Bed-Stuy, Brooklyn. With the help of Tor—a software program that uses layers of encryption to anonymize online activity—I searched Craigslist and tracked down a handful of affordable laptop computers for sale in New York City. I registered a new email address with the (now-defunct) Tormail anonymous email provider and arranged to buy a used Chromebook.
xxxxxxxxxxxxxx@xxxxxxx.com (1/27/13 - 11:23):
I'm punctual, I will be there on time at 1. Theres an atrium at citi center, will let you know when I'm there.
clcrb@tormail.org (1/27/13 - 11:25):
Perfect. See you there.
xxxxxxxxxxxxxx@xxxxxxx.com (1/27/13 - 12:59):
Im here in the atrium at 53rd and lex… Gray jacket, blonde hair. Sitting at a table
The meeting was quick. I wore a hat. I kept my head down. The man at the table in a gray jacket was a real person—in a busy public place full of cameras—who could later potentially connect me to the computer. These face-to-face moments left me the most vulnerable. If I was going to evade online surveillance, I had to avoid any ties between my digital footprint and the physical world.
When I got home I immediately reformatted the computer's hard drive and installed a Linux partition. This meant I could encrypt and cosmetically "hide" the part of my computer that was using Linux. My new laptop would boot up Chrome OS like any other Chromebook, unless I gave it the command to boot up Linux instead. I never connected to anything using  Chrome OS. And on the Linux side, I never accessed the Internet without Tor, and I never logged into anything that had any connection to Curtis Wallen.
For a couple months I poked around on the darknet—a hidden network that relies on nonstandard connections. At first, my goal was simply to exist as an anonymous user. However, I realized that this meant fundamentally changing my relationship to the Internet. I couldn't log in to Facebook, I couldn't send emails as Curtis, I couldn't use the Internet the way most of us normally do. I simply couldn't be me if I wanted to stay hidden. So my original idea began to shift. Rather than simply evade digital tracking, I began to play with the idea of generating a new digital person, complete with the markers of a physical identity. I gathered my roommates and took a series of portraits that fit the requirements for passport photos. I then carefully isolated various features from each one in Photoshop and composited a completely new face: Aaron Brown.

Up to that point, I had been largely operating on instinct and common sense. Now that my project was expanding, I figured it'd probably be a good time to reach out to someone who actually knew what she or he was doing.
I created a new Tormail account, the first evidence of my new person—aaronbrown@tormail.org––and sent an encrypted email to the enigmatic researcher Gwern Branwen, asking what advice he'd give to someone "new to this whole anonymity thing." Branwen replied with a simple but crucial piece of advice:
"Don't get too attached to any one identity. Once a pseudonym has been linked to others or to your real identity, it's always linked."
Taking Branwen's advice to heart, I put a sticky note next to my keyboard.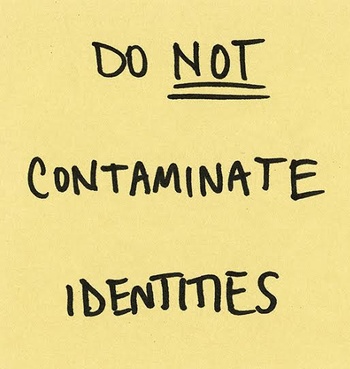 When most people think of Internet surveillance, they imagine government bureaucrats monitoring their emails and Google searches. In a March 2014 study, MIT professor Catherine Tucker and privacy advocate Alex Marthews analyzed data from Google Trends across 282 search terms rated for their "privacy-sensitivity." The terms included "Islam", "national security", "Occupy", "police brutality", "protest", and "revolution." After Edward Snowden's leaks about NSA surveillance, Tucker and Marthews found, the frequency of these sensitive search terms declined—suggesting that Internet users have become less likely to explore "search terms that they [believe] might get them in trouble with the U.S. government." The study also found that people have become less likely to search "embarrassing" topics such as "AIDS", "alcoholics anonymous," "coming out," "depression," "feminism," "gender reassignment," "herpes," and "suicide"—while concerns over these more personal terms could have as much to do with startling Google ads, the notable decrease observed in the study suggests the increased awareness of surveillance led to a degree of self-censorship.