Google's self-driving cars can tour you around the streets of Mountain View, California. 
I know this. I rode in one this week. I saw the car's human operator take his hands from the wheel and the computer assume control. "Autodriving," said a woman's voice, and just like that, the car was operating autonomously, changing lanes, obeying traffic lights, monitoring cyclists and pedestrians, making lefts. Even the way the car accelerated out of turns felt right. 
It works so well that it is, as The New York Times' John Markoff put it, "boring." The implications, however, are breathtaking. 
Perfect, or near-perfect, robotic drivers could cut traffic accidents, expand the carrying capacity of the nation's road infrastructure, and free up commuters to stare at their phones, presumably using Google's many services. 
But there's a catch. 
Today, you could not take a Google car, set it down in Akron or Orlando or Oakland and expect it to perform as well as it does in Silicon Valley.
Here's why: Google has created a virtual track out of Mountain View.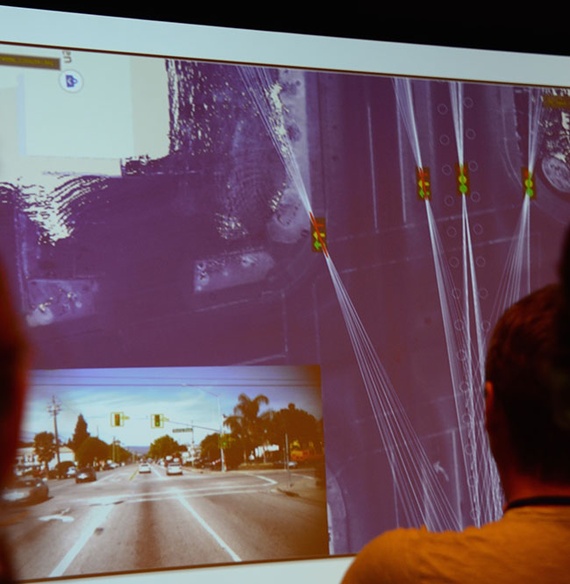 The key to Google's success has been that these cars aren't forced to process an entire scene from scratch. Instead, their teams travel and map each road that the car will travel. And these are not any old maps. They are not even the rich, road-logic-filled maps of consumer-grade Google Maps.
They're probably best thought of as ultra-precise digitizations of the physical world, all the way down to tiny details like the position and height of every single curb. A normal digital map would show a road intersection; these maps would have a precision measured in inches. 
But the "map" goes beyond what any of us know as a map. "Really, [our maps] are any geographic information that we can tell the car in advance to make its job easier," explained Andrew Chatham, the Google self-driving car team's mapping lead.
"We tell it how high the traffic signals are off the ground, the exact position of the curbs, so the car knows where not to drive," he said. "We'd also include information that you can't even see like implied speed limits."
Google has created a virtual world out of the streets their engineers have driven. They pre-load the data for the route into the car's memory before it sets off, so that as it drives, the software knows what to expect. 
"Rather than having to figure out what the world looks like and what it means from scratch every time we turn on the software, we tell it what the world is expected to look like when it is empty," Chatham continued. "And then the job of the software is to figure out how the world is different from that expectation. This makes the problem a lot simpler."
While it might make the in-car problem simpler, but it vastly increases the amount of work required for the task. A whole virtual infrastructure needs to be built on top of the road network!
Very few companies, maybe only Google, could imagine digitizing all the surface streets of the United States as a key part of the solution of self-driving cars. Could any car company imagine that they have that kind of data collection and synthesis as part of their core competency?
Whereas, Chris Urmson, a former Carnegie Mellon professor who runs Google's self-driving car program, oozed confidence when asked about the question of mapping every single street where a Google car might want to operate. "It's one of those things that Google, as a company, has some experience with our Google Maps product and Street View," Urmson said. "We've gone around and we've collected this data so you can have this wonderful experience of visiting places remotely. And it's a very similar kind of capability to the one we use here."
So far, Google has mapped 2,000 miles of road. The US road network has something like 4 million miles of road.
"It is work," Urmson added, shrugging, "but it is not intimidating work." That's the scale at which Google is thinking about this project.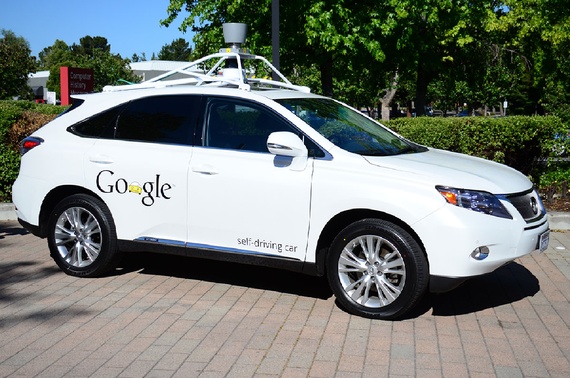 All this makes sense within the broader context of Google's strategy. Google wants to make the physical world legible to robots, just as it had to make the web legible to robots (or spiders, as they were once known) so that they could find what people wanted in the pre-Google Internet of yore. 
In fact, it might be better to stop calling what Google is doing mapping, and come up with a different verb to suggest the radical break they've made with previous ideas of maps. I'd say they're crawling the world, meaning they're making it legible and useful to computers. 
Self-driving cars sit perfectly in-between Project Tango—a new effort to "give mobile devices a human-scale understanding of space and motion"—and Google's recent acquisition spree of robotics companies. Tango is about making the "human-scale" world understandable to robots and the robotics companies are about creating the means for taking action in that world.