Todd Woody
Imergy Power Systems' headquarters in an office park in one of Silicon Valley's less glamorous precincts is the type of place where the future used to be invented. There are no Beats headphones-wearing 20-somethings on scooters. No foosball tables, rooftop beer garden or ironically named conference rooms. No birdhouses. Just a sea of drab, blue-gray cubicles. The median employee age appears to be around that of the typical software engineer who files an age-discrimination lawsuit. There are scientists wearing white lab coats. Some have white hair. The chief executive is 61 – that's 120 in Silicon Valley years.
Needless to say, Imergy is not developing the next $19 billion app that Facebook will acquire, but the startup could end up powering Facebook.
Imergy has spent years perfecting an energy storage device that, if it lives up to its billing, will help accelerate the big green future by allowing companies and homeowners to pull the plug on their local utility by banking electricity from solar arrays and wind farms for use when the sun is not shining or the wind is not blowing. A 250-kilowatt battery system installed in a 40-foot container, for instance, could store solar energy from the rooftop arrays of a 40-home neighborhood for later use.
This magic box is called a Vanadium redox flow battery. The heart of a flow battery are two electrolyte solutions – one positive, one negative – contained in separate tanks. When the solutions are pumped through a power cell containing a membrane, a chemical reaction takes place that generates electricity. When the process is reversed, the electrolyte stores energy.
The key component is Vanadium, a naturally occurring element that can exist in positive and negative states, eliminating the contamination and degradation that occurs when two different elements are used to create a chemical reaction.  Flow batteries are not as efficient as solid-state lithium-ion batteries. But unlike lithium-ion batteries that lose their capacity over time as they charge and discharge, the non-toxic electrolyte in a vanadium flow battery is endlessly reusable and never loses its efficiency.
"Basically, our battery lasts forever," says Bill Watkins, Imergy's chief executive and a Valley veteran who served as the CEO of LED lighting startup Bridgelux and before that Seagate, a manufacturer of hard drives (remember those?).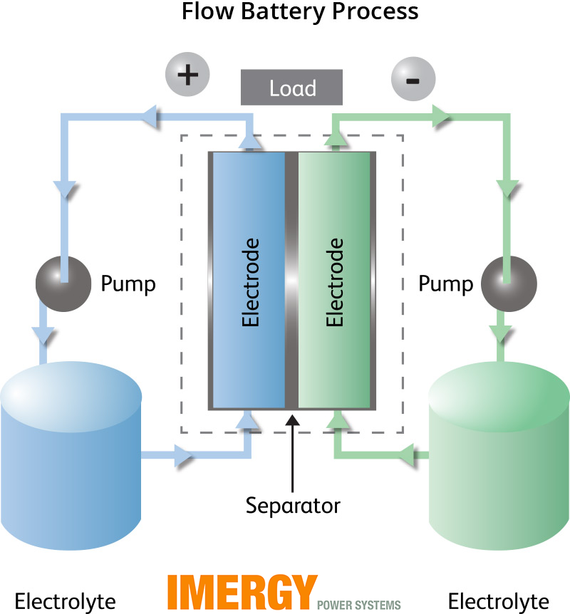 And while adding storage capacity to lithium-ion batteries increases the price exponentially – hence the near six-figure sticker of the 265-mile range Tesla Motors Model S – increasing the capacity of flow batteries just means adding bigger tanks.
Imergy is one of a growing number of companies, from automaker Honda to solar installer SolarCity and Tesla, that see a big market in taking homes and businesses off the grid.
"As more people go solar, they're going to tell their utility, 'I'm not going to sell you my electricity. I'm going to get a battery at low cost to run my home and I don't need the grid,' " says Watkins.
Vanadium flow batteries are not new – an Australian scientist named Maria Skyllas-Kazacos invented the technology in 1985. But there was a catch. Two, actually. The battery needed pure and pricey Vanadium to work. And the fact that the electrolyte became unstable at 35 degrees Celsius (95 Fahrenheit) limited the usefulness of the batteries.
"The electrolyte was always the one cost you couldn't squeeze because you needed pure Vanadium," says Tim Hennessy, Imergy's president, who previously ran a Vanadium battery company in China. "So the batteries ended up being about 50 percent more expensive."