The United States discreetly supported the creation of a website and SMS service that was, basically, a Cuban version of Twitter, the Associated Press reported Thursday. ZunZuneo, as it was called, permitted Cubans to broadcast short text messages to each other. At its peak, ZunZuneo had 40,000 users.
And what government agency made ZunZuneo? It wasn't the CIA. No, it was the U.S. Agency for International Development, USAID, working with various private companies, including the D.C. for-profit contractor Creative Associates and a small, Denver-based startup, Mobile Accord.
The news about ZunZuneo broke Thursday morning, around 3 a.m. Eastern time. 11 hours before, I had been in the D.C. offices of none other than Mobile Accord, talking to the company's president about a future product release.
The company's not in the discreet social network game anymore; now it surveys countries in the developing world by SMS. On Wednesday, Mobile Accord's president Steve Gutterman told me, "More information and more transparency is always a good thing."
The next day, I called his cell phone. He reaffirmed his company's commitment to transparency. He said that Mobile Accord didn't know the ZunZuneo news was coming, and he echoed the statements that USAID and the White House issued on Thursday.
White House spokesman Jay Carney, meanwhile, claimed that Congress had debated and invested in ZunZuneo. "All of our work in Cuba, including this project, was reviewed in detail in 2013 by the Government Accountability Office and found to be consistent with U.S. law," said a USAID spokesman Thursday.
Senator Patrick Leahy, who as chair of the Senate Appropriations Committee oversees USAID's budget, shunned it in the AP article. "If you're going to do a covert operation like this for a regime change, assuming it ever makes any sense, it's not something that should be done through USAID," he said.
He was more blunt on MSNBC: "It was just dumb," he said on the network Thursday. 
Was it?
As I started piecing together Mobile Accord's past on Thursday—and that of the State Department that encouraged and hired them—I found that a project like ZunZuneo wasn't out of the ordinary at all. In 2009 and 2010, the president and the secretary of state both celebrated pro-democracy web projects like ZunZuneo. Hillary Clinton delivered multiple major policy speeches about the virtues of Internet freedom and social networks abroad.
As ludicrous as the phrase 'fake Cuban Twitter' might sound, projects like ZunZuneo were meant to be a major focus of U.S. diplomacy. If it sounds like a risible plan, now—as it does to some commentators and, apparently, at least one Democratic senator—that only shows how much has changed since the Arab Spring was still blooming.
***
In late October 2009, Secretary of State Hillary Clinton spent three days in Pakistan. It was not a happy visit. Clinton was grilled about the American use of drones in Pakistan's airspace.
On the second day of her trip, Clinton spoke to students in Lahore, Pakistan's second largest city. The New York Times reported:
Rarely in her travels as secretary of state has Mrs. Clinton encountered an audience so uniformly suspicious and immune to her star power as the polite, but unsmiling, university students who challenged her at Government College University in Lahore.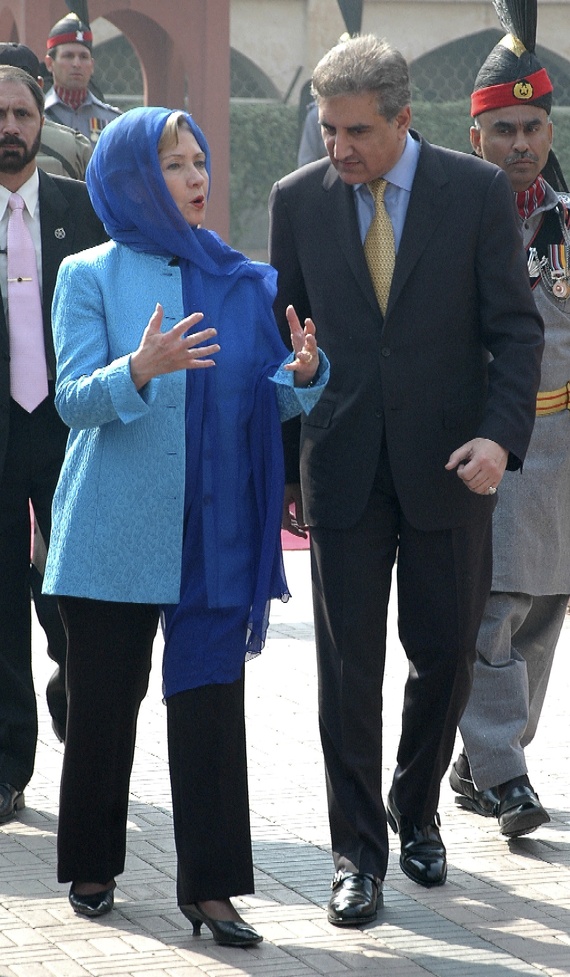 According to the Times, students asked her about American policy in Afghanistan, about U.S. support for the former military leader Pervez Musharraf, for more information about American weapons trafficking. Clinton's answers did not satisfy them.
But Clinton had an announcement to make of her own: The American and Pakistani governments were collaborating to launch Humari Awaz, Our Voice, "the first Pakistani mobile phone-based social network."
It seemed like a big deal. A State Department release about the new social network bragged that almost 95 million Pakistanis used mobile phones. Far more people in Pakistan, it said, had phones than had desktop computers or an Internet connection. The release announced that the U.S. would cover the costs of the first 24 million text messages sent.
What it didn't say was which company's software Humari Awaz used. The developer, though, was happy to identify itself.
"Mobile Accord is the technology backbone of the network, connecting with all five mobile phone networks," its press release that month bragged.
There wasn't much written about Humari Awaz. It's unclear how truly popular the social network became. By March of the next year, Humari Awaz announced that messages on the service would no longer be free, according to a Pakistani mobile tech blog, so it's likely the inaugural 24 million American-sponsored texts had been sent.
The same blog reported that Humari Awaz had encountered support issues. The service had no "website, helpline or any advertisements," it said, and Humari Awaz's users disliked the U.S. government's involvement.
In August 2010, the director of USAID encouraged Pakistanis to share information on the service after ruinous floods swept the country. The same announcement declared that more than 350 million messages had been sent through the social network.
It's unclear what happened after that. Humari Awaz seems to drop out of the English-language Internet record, and the State Department did not respond to our request for comment about its relationship with Mobile Accord.