You're probably familiar with 4'33''. Divided into three movements, it lasts four minutes and 33 seconds. It is entirely silent.
4'33'' is the most famous work of American composer John Cage, and probably up there with Duchamp's Fountain as one of the most famous avant-garde works of the 20th century. And now, thanks to Cage's publisher, you can perform it yourself, from the comfort of your own iPhone.
As Gene Caprioglio put it: "With Cage, I always think, wow, what would he have done with the Internet?" 
Caprioglio is vice president of new music at CF Peters, one of the publishers that controls most of Cage's work. An employee of the firm for decades, he worked with Cage many times before the composer's death in 1992.
"I know it would never be anything I would think of," he said of Cage's post-Internet work—but he can try imagining it.
His trying has produced 4'33,'' the app. Released last month by CF Peters and the Cage Trust, 4'33'' lets users not only experience the slow elapse of the work's movements, but also record their own version of it and hear other users' performances from around the world.
"Wherever we are, what we hear is mostly noise. When we ignore it, it disturbs us. When we listen to it, we find it fascinating."
That's the opening of "Future of Music: A Credo," a 1937 speech by Cage. It continues, listing sounds we find at first annoying, then beautiful: "The sound of a truck at 50 m.p.h. Static between the stations. Rain."
Cage's work is full of ideas of this size. He half-explored, half-trolled the difference between music and noise all his life—writing for prepared pianos and radios—but he realizes it most deviously in 4'33.'' 
It's fitting that technology should help perform 4'33.'' A kind of technology first made the piece possible. When Cage visited Harvard's new sound-proof anechoic chamber in the late 1940s, he expected to hear silence. Instead, as he wrote later:
[I] heard two sounds, one high and one low. When I described them to the engineer in charge, he informed me that the high one was my nervous system in operation, the low one my blood in circulation.
This reply (of dubious accuracy) struck Cage: The sound-proof technology revealed that silence could never exist, that the world was full of sounds worth paying attention to. He wrote 4'33'' in part to honor those sounds. 
"That's the best part of Cage's piece. It can make you aware of the songs going on all the time," Phil Stone, who developed the app along with Larry Larson, told me.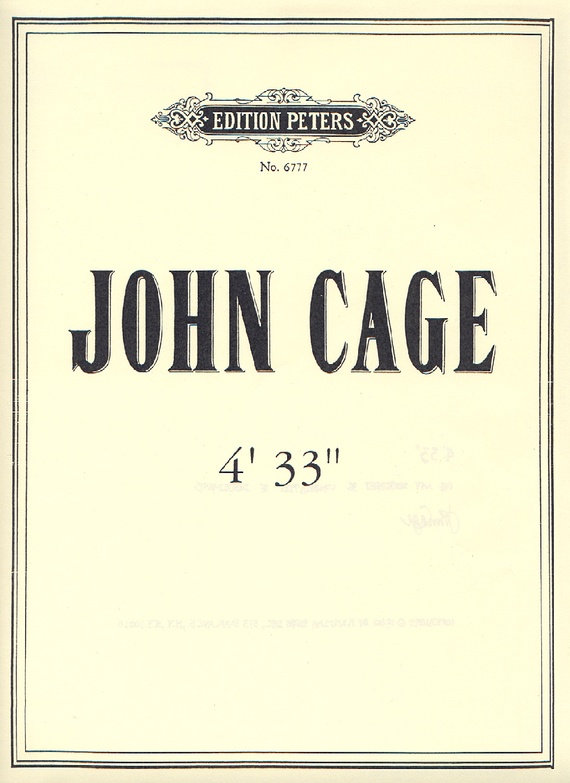 4'33,'' the app, foregrounds these other sounds. The user can navigate a map full of points, each of which represents four minutes and 33 seconds of sound, a complete performance of 4'33.'' Many of them seem to have been recorded in an office, representing either a misunderstanding of Cage's imperative or a clever call to pay attention even to the sounds of staplers.