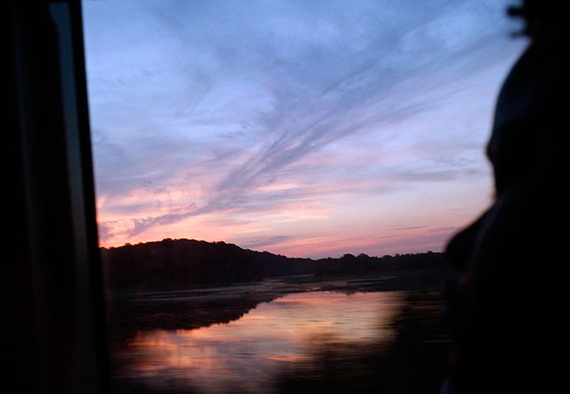 1. What Greyhound, which is celebrating its centennial, meant to America.
"It was during these decades—from the 1930s through the 1950s—when Greyhound was among a small group of U.S. firms that helped America reimagine itself. Mostly movie studios, automakers and large consumer product companies, these firms painted a picture through their ads and products of a country whose future was only exceeded by the gumption of its citizens and the bounty of its natural resources. Greyhound's self-selected role was as unofficial tour guide. "Greyhound invested time and financial resources in advertising its ability to transport passengers all over the U.S.," says Margaret Wash, an intercity bus historian. 'They suggested it was fashionable to take bus trips.'"
2. A slime mold was grown to approximate Route 20 in the United States using nutrients to represent cities. And there are implications for robotics, apparently. Whoa.
"When presented with a distribution of nutrients, the slime mold spans the sources of nutrients with a network of protoplasmic tubes. This protoplasmic network matches a network of major transport routes of a country when configuration of major urban areas is represented by nutrients. A transport route connecting two cities should ideally be a shortest path, and this is usually the case in computer simulations and laboratory experiments with flat substrates. What searching strategies does the slime mold adopt when exploring 3-D terrains? How are optimal and transport routes approximated by protoplasmic tubes? Do the routes built by the slime mold on 3-D terrain match real-world transport routes? To answer these questions, we conducted pioneer laboratory experiments with Nylon terrains of USA and Germany. We used the slime mold to approximate route 20, the longest road in USA, and autobahn 7, the longest national motorway in Europe. We found that slime mold builds longer transport routes on 3-D terrains, compared to flat substrates yet sufficiently approximates man-made transport routes studied. We demonstrate that nutrients placed in destination sites affect performance of slime mold, and show how the mold navigates around elevations. In cellular automaton models of the slime mold, we have shown variability of the protoplasmic routes might depends on physiological states of the slime mold. Results presented will contribute toward development of novel algorithms for sensorial fusion, information processing, and decision making, and will provide inspirations in design of bioinspired amorphous robotic devices."
3. The German board game, Primordial Soup, where you play with amoebas.
"Each player guides a species of primitive amoeba drifting through the primordial soup. The player controls whether and how his amoebas move, eat and procreate using the 10 biological points which he receives each turn. A player may evolve his species by buying gene cards, which give the amoebas abilities such as faster movement. The abilities are pictured on the gene cards, showing amoebas growing fins, tentacles, spines, etc.