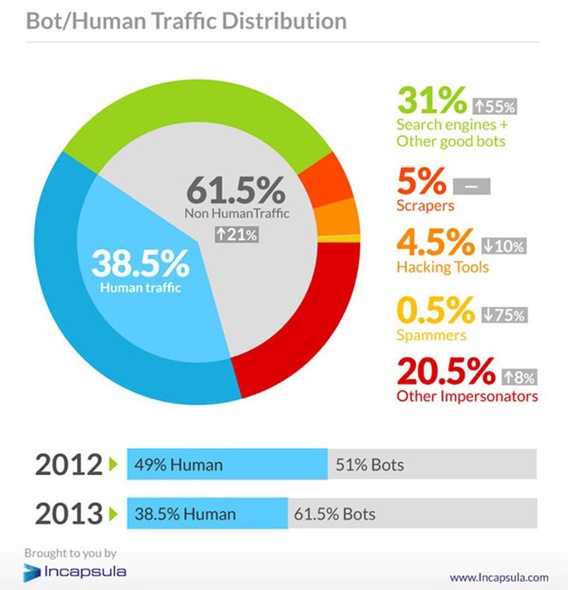 It happened last year for the first time: bot traffic eclipsed human traffic, according to the bot-trackers at Incapsula.
This year, Incapsula says 61.5 percent of traffic on the web is non-human. 
Now, you might think this portends the arrival of "The Internet of Things"—that ever-promised network that will connect your fridge and car to your smartphone. But it does not.
This non-human traffic is search bots, scrapers, hacking tools, and other human impersonators, little pieces of code skittering across the web. You might describe this phenomenon as The Internet of Thingies. 
Because bots are not difficult to build. In fact, it's so simple that a journalist (who has not learned to code) can do it.
I do it with a ($300) program called UBot Studio, which is an infrastructural piece of the botting world. It lets people like me program and execute simple scripts in browsers without (really) knowing any code.
Do you need 100 Hotmail accounts? I got you.
Perhaps you'd like some set of links autotweeted? I'm there.
You want to scrape a few numbers from a government website or an online store? Easy. It'd take 10 minutes. 
Or — and this is the one that gets to me — perhaps you want to generate an extra 100,000 pageviews for some website? So simple. A programmer friend of mine put it like this, "The basics of sending fake traffic are trivial."
I'm going to tell you how here, even though I think executing such a script is highly unethical, probably fraud, and something you should not do. I'm telling you about it here because people need to understand how jawdroppingly easy it really is.
So, the goal is mimicking humans. Which means that you can't just send 100,000 visits to the same page. That'd be very suspicious. 
So you want to spread the traffic out over a bunch of target pages. But which ones? You don't want pages that no one ever visits. But you also don't want to send traffic to pages that people are paying close attention to, which tend to be the most recent ones. So, you want popular pages but not the most popular or recent pages.
Luckily, Google tends to index the popular, recentish stories more highly. And included with UBot are two little bots that can work in tandem. The first scrapes Google's suggestions searches. So it starts with the most popular A searches (Amazon, Apple, America's Cup) then the most popular B searches, etc. Another little bot scrapes the URLs from Google search results. 
So the first step in the script would be to use the most popular search suggestions to find popularish stories on the domain (say, theatlantic.com) and save all those domains.
The first search would be "amazon site:theatlantic.com." The top 20 URLs, all of which would be Atlantic stories, would get copied into a file. Then the bot would search "apple site:theatlantic.com" and paste another 20 in. And so on and so forth until you've got 1,000. 
Now, all you've got to do is have the bot visit each story, wait for the page to load, and go on to the next URL. Just for good measure, perhaps you'd have the browser "focus" on the ads on the page to increase the site's engagement metrics.
Loop your program 100 times and you're done. And you could do the same thing whenever you wanted to.