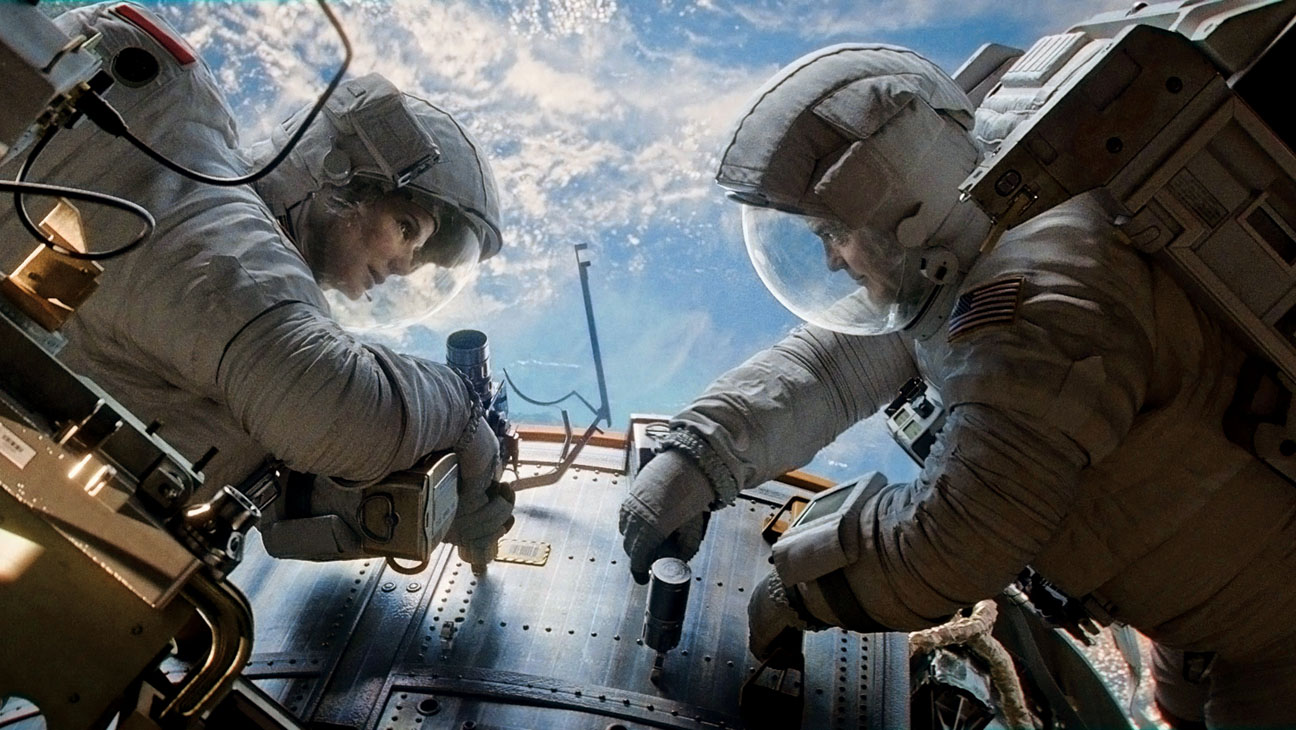 You've seen the trailers: Sandra Bullock in a space suit, whipping around at the end of a robotic arm as a space shuttle and the Hubble Space Telescope disintegrate around her. Eventually, all that's left are two astronauts adrift in orbit, trying to make it to the International Space Station (ISS). Alfonso Cuarón's Gravity looks to be one of the most exciting science-fiction movies in a long while. But is it at all realistic? And does that even matter?
In Cuarón's scenario, the space-shuttle mission is the victim of a phenomenon first explained in a 1978 scientific paper called "Collision Frequency of Artificial Satellites: the Creation of a Debris Belt" by Donald Kessler and Burton Cour-Palais. The researchers explain how debris from a satellite collision can have a cascading, or chain-reaction, effect with other satellites. Unlike shrapnel here on Earth, which travels for a distance before gravity pulls it to the ground, each piece of collision debris in space just keeps moving, circling the planet in its own independent orbit—until it hits something, or eventually (like, years later) burns up in the Earth's atmosphere.
This phenomenon is called the Kessler Syndrome, and it is not theoretical: Earlier this year, a Russian satellite was destroyed by a fragment of a Chinese satellite that had blown up six years earlier. The previous year, mission control decided to change the orbit of the ISS to keep it out of the path of debris from the 2009 collision of a U.S. Iridium satellite and a Russian Kosmos satellite.
So, it's completely possible that a vehicle in a crewed space mission could be damaged by debris in orbit—even catastrophically. That part holds up to scientific scrutiny.
On to the next bit: showing someone adrift in space. This comes with its own problems. To begin with, orbital mechanics are incredibly counterintuitive. For example, if you're adrift in space, 50 feet behind the space shuttle, equipped only with a wrench, what do you do?
Those of us familiar with Newton's laws of action and reaction might throw the wrench away from the spacecraft, in the hopes that the reaction would push us toward the shuttle. But thanks to the peculiarities of orbital physics, we might actually need to throw the wrench toward the spacecraft because, believe it or not, this will help us catch up by dropping us into a faster orbit.
But even so, there's just no way an orbital change would save the two Gravity astronauts.  The Hubble Space Telescope and ISS are in completely different orbits, at different altitudes, passing over different parts of the Earth.  There's no practical way a space shuttle on a mission to one of these objects could change orbit to visit the other. In fact, because of this, NASA had to take special trouble with 2009's final space shuttle repair mission to Hubble: Knowing that Atlantis wouldn't be able to make it to ISS if it could not re-enter Earth's atmosphere, NASA officials readied the space shuttle Endeavour for a possible rescue mission.
Gravity's science advisor is Dr. Kevin Grazier, an astrophysicist specializing in computational orbital dynamics, the study of how objects in orbit interrelate. It was exactly the specialty needed for this movie. Kevin has been the science advisor for many SyFy-channel shows. I got to know him through his work behind the scenes of Battlestar Galactica; eventually he and I co-wrote the book The Science of Battlestar Galactica.  Knowing what sticklers for accuracy we both are, I contacted him last week to talk about the science of Gravity.