Photographer Michael Light divides his time between San Francisco and a remote house hear Mono Lake, on the eastern flank—and in the shadow—of the Sierra Nevada. An artist widely known for his aerial work, Light flies the trip himself in a small airplane, usually departing very early in the morning, near dawn, before the turbulence builds up.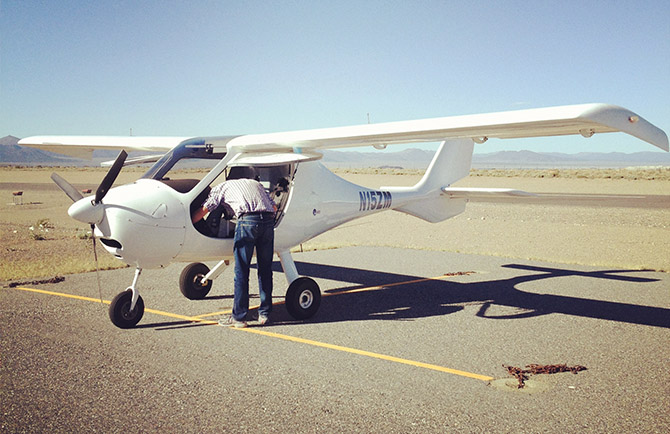 We not only had the pleasure of flying around Mono Lake with Light, but of staying in his home for a few nights and learning more, over the course of several long conversations, about his work.
We took a nighttime hike and hunted for scorpions in the underbrush; we looked at aerial maps of the surrounding area—in fact, most of the U.S. Southwest—to discuss the invisible marbling of military & civilian airspace in the region; and we asked Light about his many projects, their different landscape emphases, the future of photography as a pursuit and profession, and what projects he might take on next.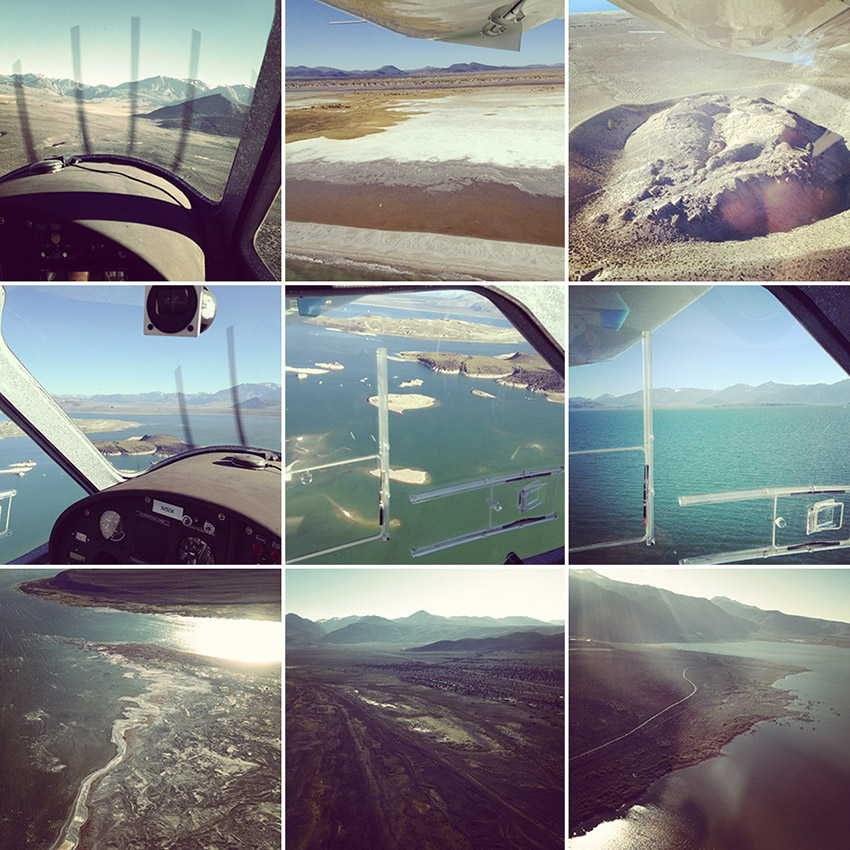 From SCUBA diving amidst the nuked ruins of WWII battleships in the most remote waters of the Pacific Ocean to spending years touching up and republishing photos of U.S. nuclear weapons tests for a spectacular and deeply unsettling book called 100 Suns, to his look at the Apollo program of the 1960s as an endeavor very much focused on the spatial experience of another landscape—the lunar surface—to his ongoing visual investigation of housing, urbanization, and rabid over-development in regions like Phoenix and Las Vegas, Light's own discussion of and perspective on his work was never less than compelling.
Thoughtful about the history of landscape representation and the place of his work within it, highly articulate—indeed, it's hard to forget such phrases as "the mine is a city reversed," or that the sunken ruins of WWII battleships "are dissolving like Alka-Seltzer" in the depths of the Pacific—and with an always caustic sense of humor, Light patiently answered our many questions about his work both above the ground and below sea level.
We discussed the overlapping physical pleasures of flying and SCUBA diving, how nuclear weapons have transformed the Western notion of the landscape sublime, what cameraphones are doing to the professional photographer, and what it means to transgress into today's corporate-controlled air spaces above vast mining and extraction sites in the West.
Finally, for those of you in or around New York City next month, Light coincidentally has a new exhibition opening at the Danziger Gallery on October 30. Check back with the gallery's website for more information as the opening approaches.
* * *
Geoff Manaugh: I'd like to start by asking how the aerial view ties into the nature of your work in general. You've spoken to William L. Fox in an interview for the Some Dry Space exhibition about a feeling of spatial "delirium," suggesting that the experience of moving through the sky is something viscerally attractive to you. I'm curious if you could talk about that, as a physical sensation, but also about the representational effects of the bird's eye—or pilot's eye—view and how it so thoroughly changes the appearance of a landscape.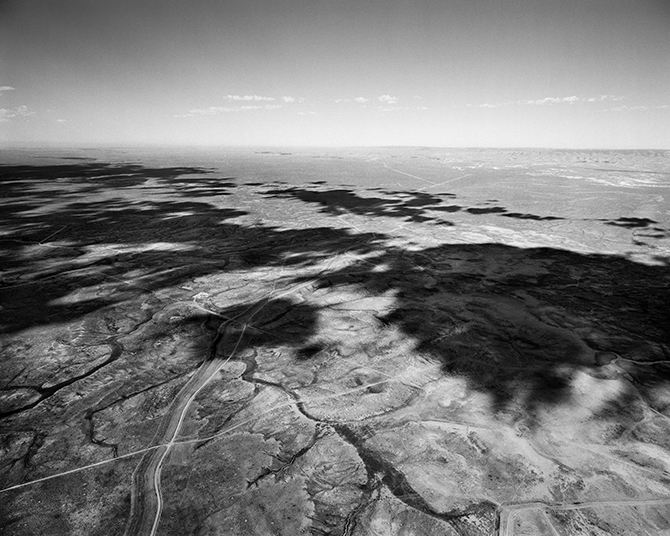 Michael Light: The short answer is that the aerial view affords a breadth of scale that offers direct access to many of the bigger, more "meta" themes that have always been of interest to me.
But let me take a few steps back and try to explain where all this came from. I got a B.A. in American Studies from Amherst many years ago, and I have since been an Americanist—not in the sense of being an apologist for America, but in the sense of someone trying to figure out what makes this country tick. It is a very, very vast country.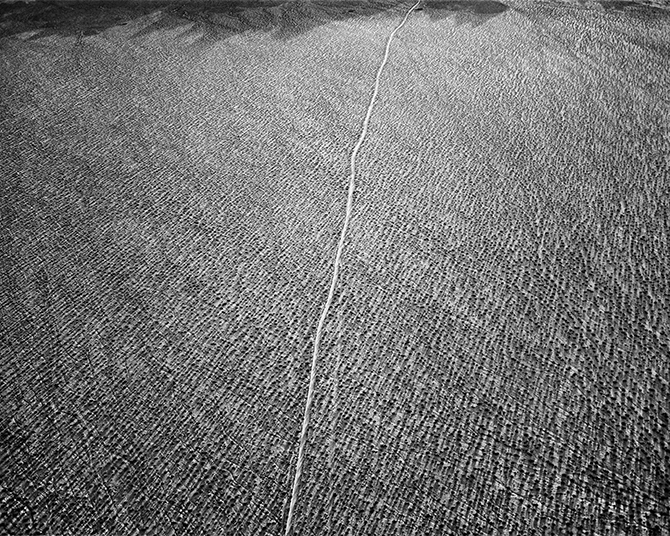 I grew up on the end of Long Island, and I was always getting onto Highway 80 or onto more southerly interstates and heading west. The metaphor that always accompanied me, oddly enough, was one of falling into America rather than crossing it. I was falling into the vastness of America and the sheer scale of it.
Of course, after I moved to California in 1986, I caught myself coming back east quite a bit, for family or for work, and those commercial air flights across the nation, flying coast to coast, were formative and endlessly interesting to me. I don't ever lower the window shade as requested. If the weather is clear, the odds are that what's unfolding below, geologically, is the main attraction for me. I just found myself looking down—or looking into—America a lot, and that sense of falling into the country just grew and evolved.
I did a big piece back in the 1990s, when I was still in graduate school. It took a couple of years, but I figured out how to make pretty decent images from 30,000 feet, from the seat of a commercial airliner. For instance, you have to sit in front of the engine so that the heat doesn't blow the picture; and it's a contrast game, trying to get enough clarity through all the atmospheric haze and through two layers of plexiglass, and so on and so forth. That piece was based specifically on commercial flights and it was liberating for me in lots of ways.