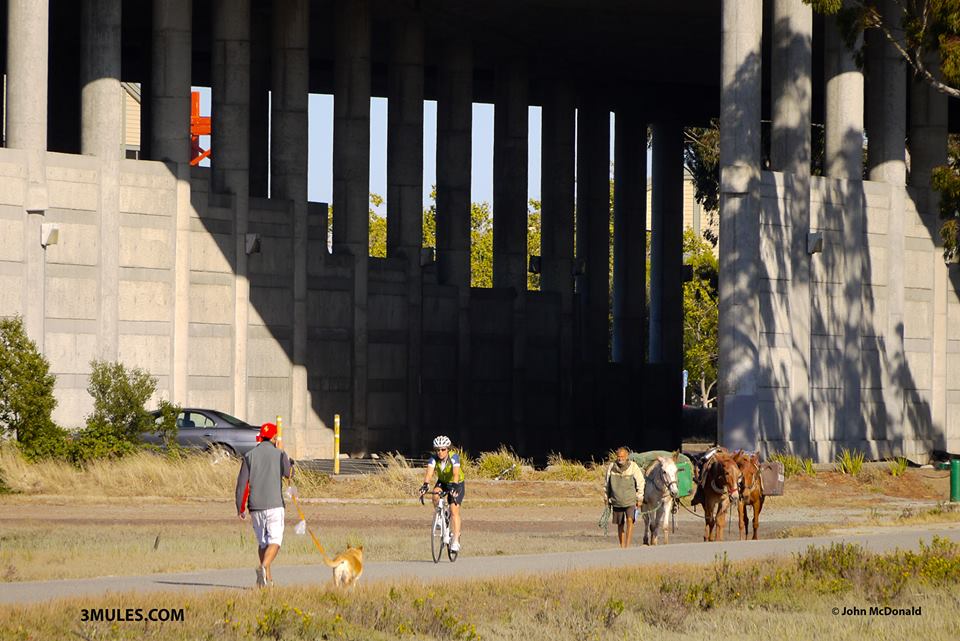 There is a man wandering around California with three mules.
He has a name, but he prefers to go by Mule. Police departments throughout the state know his name. They inevitably get calls from residents who wonder why a man with three mules is sleeping on the side of the road, and from time to time they have to go and investigate and decide whether or not to ticket him. He has had so many run-ins with the police that he has a lawyer. (The lawyer knows Mule's name.) The filmmaker John McDonald, who has spent hundreds of hours filming Mule on his journeys, and who helped Mule set up a Facebook page, knows Mule's name as well.
But Mule introduced himself to me as Mule, and so that's what I'm going to call him.
Mule is 65 years old and has slept outside with his three mules for the last 10 years, though he's lived his nomadic lifestyle for much longer than that -- 29 years on and off. Early on, he split his time between summer wandering, and then enduring what he calls "shit jobs" during the winter to earn enough to live off for the next summer.
He got his first mule in Spokane, Washington, so that he could carry more supplies with him into the bush than his meager, rail-thin frame can handle; McDonald says of Mule, "He has the build of Ghandi, but he sure doesn't have the personality of Ghandi." With his first mule, and then a second, and a third, he could load up on supplies to last him for much longer in the undeveloped parts of the American West, so he'd only have to resurface in towns to resupply once every month or so before once again disappearing.
But the world he inhabited was changing. While he sought solitude, he kept bumping into development. Land he had passed through was no longer public, and was vanishing behind fences. Everywhere he looked, he saw ever more roads and cars.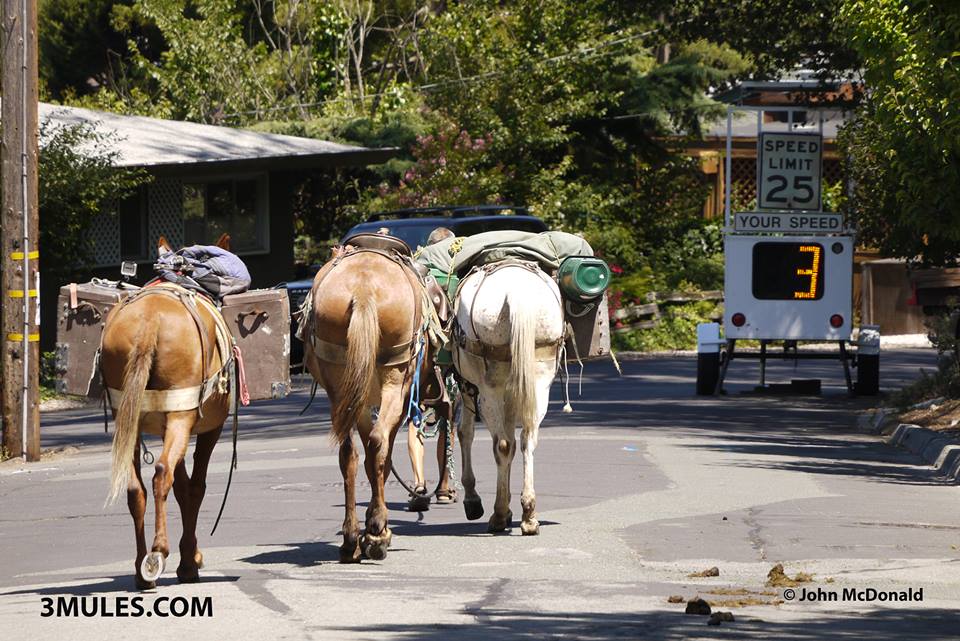 Two years ago, he walked the 295 mile stretch of land between Las Vegas and Ely, Nevada, land that was supposed to stay undeveloped by the Bureau of Land Management, land that had been used by Shoshone Indians for hundreds of years. In that BLM land, he encountered powerlines, the earliest stages of development. He knew then that he wanted to speak up about what he was seeing. Most immediately, suburban sprawl was threatening his way of life, but as Mule sees it, it threatens the way we all are meant to live. On the road to Ely, he gave up on wandering in the wild by himself. He got to Ely, and turned west, so that he could talk to people about the disappearance of public space.
Which is why there is a man wandering through California with three mules.
He has walked the boardwalk in Venice Beach with his mules. They once slept under a BART station in Oakland. They walk at day, and stop at night to rest in public spaces, which are mostly parks and neglected patches of grass along the sides of roads. His mules graze and drink the water they come across along the way. "We claim our right to use public space in a way that is applicable to us," Mule told me.
But this does not always go well for Mule. As he walked through Sacramento, a police officer told him, "This is not okay. Maybe in the gold rush days. But now we have cars." Police stop him constantly, which is a nuisance for Mule. He's not doing anything wrong, at least as he sees it. "We don't attempt to stay anywhere for more than a few days to rest. We don't set up camp structures or anything permanent. We don't collect garbage. We're not homeless. Our home is the Earth."
The police mostly let him stay for the night, since he's only passing through. It's rare to find places where mules are explicitly prohibited by law, so they often don't have much to go on besides complaints from the community. Sometimes the police scare him off from where he intended to sleep for the night. Sometimes they ticket him, but they almost always drop the charges. But not always. He is currently facing a $485 charge for sleeping outside the entrance to the Torrey Pines State Reserve. He's fighting the ticket, which is why he has a lawyer, Sharon Sherman, who has taken on the case pro bono. The first thing she had to do was push the date of the trial back from August 2013 to January 2014, because Mule follows the sun and the seasons, and escapes the summer heat in the north, and was far from San Diego at the time of the original trial date.
Recently, he had a rather nasty, run-in with the police in Gilroy, south of San Jose. He was arrested on August 30 while walking along the side of 101. The police wanted Mule to leave the road, but he insisted that there were no signs prohibiting him from being there. They arrested him for failing to follow the orders of a police officer, and Mule was taken to jail, and then transferred to a psychiatric facility, where he stayed locked up for six days. The animals were sent to a nearby animal shelter. Mule was released through the aid of a patients-rights advocate, who told a friend of Mule that it was the most bogus case she had ever seen. Mule will be going to court on September 12 to defend his plea of not guilty so that he can get back to wandering.