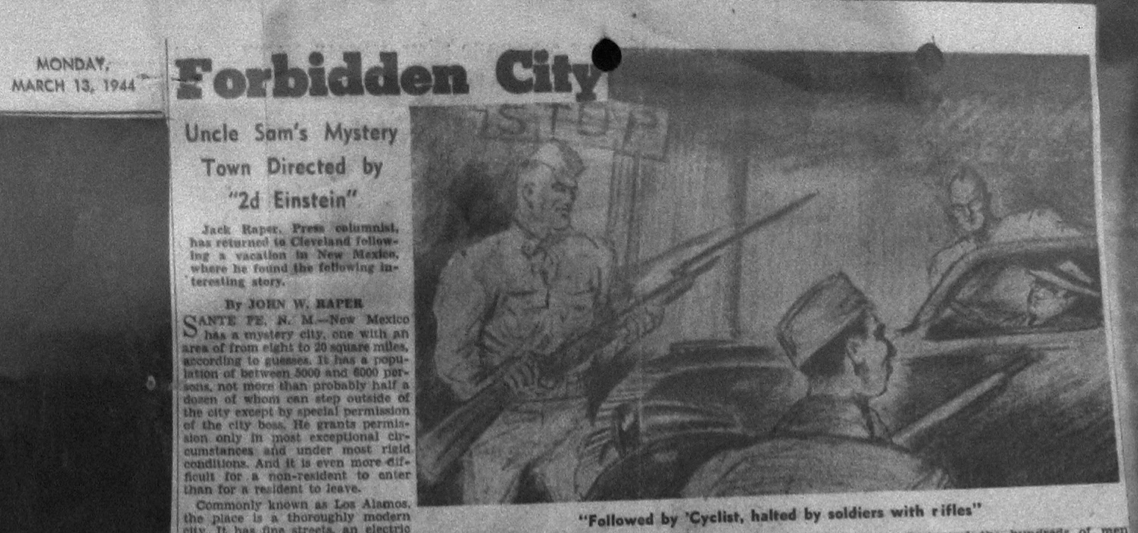 The Manhattan Project was, the director of the Office of Censorship once said, the "best-kept single secret of the war," as The New York Times put it in a piece that ran on August 9, 1945, the day of the bombing of Nagasaki.
And how remarkable this secrecy was! With some 130,000 people involved in building the bomb, how is it possible this story didn't leak out? 
Well, as nuclear historian Alex Wellerstein documents frequently at his invaluable site Restricted Data, the secrecy of the Manhattan Project was not all it is cracked up to be. Wellerstein says that the fact that "the Army was working on a new super-weapon that involved atomic energy" was something of an "open secret" in Washington prior to the bomb's use, and, moreover, there were numerous press reports that gave information about the project. 
But there is one that stands out, Wellerstein writes, and that is a report from The Cleveland Press, by columnist John W. Raper, who happened upon the clandestine city of Los Alamos, a year and a half before bombs would fall on Japan. 
"Forbidden City" the headline proclaimed. It continued: "Uncle Sam's Mystery Town Directed by '2d Einstein.'"
The story was introduced by a brief editor's note: "Jack Raper, Press columnist, has returned to Cleveland following a vacation in New Mexico, where he found the following story."
And then the reporting began:
SANTA FE, N.M. — New Mexico has a mystery city, one with an area from eight to 20 square miles, according to guesses. It has a population of between 5000 and 6000 persons, not more than probably half a dozen of whom can step outside of the city except by special permission of the city boss. He grants permission only in the most exceptional circumstances and under the most rigid conditions. And it is even more difficult for a non-resident to enter than for a resident to leave.

Commonly known as Los Alamos, the place is a thoroughly modern city. It has fine streets, an electric light plant and waterworks with capacity for a city twice as large as Los Alamos, a service department that really services, public library, high, grade, and nursery schools; recreation centers, hospital, apartment houses, cottages, dance hall, an enormous grocery, refrigeration plant, factories and jail.

If you like mysteries and have a keen desire to solve one, here is your opportunity to do a little sleuthing, and if you succeed in learning anything and then making it public you will satisfy the hot curiosity of several hundred thousand New Mexicans.

But you might as well be informed that you will fail and the chances are thousands to one that you will be caught and will be thrown into the hoosegow or suffer a worse fate.

A Free Country, But —

Of course, this is a free country and you can go where you please — if you are willing to sleep in the smoking car aisle or breathe the exhalations of your fellow sardines packed in a bus. But forget all about that sort of nonsense.

If you have any idea that you can employ a battery of eminent constitutional lawyers and go into court and that eventually the Supreme Court of the United States will decide the case in your favor if the lower courts decide against you, forget about that, too. you would be wasting your time and burning up any money you paid to the lawyer, for the man who owns this city has too much money and too much power in such a legal action.

This city's site, or at least part of it, at once time was occupied by a private school for boys, and is not far from the village of Los Alamos, which is 53 miles almost due east from Santa Fe, the state capital. It is in one of the most interesting sections of New Mexico. It has scenery enough for a whole state — peaks and peaks and more peaks, and cliffs and colors that dim the rainbow.

Not far away are the Indian villages occupied by the finest kind of Indians, intelligent, industrious, friendly, skilled in the production of art objects, many of them graduates of Indian schools. [Editor's note: WOW]
You can read the entirety of the article over at Wellerstein's site, but what is interesting here, beyond the substance of the report, is what this reveals about the media ecosystem of 1944, and what that, in turn reveals about ours of 2013 by contrast.
Wellerstein writes that people often think of the wartime press as docile, overly compliant with the U.S. government's policy of "voluntary censorship," which admonished any publication of government secrets but had no legal teeth.