Three months into my use and ownership of both a MacBook Air and a Mac Mini, and nearly 30 years into my use and ownership of computers in the CP/M -> DOS -> Windows lineage, I keep waiting for the moment to give a "complete" and panoramic view of the pluses and minuses of each approach.
That moment will never come. So I will resume the piecemeal descriptions offered before (here and in previous installments).
For reference: my three-working-computer setup here at Beijing HQ, in a posed but not entirely unrepresentative configuration. On the left: venerable Thinkpad T60 running Vista and a zillion Windows-style programs. On the right: the MacBook Air in all its svelteness. In between, a Mac Mini, connected to a big flat-panel display and a Mac-style aluminum keyboard.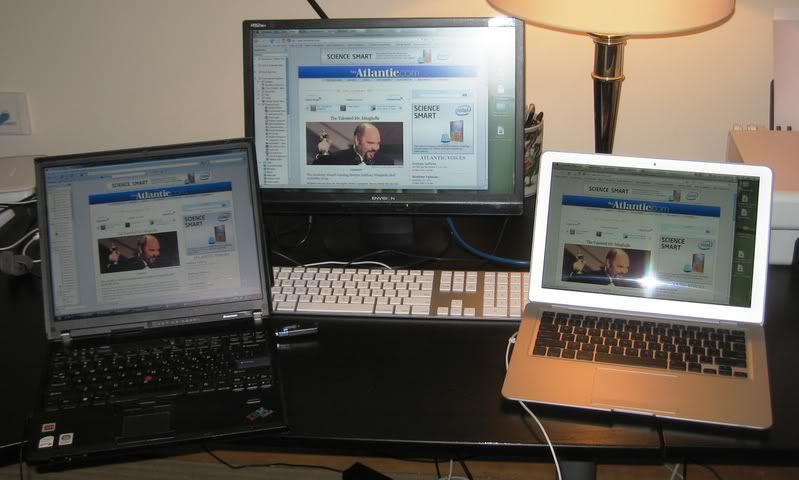 I still use all of them, through day by day the trend is, ratchet-like, in the Mac direction. I wouldn't be embarrassed to have a multi-system life for quite a while ahead, since each has its strengths --and since I don't regard this as a religious or cultural all-or-nothing decision. As soon as I even think about trying to present the ins and outs of each system, I get nervous about what a long chore that would be. (Also, I know that David Alison's excellent blog has over the last few months chronicled in exquisite detail every shift, surprise, irritation, how-to, and satisfaction he has gone through during his switch to the Mac.)
So I'll make this manageable by doling out three or four points per post, which cumulatively may someday represent the complete Mac/PC almanac so many people dream of.
Today's three points:
1) The sublime elegance of VMWare Fusion. My technological hero through this process is not Steve Jobs -- or even Linus Torvalds or some similar dark horse you would come up with. It is whatever band of geniuses invented VMWare Fusion. I found this utility slightly tricky to load --but once it was installed, it let me run PC programs and Mac programs side by side, in normal screen windows from which you can cut and paste text back and forth. My cherished PC program Zoot is there in a window right alongside the Mac's Scrivener or DevonThink Pro. And so are Microsoft Outlook and Word 2007.
I have learned to be skeptical of the assurance that something "just works." But for me, over three months, Fusion has just worked and -- this is the part that sounds like a commercial -- it has let me run all my tried-and-true favored PC programs faster and better than I can run those same programs on my Windows machine. They start up faster; they freeze less often; they let me spend more time doing the job.
Of course these programs have an advantage: under Fusion they are actually running on Windows XP, not Vista as on this ThinkPad. (My wife has our XP machines.) This leads us to the second point for the day: