5) "Political ossification that prevents real vision":
As a frequent commuter to LA from Sacramento, I've had deep questions about the financial viability of the HSR. People choose their travel mode to LA from the Bay Area and Sacramento ...  for different reasons:

Airplane: speed and convenience, with some pricing advantages in some cases. This is the true place for market share competition with HSR. These travelers are without a car when they arrive as they would be in the HSR. However LA is so decentralized and the mass transit system too complicated for a periodic visitor/tourist to use, so a downtown HSR doesn't confer a real advantage over arriving at Burbank (the experienced travelers' preference) or LAX. (Note also that the vaunted Bay Area transit system is only robust in the northern half—it's as difficult as LA's in San Jose environs.) Southwest Air seems able to meet any price challenge, and can be less costly than driving alone. Boeing's recent foray into bio jet fuel indicates that airplanes may be able to reduce their GHG emissions even more significantly...

Auto: cost, spontaneity and convenience on arrival. Avoiding rental car costs of nearly $50/day is an important consideration, and traveling in a group is always less expensive than an airline ticket. The HSR will have almost NO penetration into this market—I have not seen an financial projections that show ticket prices competing with driving instead of airplanes. And if EVs are as successful as the ARB AB 32 Scoping Plan envisions, driving costs will drop precipitously, so the HSR is even less likely to  There is currently little congestion outside of the Bay Area and the LA Basin (and that HSR riders will be driving around means there will be no relief there) and if congestion arise in the Central Valley, expanding I-5 and Hwy 99 from 4 to 6 lanes (or creating a separate truck-only road along I-5) will quickly address that problem.

Which brings me to two key issues I have not yet seen discussed:

1)      The real pollution problem in the Central Valley is not auto travel between the Bay Area and LA. Trucks making the I-5 trek are a much bigger source, and agriculture, oil production and local traffic probably overwhelm the Bay Area/LA traffic stream, particularly since autos emit less criteria pollutants per mile at freeway speeds. I don't see the HSR will make a real dent in the overall emission levels.

2)      Viewing the HSR in isolation from EV penetration and airline bio jet fuel use illustrates a much larger problem in California: The failure to analyze the interplay among different emission reduction strategies. The Scoping Plan was a mess this way—it was clear that reductions in one sector would reduce the potential emissions in another, but the Plan failed to account for this effect. The HSR probably is not cost effective when compared to other measures in this manner, and the GHG allowances probably could be used much more effectively in other ways (e.g., mitigating AB 32 price increases on low income consumers). A comprehensive, holistic analysis is completely missing.

It's also naïve to think that there will be any train ridership between Fresno and Bakersfield for the first leg just at one reader noted. There's no advantage for train travel because there is parking shortage in either place and no real traffic congestion except briefly at rush hour ....

I'm afraid that California is going to kill HSR just as it did electricity restructuring and GHG cap and trade programs. I generally supported both of those, but the state's execution reflects the growing political ossification that prevents real vision.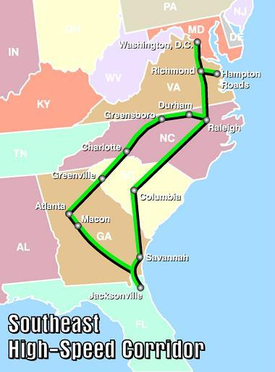 6) "Infrastructure is the real thing. Yet we are behind ... even the French!"
I'm so glad you've taken up this issue. I do hope that it broadens into a deeper discussion of the need for infrastructure investment throughout the country...

The word "infrastructure" gets thrown around like so many metaphors which become mindlessly absorbed into a kind of bureaucrat-ese; they make the speaker sound knowledgeable and on the inside.  (Like referring to hotels and movies as "properties" as if speaking clinically about such things elevates the speaker to the dispassionate management elite.)

But "infrastructure" is as close to a literal metaphor as anything I can think of.  If you look at the development of this country, the movement west, the development of commerce throughout the interior of the country; it was all of it hung on the firm grounding of infrastructure.  Initially the infrastructure was natural—Pittsburgh arose at the confluence of three great rivers.  The Erie Canal brought commerce and development to interior NY state, eastern Ohio and the Great Lakes.  See also the St. Lawrence Seaway. Would Duluth, Cleveland, Detroit, etc., have become anything without it?

Railroads made possible all of the great agricultural activities in the country's interior; so many towns arose simply because of the railroads.  So many centers of commerce arose simply because of the interstate highways.  (And so many in downtown cores were lost because of those same highways...)   Regulated telecommunications made sure that the hard-to-wire regions of the interior nevertheless got reliable telephone service.  Consider the questionable viability of all of the small towns in Arkansas, Oklahoma, Nebraska, etc. had telephone service to them not been a regulatory requirement.  See also air service in the regulated era.  The level of commercial and domestic development on the interior of the country could not have happened had it not had all of that publicly financed or mandated infrastructure upon which to hang.  And all of it depended in one form or another on public investment and subsidy. Even the railroads.

By comparison, look at us now. Whatever happened to the vast Greyhound and Continental Trailways bus network?  It used to be possible to go most anywhere by passenger rail.  The de-regulation of the airlines has caused the cessation of commercial air service to large numbers of smaller, but significant, centers of commerce. Interstate highways still provide access, but it's necessary to have an inefficient and expensive automobile to use it, absent some commercial service.  And high-speed internet still remains elusive to rural areas that are not commercially viable on their own. If this is the result of the "free market,"  you can have it.  We moved from the Articles of Confederation to the Constitution specifically to have greater support for our national commerce.

Infrastructure is a real thing, and without it, the skin and the muscle and the sinews have nothing to hang onto, no grounding against which to leverage its force.  Human activity won't go anywhere if there's no way for it to go.

The Reagan and neo-Reagan political era have brought with it a kind of auto-immune (clever pun?) disease in which government investment is reviled, and the country eats away at itself.  (Correction.  I guess we still find the benefit in public investment in our sports stadiums.)  Our attitudes of public and regulated private investment for the benefit of the whole have to change, or we will, as we are, decay to a level from which it may not be possible to recover.  Why can't we chant "USA! USA! USA!" and actually accomplish something other than tearing apart third world countries?  Two and a half efficient and convenient hours from SFO to LAX?  You betcha.  I'll have more of that thank you!

High-speed rail technology has been available for 50 years. It is an embarrassment that we are so far behind ... even the French!!