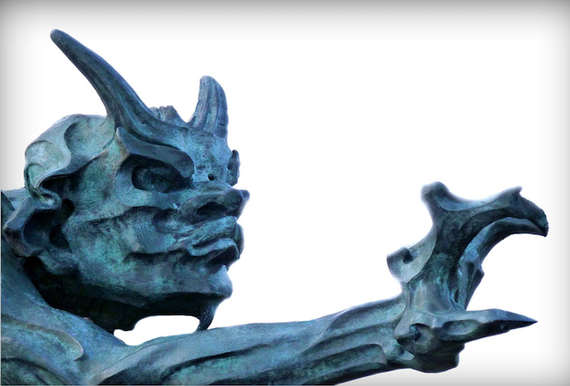 Online threats against women are the subject of a lengthy Pacific Standard article by Amanda Hess, who argues that gendered harassment has severe implications for women's status on the Internet and their place in the digital era.
"Threats of rape, death, and stalking can overpower our emotional bandwidth, take up our time, and cost us money through legal fees, online protection services, and missed wages," she writes. "I've spent countless hours ... logging the online activity of one particularly committed cyberstalker ... And as the Internet becomes increasingly central to the human experience, the ability of women to live and work freely online will be shaped, and too often limited, by the technology companies that host these threats, the constellation of local and federal law enforcement officers who investigate them, and the popular commentators who dismiss them—all arenas that remain dominated by men, many of whom have little personal understanding of what women face online every day."
This subject deserves more attention–and I'd like to focus here on a small part of it. For years, I've been convinced that gendered nastiness and harassment was one factor responsible for the emergence of a blogosphere so disproportionately inhabited by men. And it's the biggest factor that changed my mind about how heavy-handed bloggers and editors ought to be about moderating comments sections. 
Let's take a trip back to the early aughts, when political blogs and arguing about politics on Internet message boards went mainstream. As a college student and later as a newspaper reporter, I was subject to all manner of vile and ad hominem insults in comments. I nevertheless subscribed to the prevailing ethos of the time: that unmoderated comments were the least bad approach, because they acted as an important check on the writer or publication that was hosting them, a particularly important feature in an era when anyone could publish anything. My 25-year-old self felt confident that, having been subject to vitriol as serious as death threats, I was fully aware of the costs of the approach I advocated. Like many bloggers, I quickly developed thick skin, especially with regard to trolls. It wasn't always easy, but it seemed a small price to pay for all the excellent comments I got to read as compared to the prior world of boring letters to the editor.
Then I guest-blogged for Megan McArdle. At the time, she was employed here at The Atlantic. My stint running her page while she vacationed included the keys to the blog's inbox. Even as someone who'd previously blogged about immigration in California's Inland Empire, fielding insults and aggressive invective as vile as any I could imagine, I was shocked by a subset of her blog's correspondence. To this day, I don't know if I was experiencing a typical or atypical week. Perhaps in the abstract, there isn't any threat more extreme than the death threats I'd received and brushed off as unserious. But I read emails and comments addressed at McArdle that expanded my notion of how disturbing online vitriol could be. And it took my actually reading them for my perspective to change.  
I'd never been exposed to anything like it before.
Later, when my duties included reading email sent to Andrew Sullivan at The Daily Dish, I discovered that gay men, too, are subject to this sort of comment that was previously invisible to me: not just over-the-top invective, but intensely personal missives of hyper-sexualized hate. That's the best I can do to sum them up, but it's an inadequate description. And an excerpt wouldn't much help, because to really understand how it feels to read these missives (to the extent that someone other than the intended recipient can even begin to understand), it's necessary to experience their regularity. Instead of a lone jerk heckling you as you walk down a major street, imagine dozens of different people channeling the same hyper-aggressive hatefulness, popping up repeatedly on random blocks for hours on end. That's what some bloggers had to endure over the course of years to make it.
Around this time, I began to ask female friends if they experienced this same phenomenon. And not only were they close to unanimous in avowing that they did—many also cited a weariness at gendered online abuse to explain why they either shuttered their personal blogs and stopped writing for the public, or shifted their journalistic efforts to a traditional format rather than the more personalized blog format. This is the very time that people like Matt Yglesias and Ezra Klein were building the personal blogs from which they would become successful national pundits. One wonders how many equally talented women we missed out on reading due to misogynists hurling vile invective at rising female journalists.