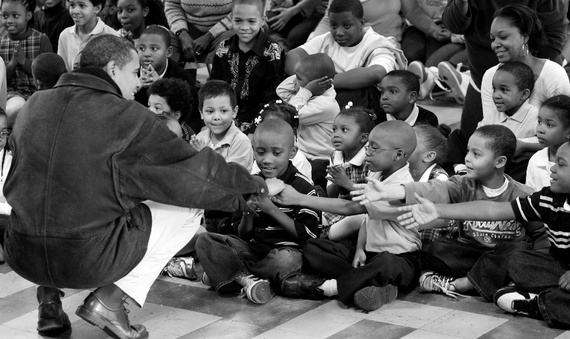 Last week The New Yorker ran a lengthy profile of Barack Obama, by David Remnick, in which you can hear the president's opinions on everything from marijuana legalization to war to racism. Obama is as thoughtful as ever, and I expect that admiration for his thoughtfulness will grow as the ages pile upon us. I have tried to get my head around what he represents. Two years ago, I would have said that whatever America's roots in white supremacy, the election of a black president is a real thing, worthy of celebration, a sign of actual progress. I would have pointed out that you should not expect a black head of state in any other Western country any time soon, and that this stands as singular accolade in the long American democratic tradition. Today, I'm less certain about national accolades. I'm not really sure that a writer—whose whole task is the attempt to see clearly—can afford such attachments. 
More interesting to me is why this happened. If you begin from the proposition that African-Americans are fundamentally American, in a way that the Afro-French are not; and that America is, itself, a black country in a way that the other European countries are not, Barack Obama's election strikes you somewhat differently. African-American politics is literally as old as American politics, as old as Crispus Attucks shot down for his nascent country. One of the earliest and bloodiest proving grounds for "Western" democratic ideals was Gettysburg. The line that saved the Union, that ensured that "government of the people, for the people, by the people, shall not perish from this earth" was marked by the house of the black farmer Abraham Brian. On that Brian property lived the great Mag Palm, currently lost to our memory, who fought off man-catchers determined to reduce her to peonage.
The first African-American to be nominated for president was Frederick Douglass, a biracial black man of exceptional gifts who dreamed of his estranged father as surely as the present occupant of the White House, perhaps even in this day, dreams of his. The last black Southerner to serve in Congress, before this country assented to the desecration of its own Constitution, was George Henry White, who did not leave in despair but in awesome prophecy:
This is perhaps the Negroes' temporary farewell to the American Congress, but let me say, Phoenix-like he will rise up some day and come again. These parting words are in behalf of an outraged, heart-broken, bruised and bleeding, but God-fearing people; faithful, industrious, loyal, rising people—full of potential force.
And come again, we have. 
In a literal sense, Barack Obama's presidency was made possible by the tradition of black politics—he could not have won in 2008 without the proportional allocation that came out of Jesse Jackson's campaign 20 years before. Considering this history, and considering the valence of African-American culture and heritage in our collective lives, in the very founding of this country, in our politics, I am not sure how much comparisons with European countries can tell us.
Barack Obama was not prophecy. Whatever had been laid before him, it takes gifted hands to operate, repeatedly, on a country scarred by white supremacy. The significance of the moment comes across, not simply in policy, by in the power of symbolism. I don't expect, in my lifetime, to again see a black family with the sheer beauty of Obama's on such a prominent stage. (In the private spaces of black America, I see them all the time.) I don't expect to see a black woman exuding the kind of humanity you see here on such a prominent stage ever again. (In the private spaces of black homes, I see it all the time.) And no matter how many times I've seen it in my private life, at Howard, in my home, among my close friends, I don't ever expect to see a black man of such agile intelligence as the current president put before the American public ever again. 
This symbolism has real meaning. What your country tells you it thinks of you has real meaning. If you see people around you acquiring college degrees and rising only to work as Pullman porters or in the Post Office, while in other communities men become rich, you take a certain message from this. If you see your father being ripped off in the sharecropping fields of Mississippi, you take a certain message about your own prospects. If the preponderance of men in your life are under the supervision of the state, you take some sense of how your country regards you. And if you see someone who is black like you, and was fatherless like you, and endures the barbs of American racism like you, and triumphs like no one you've ever known, that too sends a message. 
And this messenger—who is Barack Obama—becomes something more to black people. He becomes a champion of black imagination, of black dreams and black possibilities. For liberals and Democrats, the prospect of an Obama defeat in 2012 meant the reversal of an agenda they favored. For black people, the fight was existential. "Please proceed, governor," will always mean something more to us, something akin to Ali's rope-a-dope, Louis over Schmeling, or Doug Williams over John Elway.