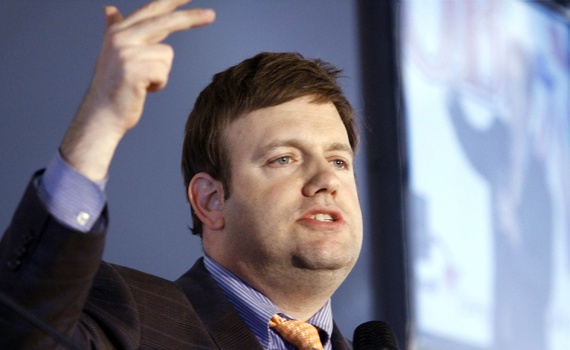 Frank Luntz does not want the buffet. We are on the top floor of the Capitol Hill Club, the members-only Republican hangout a block from the Capitol, where a meaty smell is emanating from steam trays. Today's main course is ham, and Luntz shakes his head.
There's also fish, the host offers—mahi mahi. No. "I'm 0 for 2," Luntz says mournfully.
"Roast chicken," the host says, but it's too late; he's lost him. "Boring," Luntz says, as we head for the elevator to the full-service dining room in the basement.
America's best-known public-opinion guru hasn't suddenly gone vegan. Luntz—the tubby, rumpled guy who runs the focus groups on Fox News after presidential debates, the political consultant and TV fixture whose word has been law in Republican circles since he helped write the 1994 Contract With America—has always been a hard man to please. But something is different now, he tells me. Something is wrong. Something in his psyche has broken, and he does not know if he can recover.
"I've had a headache for six days now, and it doesn't go away," he tells me as we take our seats at a table downstairs. "I don't sleep for more than two or three hours at a time. I'm probably less healthy now than I have ever been in my life." He's not sure what to do. He's still going through the motions—giving speeches, going on television, conducting focus groups, and advising companies and politicians on how best to convey their message.
But beneath the surface, he says, is a roiling turmoil that threatens to consume him. He orders a chicken pot pie, then berates himself for not choosing something healthier. In recent months, he tells me, he has often contemplated quitting everything; he has spent long weeks alone, unable to sort out his thoughts. Frank Luntz, the master political manipulator, a man who has always evinced a cheery certainty about who's right and who's winning and how it all works, is a mess.
And yet, over the hour and a half I spend talking with him—the first time he has spoken publicly about his current state of mind—it's hard to grasp what the crisis is about. Luntz hasn't renounced his conservative worldview. His belief in unfettered capitalism and individual self-reliance appears stronger than ever. He hasn't become disillusioned with his very profitable career or his nomadic, solitary lifestyle. His complaints—that America is too divided, President Obama too partisan, and the country in the grip of an entitlement mentality that is out of control—seem pretty run-of-the-mill. But his anguish is too deeply felt not to be real. Frank Luntz is having some kind of crisis. I just can't quite get my head around it.
A few weeks after our lunch, Luntz tells me he's made a move. He has changed his principal residence from Northern Virginia to a condo overlooking the Las Vegas Strip, and he's contemplating a sale of his company, Luntz Global LLC, the details of which he is not at liberty to discuss. Las Vegas, he says, represents "my chance to be intellectually challenged again" by a place that is "the closest thing to a melting pot America has to offer." As fresh starts go, it's not much, but Luntz hopes it will bring some new clarity.
* * *
The crisis began, he says, after last year's presidential election, when Luntz became profoundly depressed. For more than a month, he tried to stay occupied, but nothing could keep his attention. Finally, six weeks after the election, during a meeting of his consulting company in Las Vegas, he fell apart. Leaving his employees behind, he flew back to his mansion in Los Angeles, where he stayed for three weeks, barely going outside or talking to anyone.
"I just gave up," Luntz says.
His side had lost. Mitt Romney had, in his view, squandered a good chance at victory with a strategically idiotic campaign. ("I didn't work on the campaign. It just sucked, as a professional. And it killed me because I realized on Election Day that there's nothing I can do about it.") But Luntz's side had lost elections before. His dejection was deeper: It was, he says, about why the election was lost. "I spend more time with voters than anybody else," Luntz says. "I do more focus groups than anybody else. I do more dial sessions than anybody else. I don't know shit about anything, with the exception of what the American people think."
It was what Luntz heard from the American people that scared him. They were contentious and argumentative. They didn't listen to each other as they once had. They weren't interested in hearing other points of view. They were divided one against the other, black vs. white, men vs. women, young vs. old, rich vs. poor. "They want to impose their opinions rather than express them," is the way he describes what he saw. "And they're picking up their leads from here in Washington." Haven't political disagreements always been contentious, I ask? "Not like this," he says. "Not like this."
Luntz knew that he, a maker of political messages and attacks and advertisements, had helped create this negativity, and it haunted him. But it was Obama he principally blamed. The people in his focus groups, he perceived, had absorbed the president's message of class divisions, haves and have-nots, of redistribution. It was a message Luntz believed to be profoundly wrong, but one so powerful he had no slogans, no arguments with which to beat it back. In reelecting Obama, the people had spoken. And the people, he believed, were wrong. Having spent his career telling politicians what the people wanted to hear, Luntz now believed the people had been corrupted and were beyond saving. Obama had ruined the electorate, set them at each other's throats, and there was no way to turn back.