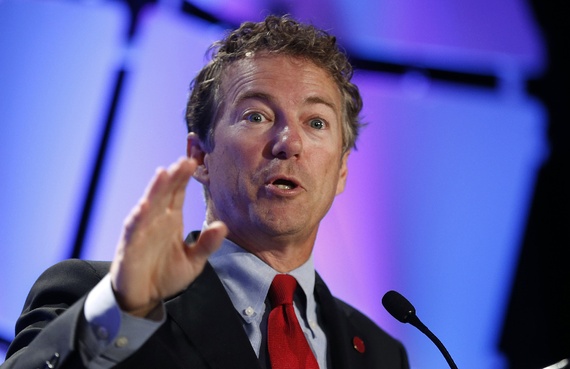 If Chris Christie was ever the frontrunner for the 2016 Republican presidential nomination, he isn't anymore. All along, the theory behind his candidacy was that he could overcome his lack of conservative bona fides with a combination of personality, competence, electability, and money. Bridgegate undermines all four.
In the minds of many voters, Christie's personality has morphed from brash to bully. It's harder to look competent when your top aides egregiously abused power under your nose. Christie's supposed electability was based partly on polls showing that he was the only potential Republican nominee running even with Hillary Clinton. But Marist and Quinnipiac, whose surveys showed Clinton and Christie virtually tied in December, now show him trailing her by 13 and 8 points, respectively. The electability argument also depended on Christie's supposed success in bringing New Jerseyans together across party lines, a harder claim now that Democrats in the state legislature are talking impeachment. And as Christie's electability erodes, so will his vaunted support among GOP moneymen. As a Republican insider recently told BuzzFeed's McKay Coppins, "There are definitely people jumping ship."
So if Christie is no longer the candidate to beat in the 2016 Republican race, who is? Believe it or not, it's Rand Paul.
To understand the Kentucky senator's hidden strength, it's worth remembering this basic fact about the modern GOP: It almost never nominates first-time candidates. Since 1980, George W. Bush is the only first-timer to win a Republican nomination. And since Bush used the political network his father built, he enjoyed many of the benefits of someone who had run before. It's the same with Paul. In both Iowa and New Hampshire, he begins with an unparalleled infrastructure left over from his father Ron Paul's 2008 and 2012 campaigns.
Start with Iowa. Last May, Rand Paul gave the keynote speech at the Iowa Republican Party's annual Lincoln Day Dinner. How did he secure this prize invitation? Because the chairman, co-chairman, and finance chairman of the Iowa Republican Party all supported his father. Rand Paul's not the only potential 2012 candidate who will inherit a political infrastructure in the Hawkeye State. Rick Santorum and Mike Huckabee also have networks left over from prior runs. But their supporters don't play as influential a role in the state GOP. "RPI no longer stands for the Republican Party of Iowa," noted a recent article in Politico, "but for Rand Paul, Inc."
Because the Iowa GOP will elect new leaders next spring, it's unlikely "Paulestinians" will so thoroughly dominate the party leadership in 2016. But Craig Robinson, former political director of the Iowa GOP, says that's actually to Rand Paul's advantage, since it will free up some of Iowa's most powerful Republicans to run his 2016 campaign. The Iowa caucuses are, famously, a test of organization. And for that reason, Robinson argues, "Rand Paul has a huge advantage in this state. There's an organization built that has grown and been able to be maintained for four to six years. That's a headstart. There's no other candidate who has something like that." It's "almost like having the advantage of having run before."
Despite his organizational strength, Ron Paul's libertarian views capped his support in Iowa, preventing him from winning over more traditional conservatives. But in 2016, Rand Paul will be less of an ideological outlier than his father was in 2012. That's partly because he has avoided some of his father's edgier views. (He's more supportive of foreign aid and sanctions against Iran, for instance.) And it's partly because more Republicans now share his suspicion of the national-security state. Last summer, more than 40 percent of House Republicans voted to curb NSA data collection. "Rand has a much broader appeal than his father," Robinson says. Polls reflect that: A survey last December for the Des Moines Register found Paul with a lower unfavorability rating among Iowa Republicans than either Christie or Jeb Bush.
If Paul is, arguably, the early leader in Iowa, he may be the early frontrunner in New Hampshire as well. While Ron Paul placed third in Iowa in 2012, he placed second in New Hampshire, losing only to Mitt Romney, the former governor of neighboring Massachusetts and a national frontrunner with a vast financial edge. Even before Bridgegate, Christie would have struggled to match Romney's success. Dante Scala, associate professor of political science at the University of New Hampshire, notes that in 2012 Romney had two advantages that Christie won't have this time around. First, he had a preexisting network in the state, built during his 2008 run. Second, since he was no longer a sitting governor, he had virtually unlimited time to campaign.