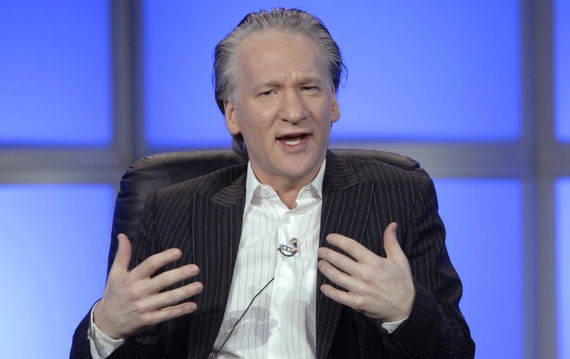 As his HBO show Real Time begins its twelfth season with higher ratings than ever—4.1 million viewers, high for a premium-cable talk show—the iconoclastic comedian and political commentator Bill Maher spoke to The Atlantic about why he likes doing comedy shows in red states, how his show is different from Jon Stewart's, why the God of the Old Testament is "the most psychopathic character in fiction," and why he believes most opposition to President Obama is racist.
---
Let me start by asking the question you're probably most sick of answering, so we can get it out of the way. The infamous episode of your ABC show Politically Incorrect, on September 17, 2001—
The tragic events of 9/17?
Yes, The tragic events of 9/17. [Ed. note: Maher said, in response to President George W. Bush's comment that the 9/11 hijackers were cowards, "We have been the cowards. Lobbing cruise missiles from 2,000 miles away. That's cowardly. Staying in the airplane when it hits the building. Say what you want about it. Not cowardly." Advertisers withdrew and the show was cancelled a few months later.] You've said the aftermath of that was the most traumatic period of your life. So I'm curious, what has it been like moving over to HBO, where there are no advertisers? And, second, why does everyone forget that when you made your remarks, you were just agreeing with a guest, Dinesh D'Souza?
Yeah, I had Dinesh on our show last season, and brought that up to him. You know, I was just agreeing with what he said. I was concurring, as a good host does, you know? And maybe extrapolating a little. But yeah, I could have used a little cover from Mr. D'Souza.
Are you tired of talking about the events of 9/17?
No!
It's now been 13 years. Do you feel like HBO has your back in a way that ABC did not?
Absolutely. They always have. And, of course, let's be honest, it's easier for them to have my back because they don't have to deal with advertisers. You know, I was never mad at ABC for firing me. I totally understood that I was on a broadcast medium that depends on advertisers, and if the advertisers pull out there's really not much you can do. I was only pissed at them because they lied about it. They said we lost our audience and we never did! We always had good ratings, and we retained good ratings, and very high retention ratings from Nightline. It took a long time for Jimmy Kimmel to come up to the ratings that we used to get in that timeslot. So, that was the only thing that pissed me off about it.
You're a comedian. But Real Time is somewhere between a pure comedy show and, say, Morning Joe. When you sit down to write your show, are you thinking that your job is to generate laughs, or are you trying to convey a perspective on the news? It's been observed that many young people now get their news from The Daily Show and The Colbert Report. Who's your intended audience, and what are you trying to communicate to them?
Part of it is what you just attributed to those other two shows. You said people get their news from those two shows, but I'm guessing at least as many people watch my show. So, I think I'm trying to do the same thing. Give people news. The main thing I'm thinking of, because we are after all a weekly wrap-up show, is I'm doing this show for people who are interested in the news, but don't have time to follow it like I do. They have lives. They have kids. They have jobs. They can't read the paper every day. So, Friday night at 10 o'clock when they sit down in front of the television set, I want them to be able to feel as they watch it—an hour of Real Time—in one section of the show, either the monologue, in the New Rules, in the panel, in one of the one-on-one interviews—I want them to feel like every important issue, or at least what I feel is important, that happened that week got in some way mentioned. And then, of course, I do want to make it as entertaining as possible. And we have enough prewritten stuff that I know there's always going to be laughs throughout the show. And the panel is lively too, but the panel, you know I have no control over what three other people say, or how amusing they're going to be.
How do you view Stewart and Colbert? Do you see what you're doing as kind of comparable to what they're doing? Or are you doing something different?
I'm more comparable to them than to, say, Dancing With the Stars. But I see vast differences. I don't think we're as predictable. I will disagree with my liberal audience. I will challenge them. Sometimes I'll even yell at them. I'm real about it. I treat the audience like real friends, and sometimes we argue. And sometimes they need to be educated about something. Sometimes liberals can be in a bubble too. And, you know, there's just a host of issues that I think our show and the old show has been out front on, that are more and more becoming mainstream. Things like atheism and marijuana legalization—but not just those—that I've been talking about for years; somehow things get into the mainstream after somebody has been pounding away on it for a long time. And then they just seem normal.
You famously gave a million dollars of your own money to the pro-Obama super PAC. From the perspective of where we are now, do you feel that was money well spent?