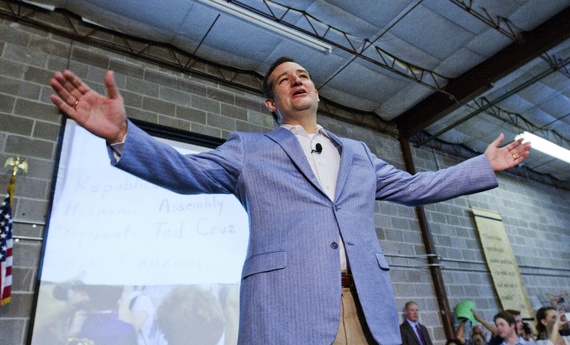 The demise of the Tea Party was loudly announced right after Congress voted on October 16 to lift the debt ceiling and reopen the federal government. "Finally! The Republican Fever Is Broken," exulted Jamelle Bouie atThe Daily Beast, while Washington Post columnist Eugene Robinson proclaimed President Obama's "victory" over the Tea Party just as "devastating as Sherman's march through the South." With most Americans telling pollsters they do not like the Tea Party and its tactics, the GOP will eventually have to pivot back to the median voter, explained Noah Feldman in his Bloombergcolumn, "How the Tea Party Will Die."
Other optimists placed greater emphasis on the supposed new will of business interests and Republican Party elders to recapture party control. Offering reassurance, supporters of Republican Speaker of the House John Boehner told the pre-eminent inside-the-Beltway gossip site Politico that their guy was more effectively in charge of his raucous GOP caucus following the shutdown debacle. Karl Rove vowed to block far-right Tea Party challengers in GOP primaries, and the Chamber of Commerce started to make noises about supporting some supposed "moderates" against Tea Party candidates in 2014 GOP primaries.
But we have heard all this before. The Tea Party was supposed to be dead and the GOP on the way to moderate repositioning after Obama's victory and Democratic congressional gains in November 2012. Yet less than a year after post-election GOP soul-searching supposedly occurred, radical forces pulled almost all GOP House and Senate members into at least going along with more than two weeks of extortion tactics to try to force President Obama and Senate Democrats to gut the Affordable Care Act and grant a long laundry list of other GOP priorities suspiciously similar to the platform on which the party had run and lost in 2012. The Tea Party's hold on the GOP persists beyond each burial ceremony.
In 2011, Vanessa Williamson and I published our book The Tea Party and the Remaking of Republican Conservatism, which used a full panoply of research—from interviews and local observations to media and website analysis and tracking of national surveys—to explain the dynamics of this radical movement. We showed how bottom-up and top-down forces intersect to give the Tea Party both leverage over the Republican Party and the clout to push national politics sharply to the right.
At the grassroots, volunteer activists formed hundreds of local Tea Parties, meeting regularly to plot public protests against the Obama Administration and place steady pressure on GOP organizations and candidates at all levels. At least half of all GOP voters sympathize with this Tea Party upsurge. They are overwhelmingly older, white, conservative-minded men and women who fear that "their country" is about to be lost to mass immigration and new extensions of taxpayer-funded social programs (like the Affordable Care Act) for low- and moderate-income working-aged people, many of whom are black or brown. Fiscal conservatism is often said to be the top grassroots Tea Party priority, but Williamson and I did not find this to be true. Crackdowns on immigrants, fierce opposition to Democrats, and cuts in spending for the young were the overriding priorities we heard from volunteer Tea Partiers, who are often, themselves, collecting costly Social Security, Medicare, and veterans' benefits to which they feel fully entitled as Americans who have "paid their dues" in lifetimes of hard work.
On the other end of the organizational spectrum, big-money funders and free-market advocacy organizations used angry grassroots protests to expand their email lists and boost longstanding campaigns to slash taxes, shrink social spending, privatize Medicare and Social Security, and eliminate or block regulations (including carbon controls). In 2009, groups such as FreedomWorks, Americans for Prosperity, the Club for Growth, and Tea Party Express (a renamed conservative GOP political action committee) leapt on the bandwagon; more recently, the Senate Conservative Action Fund and Heritage Action have greatly bolstered the leveraging capacities of the Tea Party as a whole. Elite activities ramped up after many Tea Party legislators were elected in 2010.
Here is the key point: Even though there is no one center of Tea Party authority—indeed, in some ways because there is no one organized center—the entire gaggle of grassroots and elite organizations amounts to a pincer operation that wields money and primary votes to exert powerful pressure on Republican officeholders and candidates. Tea Party influence does not depend on general popularity at all. Even as most Americans have figured out that they do not like the Tea Party or its methods, Tea Party clout has grown in Washington and state capitals. Most legislators and candidates are Nervous Nellies, so all Tea Party activists, sympathizers, and funders have had to do is recurrently demonstrate their ability to knock off seemingly unchallengeable Republicans (ranging from Charlie Crist in Florida to Bob Bennett of Utah to Indiana's Richard Lugar). That grabs legislators' attention and results in either enthusiastic support for, or acquiescence to, obstructive tactics. The entire pincer operation is further enabled by various right-wing tracking organizations that keep close count of where each legislator stands on "key votes"—including even votes on amendments and the tiniest details of parliamentary procedure, the kind of votes that legislative leaders used to orchestrate in the dark.