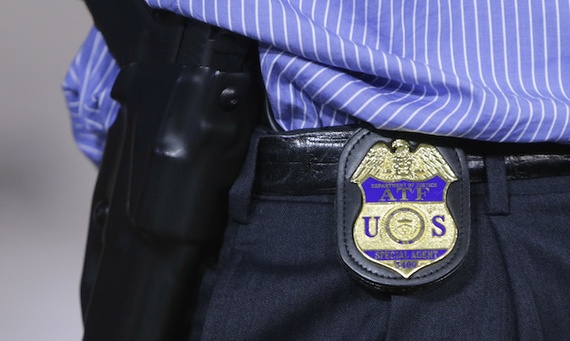 The most undercovered story in America this month: the Milwaukee Journal Sentinel's sprawling investigation into U.S. Bureau of Alcohol, Tobacco and Firearms. 
Lately infamous for the "Fast and Furious" gun-walking scandal, the ATF now has the dubious distinction of bankrolling even-more-questionable behavior, which my colleague Andrew Cohen details here. The newspaper leads its latest investigative article with a headline-friendly anecdote about Aaron Key, a mentally disabled 19-year-old who started hanging out with the guys who ran a smoke shop near his house, taking them for friends. As it turns out, they were undercover ATF agents. And they paid the troubled teen and a friend $150 apiece to tattoo the fake shop's emblem on their necks. 
But digging into the story, it's evident that undercover employees were engaged in far more objectionable behavior.
In cities around the United States, the ATF set up fake stores—often but not always pawn shops—set up surveillance cameras, conducted lots of illegal business over many months, and arrested various customers at the end of the sting. Normally federal law-enforcement agencies don't set up operations guaranteed to mostly snare low-level individual criminals operating at the local level. 
Questionable resource allocation aside, the really shocking parts of this scandal involve what happened at the neighborhood level as several of these stores were being operated. Just take a look at the newspaper's bullet-point summary:
■ ATF agents befriended mentally disabled people to drum up business and later arrested them in at least four cities in addition to Milwaukee. In Wichita, Kan., ATF agents referred to a man with a low IQ as "slow-headed" before deciding to secretly use him as a key cog in their sting. And agents in Albuquerque, N.M., gave a brain-damaged drug addict with little knowledge of weapons a "tutorial" on machine guns, hoping he could find them one.

■ Agents in several cities opened undercover gun- and drug-buying operations in safe zones near churches and schools, allowed juveniles to come in and play video games and teens to smoke marijuana, and provided alcohol to underage youths. In Portland, attorneys for three teens who were charged said a female agent dressed provocatively, flirted with the boys and encouraged them to bring drugs and weapons to the store to sell.

■ As they did in Milwaukee, agents in other cities offered sky-high prices for guns, leading suspects to buy firearms at stores and turn around and sell them to undercover agents for a quick profit. In other stings, agents ran fake pawnshops and readily bought stolen items, such as electronics and bikes—no questions asked—spurring burglaries and theft. In Atlanta, agents bought guns that had been stolen just hours earlier, several ripped off from police cars.

■ Agents damaged buildings they rented for their operations, tearing out walls and rewiring electricity—then stuck landlords with the repair bills. A property owner in Portland said agents removed a parking lot spotlight,damaging her new $30,000 roof and causing leaks, before they shut down the operation and disappeared without a way for her to contact them.

■ Agents pressed suspects for specific firearms that could fetch tougher penalties in court. They allowed felons to walk out of the stores armed with guns. In Wichita, agents suggested a felon take a shotgun, saw it off and bring it back—and provided instructions on how to do it. The sawed-off gun allowed them to charge the man with a more serious crime.
Most people in a high-crime neighborhoods would be eager to have law enforcement focus on arresting bad guys. But imagine you lived in a neighborhood that ATF was thinking of entering. Would you want them there, regardless of the crime problem, if you knew their methods would include selling guns to felons who wouldn't be pursued for months, exploiting mentally disabled locals, and providing a place where underaged teens could drink alcohol and smoke marijuana?