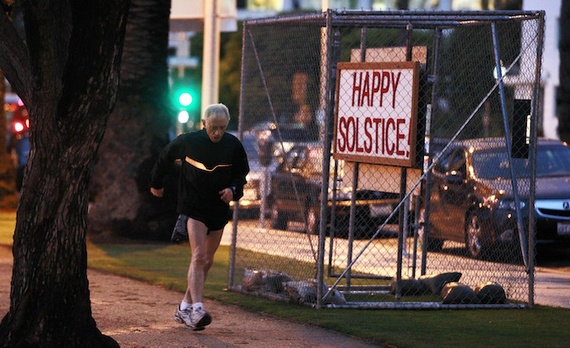 SANTA MONICA, Calif. – As dusk fell on Palisades Park, a greenbelt atop an oceanfront bluff in this prosperous seaside city, no uniformed combatants were present. But this 26.4-acre idyll is as close as anyplace in America to the front lines in the War on Christmas.
The long-simmering conflict, which some trace as far back as the 1920s, has gained new prominence in recent years, thanks in part to efforts by a militant pro-Christmas broadcaster, the Fox News Channel, to document anti-Christmas aggression. Its star personality, Bill O'Reilly, may be remembered for his coverage of the conflict much as Bernard Shaw's journalistic legacy is inseparable from his dispatches from the Persian Gulf War. And this year, Fox's sophisticated web operation is soliciting field reports from allied civilians. 
Decades ago, Christmas fighters would have counted Santa Monica as a key West Coast stronghold. Its erstwhile nickname, "The City of the Christmas Story," was conferred because starting in 1953, Christian residents decided to erect and display life-sized nativity scenes. They sought and were denied funding from nearby churches (which didn't want to cooperate with one another), only to find a willing patron in the local chamber of commerce, which thought the display would attract holiday shoppers. The tradition persisted for decades without controversy.
But with time, the independent municipality of 90,000 grew even more liberal and secular in its mores than neighboring Los Angeles. It is now home to what one pro-Christmas tract calls "one of the most powerful persons in America ... an angry atheist with a lawyer." And as Sarah Palin, a private contractor allied with Christmas, documents in her New York Times bestseller Good Tidings and Great Joy: Protecting the Heart of Christmas, factional tension here began to crescendo in 2009. That's when a local atheist erected a sign in Palisades Park labeling all religions "fables and mythology." Two years later, during the winter fighting season, an alliance of secularists decided to secure their own holiday display permits. The flanking maneuver proved an effective tactic, as Palin documented:
The religions they supposedly represented were not quite kosher. For example, they requested a display honoring the "Pastafarian religion," which would include the "great Flying Spaghetti Monster." The city granted their permits. Out of twenty-one displays, eighteen were atheistic. Two Christmas displays had traditional Nativity scenes, the Jewish display showcased a menorah, and the atheist displays were designed to provoke and offend. One sign read:

SEASON OF THE WINTER SOLSTICE LET REASON PREVAIL. THERE ARE NO GODS, NO DEVILS, NO ANGLES NO HEAVEN OR HELL. THERE IS ONLY ONE NATURAL WORLD. RELIGION IS BUT A MYTH AND SUPERSTITION THAT HARDENS HEARTS AND ENSLAVES MINDS

Another display had four images: Poseidon, Jesus, Santa Claus and Satan, along with the text:

THIRTY-SEVEN MILLION AMERICANS KNOW MYTHS WHEN THEY SEE THEM. WHAT MYTHS DO YOU SEE?

The signs caused an uproar, and many were vandalized. After tiring of refereeing the religious war, the city ended its nearly sixty-year-long Christmas story Nativity tradition.
With this alleged war crime by Christmas partisans in the recent past and a major War on Christmas battlefield so close to my home, I resolved to embark on fact-finding missions in liberal, secular strongholds including Southern California, New York City, and Washington, D.C. I've since surveyed American life in the places most likely to be antagonistic to the holiday, trying to judge whether rebel forces will vanquish it.
The question is not without its impact on my family: My father and grandfather have strung Christmas lights along the eaves of their respective houses, marking them as targets for any passing hostiles. House-to-house searches would turn up decorative Christmas trees, St. Nick paraphernalia, and carved nativity figurines. Would anti-Christmas forces sweep down the 405 Freeway across the unfortified border with Orange County, training their fire on holiday celebrations religious and secular in the very place where I formed my happiest Christmas memories? Before reaching any conclusions, I decided to reflect at some distance from home.  
In New York City, a Towering Symbol of Christmas Might
The plane landed before dawn on a late November morning, the temperature hovering around freezing. A hired driver assured me that he could navigate an airport road pocked with giant potholes, ferry me safely into Manhattan, and take me past Rockefeller Center before dropping me at my hotel. The towering symbol wasn't yet on display. But subsequent news reports confirmed its arrival, and Christmas pilgrims from all over the country began to visit: In the heart of New York, workmen uncontroversially erected a 76-foot Christmas tree, decorating it with 45,000 lights and framing the sight line from Fifth Avenue with angels.
The tree-lighting ceremony, held in early December, included remarks by Michael Bloomberg, the city's Jewish mayor, who called the Christmas tree "one of New York City's most beloved and iconic landmarks." Entertainers at the tree-lighting ceremony included global celebrities Mariah Carey, Mary J. Blige, the Goo Goo Dolls, and Jewel. Millions watched the event, which aired on NBC, one of America's oldest and most watched broadcast networks. 
Of course, Christmas trees aren't the most religious of the many holiday symbols, so on my visit, I asked New Yorkers on the street if they could recommend any activities to a religiously inclined Christian visiting the city during December. One noted that the Oratorio Society of New York has been performing Messiah, George Frideric Handel's extended reflection on Jesus Christ, since 1874. "May they reign—along with the newer Trinity Wall Street 'Messiah'—for ever and ever," the New York Times wrote in its 2013 review. Most people recommended that I visit one of the numerous Christian churches in New York, many of which display nativity scenes. Thirteen different options were suggested to me in the course of an hour spent chatting up passersby.