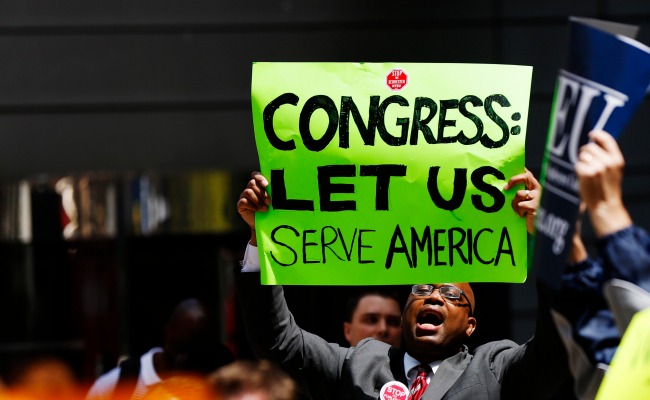 Official "Washington" is wrestling with how long the government will stay closed. But for "D.C." and the less-well manicured suburban neighborhoods far from K Street and TV stand-up locations, life will continue regardless, as government workers try to figure out just how "essential" they are.
When I was a college intern working for free at a network-news bureau, a young brunette flush from the GOP's 1994 wins told me over drinks on Capitol Hill, "You really have to pick one side or the other if you ever want to work in this town." I furrowed my brow and remembered that she was from Florida; it wasn't her fault that she didn't know that a lot of us actually came from D.C. and Maryland and Virginia. We had friends and family and godparents whose jobs depended not at all on people in power keeping their power. So long as the federal government's lights stayed on, so would ours. The jobs may not have been exciting, but they were stable. And they allowed homes in Lanham and Cheverly and Temple Hills and places in between to be bought and kids to be raised by those who had them.
There is Washington and there is D.C., and they are two separate places divided only by a handful of miles. I have lived in both and can detect few — and ever fewer — points of overlap. I grew up in Prince George's County, a long-distance call away from Washington's most affluent neighborhoods and often dismissed as "Ward 9." P.G. County is home to many of the people upon whom official Washington depends: the women and men who process government documents, print government records, and install government telephones. The group of single moms I grew up with all had some connection to the government. We knew the people who made cakes for the White House and transcribed proceedings at the Supreme Court. For them, whether government paychecks arrive on time is not a public-policy question but a personal solvency one.
There's plenty of talk about income inequality these days, but most of Washington's elite need look only down the street or around the bend of the Baltimore-Washington Parkway to find a world that looks very different. The horror of the Navy Yard shootings was only the latest event to put in stark relief the gap between those two. And it's not just income; it's class. People who live in "D.C." don't often speak of the Cosmos Club. They don't know many people who send their kids to National Cathedral School. And they don't yet shop at Whole Foods.
When I started reporting at ABC News in Washington, the people I grew up with became rich sources and resources, in part because so few knew the folks who hold their jobs regardless of who holds power. For the (often transplanted) inhabitants of official Washington, whom I now count as dear friends, that world remains both distant and exotic, though in truth it is neither. As Washington gets richer, the world I grew up in and the world of "official Washington" grow even farther apart.
Recent Census data on income inequality emphasizes once more that gap. According to numbers out last week, Washington's median household income topped $88,000, compare with a national median income that barely tops $50,000. Meanwhile, more than one in five D.C. residents soon will see their food budgets shrink as federal dollars that helped to fund a supplemental nutrition program dry up. In 2011 the poverty rate in the District reached 19 percent.