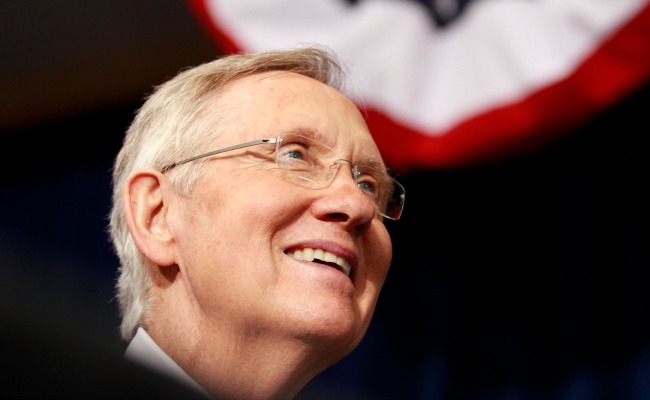 The deadline to keep open the federal government was only two weeks away, when the White House quietly floated plans for a summit between President Obama and the four congressional leaders. The idea was to show Obama, his sleeves rolled up, engaged as Congress lurched toward a shutdown.
But when top administration officials reached out to Capitol Hill, Senate Majority Leader Harry Reid's office had a message for them: Don't do it. Reid's team argued such a meeting would suggest the Democrats were willing to negotiate when they weren't.
The White House listened. The summit was nixed. And no serious talks have occurred since.
The episode marked a sharp contrast from the last budget showdown, in December 2012, when Vice President Joe Biden went behind Reid's back to cut a deal with Senate Minority Leader Mitch McConnell. Reid was so incensed by the administration's concessions during those talks that he crumpled up one White House offer and tossed it into his office's roaring fireplace in disgust.
These days, Reid is more likely to be writing the Democratic playbook than burning it. As the government shutdown stretches into its second week, the White House has embraced Reid's hard-line, no-negotiations stance--at least so far.
"They won't talk," Sen. Ted Cruz complained Sunday on CNN. "They have not moved one inch."
Cruz and allied conservatives in the House may have brought about the shutdown by insisting on dismantling or defunding Obama's signature health care law, but Reid is firm about making them pay for it.
Reid has called Republicans "anarchists" and "reckless"; he's said they've "lost their minds" and need to "get a life"; and his office has leaked private emails with House Speaker John Boehner's chief of staff. With polling showing Republicans likely to receive the bulk of public blame for the shutdown, he's refused any concessions conditioned on reopening the government.
"The thing about Harry Reid is he looks like the benign old man who runs the general store. But he is a pile driver," said David Axelrod, a former top White House strategist for Obama. "When he commits to doing something, he does it .... You come to appreciate someone like that and having someone like that on your side."
Thought He Could Do Better
In the last three big fiscal fights, Reid acquiesced to the White House's lead—last December, in the summer debt-limit bout of 2011, and in the December 2010 showdown that resulted in the Bush tax cuts being extended for two years. Reid still chafed in private at the outcomes of those past budget battles, according to those who know him.
Rohit Kumar, McConnell's former deputy chief of staff and his top negotiator for those past deals, said, "Every time the White House has gotten into a negotiation with Senator McConnell, from Reid's perspective, he thinks McConnell got the better deal."
A senior Senate Democratic aide, who spoke anonymously to offer a candid assessment, agreed: "2010, 2012—we definitely felt burned."
Unlike the 2011 debt-limit showdown, when Obama feared further tripping up an already stumbling economy ahead of his own reelection, or the December 2012 talks that promised to set the tone for Obama's second term, it's Reid's job on the line this time. Reid's fragile majority is at stake in 2014, with seven Democratic-held seats in solid GOP states up for grabs.
Reid is setting the unyielding tone and the White House is letting him. "It sure looks to me like this is exactly the fight Senator Reid has been looking for for the last couple years," said Jim Manley, Reid's former communications director.