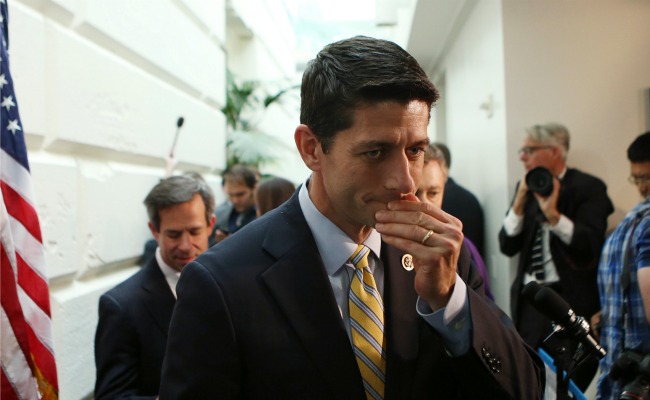 This week, Representative Paul Ryan may have made himself a leading Republican presidential contender in 2016. By proposing an end to the budget impasse that did not include one word—Obamacare—the Wisconsin Republican may have outmaneuvered Senators Rand Paul and Ted Cruz.
Multiple proposals are under consideration in Washington. If Ryan's plan becomes the basis for a bipartisan budget agreement, it will boost his standing and be a body blow to the Tea Party.
Ryan is clearly trying to position himself as a fiscal conservative who is serious about addressing the country's deficit problem—without destroying the U.S. economy in the process. He is trying to win the support of the moderate Republicans and mainstream business leaders increasingly exasperated by the Tea Party's flirtation with default.
Along with not insisting that Obamacare be part of any deal, Ryan dropped his controversial proposal to turn Medicare into a voucher program.
"Right now, we need to find common ground," Ryan wrote in a Wednesday Wall Street Journal op-ed article that outlined his proposed deal. "We need to open the federal government."
Ryan's proposal has its problems. It only addresses the debt ceiling and includes conditions that President Obama should reject. But it is an opportunity for negotiations and a potential path out of increasingly dangerous deadlock.
Obama should only sign a measure that reopens the government and raises the debt ceiling without conditions. But he should embrace a short-term deal that includes immediate fiscal talks with Republicans. Yes, kicking the can down the road for a month or two is not ideal—but it is far better than default.
Democrats are understandably wary of Ryan. He could be a far-right Trojan Horse. Faced with a default catastrophe, entitlement reforms that Republicans have been unable to enact for years look less painful. So do tax reforms that may benefit the wealthy. By positioning itself even farther to the right, skeptics argue, the Republican Party could get the fiscal reforms it wants.
But Democrats should realize that the current impasse is strengthening their hand. Four polls released this week show that the shutdown is doing far more damage to Republicans than Democrats. In short, the Tea Party is losing.
On Monday, an ABC News/Washington Post poll found that 70 percent of Americans disapprove of how Republicans are handling themselves in the budget impasse, a 7 percent increase since last week. In a bad sign for Cruz and Paul, 59 percent of Americans who identified themselves as conservatives said they disapproved of how the GOP has handled the issue as well.
Democrats are also suffering damage. Sixty percent of those polled said they disapproved of how Democrats were handling the dispute. And 51 percent said they disapproved of Obama's performance. A Pew Research Center poll also released on Monday showed similar findings. Thirty-eight percent of Americans blamed Republicans for the shutdown while 30 percent blamed Obama.