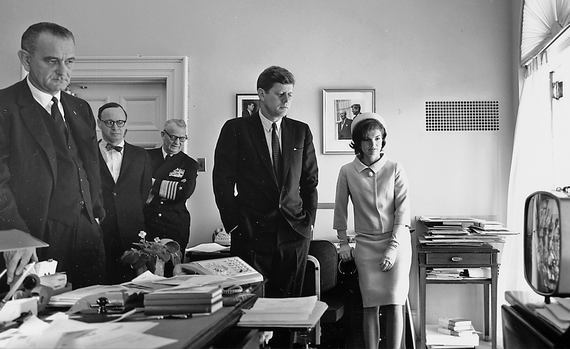 Over the course of a long career as an historian, public intellectual, speechwriter, and presidential adviser, Arthur Schlesinger had a front-row seat for the unfolding of postwar political history. He advised multiple presidents and presidential aspirants—from Harry Truman and Adlai Stevenson to Bill Clinton and Al Gore—and composed speeches for many of them. He taught students, lectured around the world, spent several years in the White House, and maintained an active social life into old age. And all the while he wrote prolifically: his award-winning works of history; his gargantuan books on JFK and RFK; polemics and philippics; his memoirs; speeches; diaries; and, somehow, lots and lots of letters.
This week, Random House is publishing a collection of those letters, edited by his sons Andrew Schlesinger and Stephen Schlesinger. Over the years, his correspondents included, among others: JFK, RFK, Lyndon Johnson, George H.W. Bush, Bill Clinton, Eleanor Roosevelt, Harry Truman, Adlai Stevenson, Hubert Humphrey, Al Gore, John Kenneth Galbraith, Katharine Graham, Reinhold Niebuhr, Walter Lippmann, Joe Alsop, Isaiah Berlin, George Kennan, Gore Vidal, William Styron, Groucho Marx, and Bianca Jagger. To read the letters is to see the last 60 years of postwar America through the eyes of one of its sharpest-eyed analysts; Schlesinger approached political and policy challenges as both a historian taking the long view and as a tactician playing for short-term advantage. Through his letters, you can trace his evolving relationships with both friends and antagonists. (He often made strenuous efforts to separate personal friendships from ideological enmities—not always with perfect success.)
The letters excerpted here include selected correspondence with Jacqueline Kennedy and Henry Kissinger over a long period of years—plus a few choice letters to Adlai Stevenson, Bill Clinton, Tina Brown, and John Boehner.
---
After spending an evening with John and Jacqueline Kennedy in Hyannis Port in July 1959, Arthur Schlesinger concluded that Jackie concealed, "underneath a veil of lovely inconsequence," tremendous awareness, an all-seeing eye and a ruthless judgment, as he wrote in A Thousand Days (1965). During the 1960 campaign, Jackie feared that she was a political liability and that people considered her a snob from Newport with bouffant hair, French clothes, and a hatred of politics. Schlesinger thought she was a remarkable young woman and sought to reassure her and encourage her in her challenging role as candidate's spouse. In fact, after her husband's election, Jackie's negatives turned quickly into positives.
In his campaign tract, Kennedy or Nixon: Does It Make Any Difference?, published in September 1960, Schlesinger concluded that "under Nixon the country would sink into mediocrity and cant and payola and boredom," while the election of Kennedy would represent "the splendor of our ideals." Jackie approved of the book, prompting a pleased response from the author.
September 22, 1960
Cambridge, Massachusetts
Dear Jackie:
I have just returned from a few days in California to find your marvelous letter about the book. I have not received any letter from any one for years which pleased me half so much. I am glad that you liked the book and think it might help, and I am glad that you bothered to write.
I went west the morning after the Liberal Party dinner. I think we are perhaps still slightly behind in California, but Jack's trip there was a great success, and things are moving visibly in a Democratic direction. Everywhere I went I found great enthusiasm for him. I would begin to feel reasonably optimistic except for the Eisenhower performance before the UN. For one thing, I think that Nixon's ugliness is going to boomerang before too long.
Marian told me what a good time she had with you on the flight to Boston. Don't worry about the press—your great strength is being yourself—you are irresistible anyway, and one decisive advantage that you and Jack have over Dick-and-Pat is that you two are not putting on an act. There will always be people trying to trip you up, but that is routine in politics (and in life).
Hope to see you soon—
Ever affectionately,
Arthur
* * *
Schlesinger was sipping cocktails before luncheon with Katharine Graham, John Kenneth Galbraith, and the editors of Newsweek at their Manhattan office when a man entered in his shirtsleeves and said, a little tentatively, "I think that you should know that the President has been shot in the back of the head in Texas." Schlesinger thought momentarily this was some sort of ghastly office joke. Then he knew it could not be. Soon, he was on a plane bound for Washington. It was the saddest journey of his life.
November 22, 1963
Washington, D.C.
Friday evening
Dearest Jackie:
Nothing I can say can mitigate the shame and horror of this day. Your husband was the most brilliant, able and inspiring member of my generation. He was the one man to whom this country could confide its destiny with confidence and hope. He animated everything—he led with passion and gaiety and wit. To have known him and worked with and for him is the most fulfilling experience I have ever had or could imagine.