From the Washington Post this morning: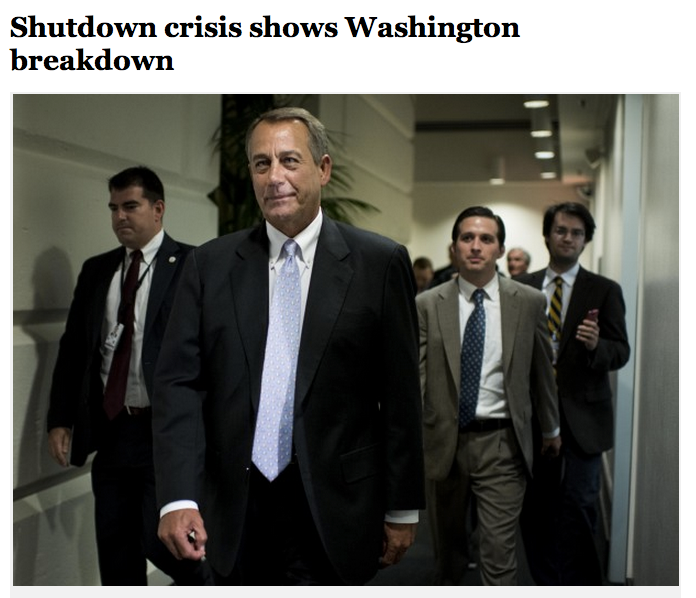 The unfortunate story that leads the WaPo today, with the photo and headline shown here, represents a step backwards from an increasing mainstream-journalistic willingness to discard reflexive "isn't gridlock terrible" hand-wringing and explain what is really going on.
For instance, in the past few days we have seen headlines like this one in the Wall Street Journal, emphasizing that the shutdown and debt-ceiling threats arise not from usual party divisions but from a war within the Republican party: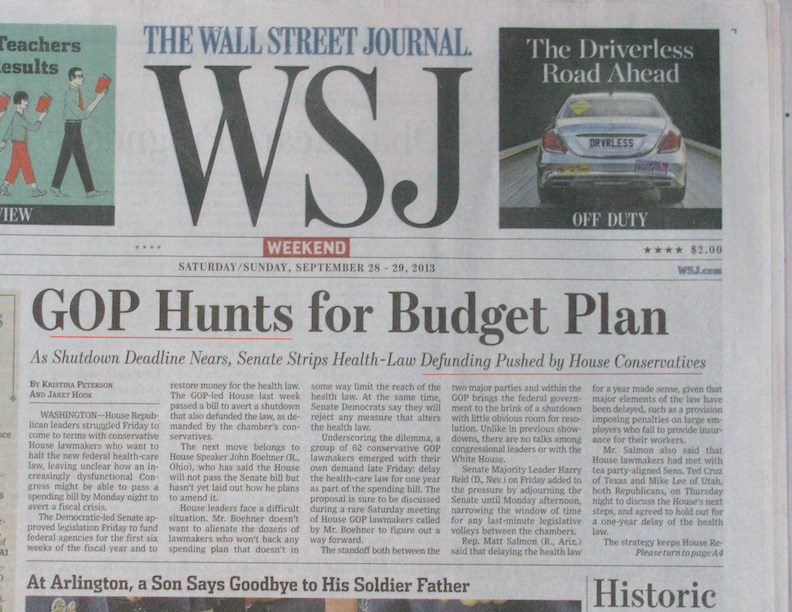 And this one as the front-page lead in the WaPo itself just two days ago: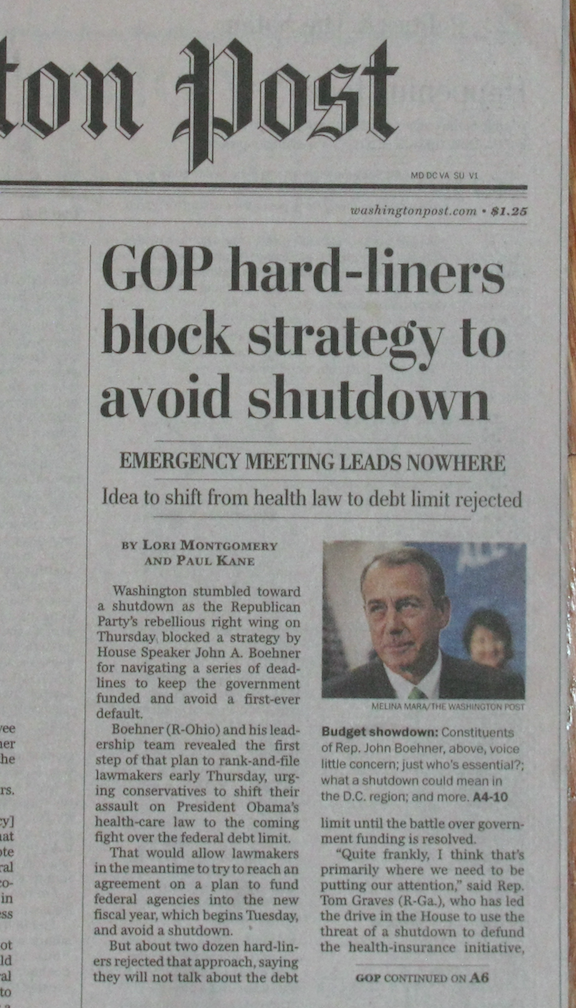 Today's WaPo story, by contrast, rolled out every "fair"-seeming sentiment you might have expected from a talk show in some bygone age: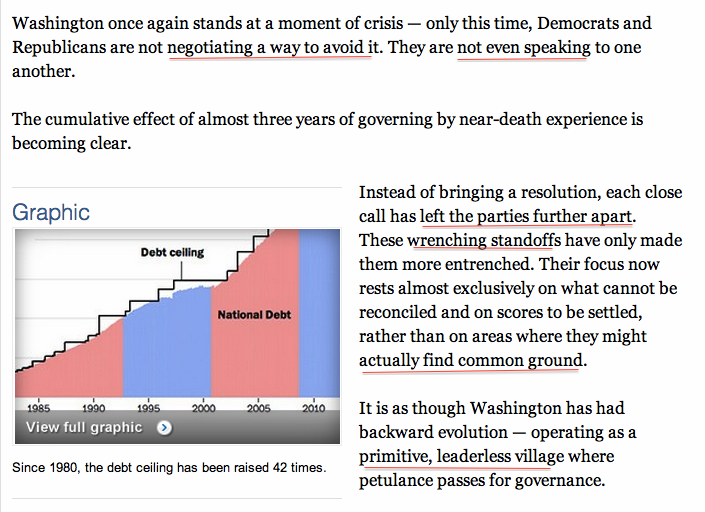 Here's why talk of "primitive, leaderless village" problems blurs rather than clarifies today's realities.
In essence, the hard-line faction of the House GOP is demanding the following, as recent NYT, WSJ, and WaPo articles, apart from today's, have made clear: 
EITHER the Administration must undo the main legislative accomplishment of the president's time in office, which he passed despite filibuster resistance four years ago and which the Supreme Court has since held constitutional; 
OR ELSE all other business of the government will be halted, and the full faith and credit of the United States will be called into question, with unknown but likely bad world-financial consequences.
This is not what either John Boehner or Mitch McConnell says he stands for. I have no doubt that Obama could ultimately strike some compromise with even McConnell's filibuster-happy Senate Republicans and any kind of normal Republican majority in the House. In the end Democrats would complain that Obama had caved, Republicans would complain about Beltway insiderism, but some deal would result.
Yet enough of today's absolutist House members think in exactly these Either/Or terms that normal compromise is simply impossible. Compromise itself is as much their stated enemy as is Obamacare. If you're urging a search for "common ground," please tell me where you see any in this case. I argued recently that the closest parallels in our history were to the John C. Calhoun era before the Civil War. If you think that's unfair, please tell me another case in which a dissatisfied minority threatened to shut down the entire government, and if necessary renege on the national debt, unless a sitting President agrees to reverse his hardest-won policy accomplishment.
And, yes, a dissatisfied minority. This brings us to the part of the struggle that gets far less ink than it should.
---
What's the basis for the GOP claim that the time has come to "defund Obamacare" and threaten default and shutdown to get their way? Their passion comes from their contention that the public has turned against this program. Thus, they are doing no more than reflecting popular will.
Hmmm, are there any other ways in which a democracy might assess the people's will? I can think of three -- which we're all aware of but which are worth revisiting: