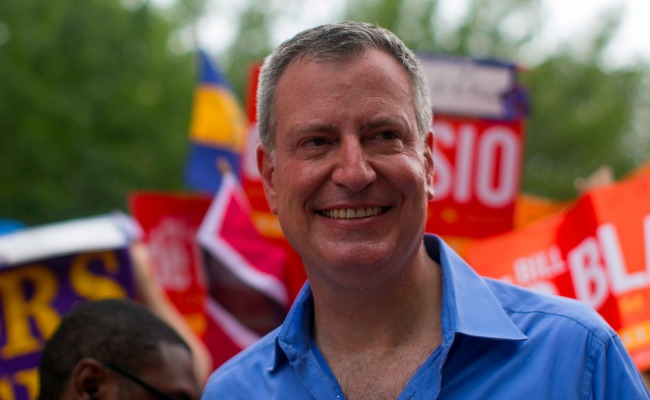 The surprise new leader in the New York mayoral race is Bill de Blasio, a yuppie Brooklyn dad who's running as a crusading liberal. The Democratic primary is on Tuesday, and suddenly de Blasio, who spent most of the race mired in third or fourth place in a crowded field of candidates, is way out in front. A Quinnipiac poll released this week put de Blasio, the city's public advocate, at 43 percent, trailed by former Comptroller Bill Thompson (20 percent) and the long-presumed favorite, City Council Speaker Christine Quinn (18 percent). Remember when Anthony Weiner rocketed into the contest, then flamed out spectacularly? He's down to 7 percent.
If the poll is right and de Blasio gets more than 40 percent of the vote Tuesday, he will become the Democratic nominee, heavily favored to win the general election in a city where 68 percent of voters are registered Democrats, just 11 percent are Republicans, and New Yorkers, while generally satisfied with the city's direction, are ready for a change after 12 years of Mayor Mike Bloomberg. But the primary electorate is difficult to poll with much precision, and even de Blasio's campaign expects he will get less than 40 percent, putting him into an October 1 runoff with the second-place finisher.
At six feet five inches, de Blasio literally towers over the rest of the field. "The speed and extent to which he's leapfrogged Thompson and Quinn and taken a commanding position in the race has surprised a lot of people," says Doug Muzzio, a professor of public affairs at Baruch College, who has known de Blasio since the two worked together on the 1989 mayoral campaign of David Dinkins, New York's first and only black mayor. (De Blasio brought his mother's eggplant parmesan and Italian bread to feed the campaign staff.) "His message of a city of inequalities began to resonate with a lot of people. But he also may owe his election, if he wins, to his son's iconic Afro."
Despite being a fixture of the New York's tumultuous politics for more than two decades, de Blasio remains largely unknown. Here are eight things you might not know about the man who stands a good chance of becoming the next mayor of America's largest city.
1. It's pronounced "de BLAH-see-oh." As in "aardvark," not "anteater" or "A-rod." (More on the Yankees in a minute.) And it's not his birth name: Originally Warren Wilhelm, he was always called "Bill" by his family, and he took his mother's maiden name after his father, whom he has described as an alcoholic haunted by his experience serving in World War II, left when he was young. "He had these demons that he couldn't beat," de Blasio recounted in a campaign video.
2. He has a diverse family. De Blasio's wife, Chirlane McCray, is black, and she and the couple's biracial children -- Chiara, a college freshman, and Dante, a high-school junior -- have featured heavily in the campaign. The campaign's first TV ad featured Dante -- who sports a majestic Afro -- praising his father's policy proposals. The Afro became a sensation in the campaign, and the New York Daily News even accused de Blasio of "cashing in on [his] son's hair." According to the campaign's research, de Blasio would be the first New York mayor in history with a child in the New York public schools. McCray, an activist, spoken-word poet and writer, was a lesbian who wrote about her sexuality in Essence magazine in a 1979 essay. But when she met de Blasio in 1991 -- he was an aide to then-Mayor Dinkins and she was working for the city's human-rights commission -- she fell in love, she told Essence earlier this year. "I thought, Whoa, what is this?," McCray said. "But I also didn't think, Oh, now I'm attracted to men. I was attracted to Bill. He felt like the perfect person for me." McCray and de Blasio say their families struggled to accept their relationship at first.
3. He's the Brooklyn candidate. Lives in a Park Slope brownstone. Drives a hybrid. Put his kids in a childcare co-op. Drinks organic milk, grows vegetables in his yard, recycles. All the signifiers of socially conscious, bourgie Brooklynism are abundantly embodied in de Blasio, whose easygoing affect just adds to the Brooklyn-dad vibe. In his campaign, de Blasio has branded himself the candidate of the outer boroughs, channeling residents' resentment of the Manhattan-centric prosperity of the Bloomberg years: "We've seen a pattern, under the Bloomberg administration, of favoring Manhattan over the outer boroughs," he said at a recent campaign stop. It's a line that cleverly positions de Blasio as the candidate of both the outer-borough working classes, including many white-ethnic and minority voters, and the educated white liberals who have increasingly taken over Brooklyn neighborhoods. On Saturday, de Blasio's campaign released its official get-out-the-vote Spotify playlist, featuring such hipster-beloved bands as Vampire Weekend, Florence + the Machine, and LCD Soundsystem.
4. He's an operative. De Blasio got his first taste of politics working on the Dinkins' 1989 campaign. After working in the Dinkins administration, de Blasio ran New York for Bill Clinton's reelection campaign, then took a post in the federal Housing and Urban Development department under Andrew Cuomo, who's now the governor of New York. In 2000, de Blasio served as Hillary Clinton's campaign manager when she ran for the U.S. Senate. With Clinton dogged by accusations of carpetbagging, de Blasio appears to have been picked as much for his New York bona fides as his political chops. While Clinton won by 12 points, de Blasio was quietly, unofficially pushed out of the campaign-manager role near the end amid concerns that his laid-back, consensus-driven management style was insufficiently decisive. Neither Cuomo nor Clinton has endorsed a mayoral candidate, but de Blasio is said to remain on friendly terms with both. He's since switched from strategist to political actor, joining the City Council in 2001 and winning the public-advocate position against a better-known opponent in 2009. His political savvy is apparent in the way he's come from behind to dominate the mayoral contest; even opponents say he's run a smart campaign.