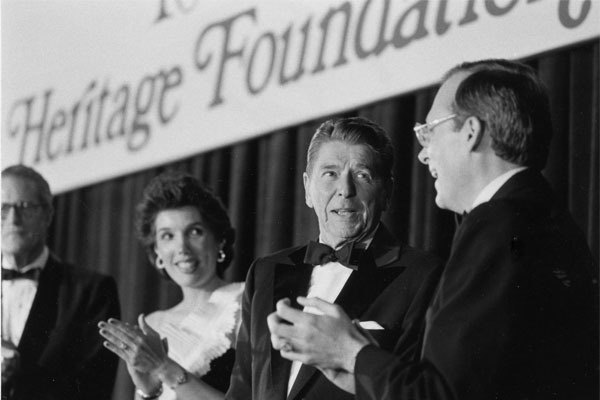 During the 1980 election, an up-and-coming Washington think tank called the Heritage Foundation undertook a massive task: to examine the federal government from top to bottom and produce a detailed, practical conservative policy vision.
The result, called Mandate for Leadership, epitomized the intellectual ambition of the then-rising conservative movement. Its 20 volumes, totaling more than 3,000 pages, included such proposals as income-tax cuts, inner-city "enterprise zones," a presidential line-item veto, and a new Air Force bomber.
Despite the publication's academic prose and mind-boggling level of detail, it caused a sensation. A condensed version -- still more than 1,000 pages -- became a paperback bestseller in Washington. The newly elected Ronald Reagan passed out copies at his first Cabinet meeting, and it quickly became his administration's blueprint. By the end of Reagan's first year in office, 60 percent of the Mandate's 2,000 ideas were being implemented, and the Republican Party's status as a hotbed of intellectual energy was ratified. It was a Democrat, Daniel Patrick Moynihan, who would declare in 1981, "Of a sudden, the GOP has become a party of ideas."
The story of the conservative movement that has come to dominate the Republican Party over the last four decades is inextricably intertwined with the story of the Heritage Foundation. In that time, it became more than just another think tank. It came to occupy a place of special privilege—a quasi-official arm of GOP administrations and Congresses; a sponsor of scholarship and supplier of legislation; a policy base for the party when out of power. Heritage has shaped American public policy in major ways, from Reagan's missile-defense initiative to Clinton's welfare reform: Both originated as Heritage proposals. So, too, did the idea of a universal health-care system based on a mandate that individuals buy insurance. Though Heritage subsequently abandoned it, the individual mandate famously became the basis of health-care reforms proposed by Massachusetts Governor Mitt Romney and President Barack Obama.
These days, Heritage has a different crusade. The foundation's president, the confrontational former Senator Jim DeMint, spent the last month touring the country, drawing cheering crowds as he demanded that Republican politicians insist that Obamacare be defunded—and denouncing those who wouldn't go along. "Republicans are afraid," DeMint told NPR. "And if they are, they need to be replaced." The foundation's three-year-old activism arm, Heritage Action, spent half a million dollars on online ads targeting 100 Republican House members who didn't sign on to the defund crusade ("Tell Representative Tom Cole to Stop Funding Obamacare").
The push from Heritage helped the defund scheme gather momentum, forcing Republican leaders to pull their proposed funding bill and replace it with one the Senate has committed to block. The resulting confrontation may force a government shutdown. Republicans who once worked out legislative language with the help of Heritage's distinguished Ph.D.s felt whiplash seeing the group cheerlead for collapse. Heritage was supposed to be above politics, they grumbled. Heritage was supposed to be about serious ideas, not tactical fights. White papers, not political campaigns—and certainly not campaigns against Republicans.
Mickey Edwards, one of three founding trustees of the Heritage Foundation when it began in 1973, was one of those disturbed by Heritage's turn, which, he told me, "makes it look like just another hack Tea Party kind of group."
A former eight-term Republican congressman from Oklahoma, Edwards now serves as vice president of the Aspen Institute. "They're destroying the reputation and credibility of the Heritage Foundation," he added. "I think the respect for their [policy] work has been greatly diminished as a result."
The defund push is only the latest in a series of recent political battles Heritage has undertaken—crusades against Republican politicians that have led to a rash of complaints. Representative Renee Ellmers
called them
"bullies." Representative Lynn Westmoreland
said the think tank
had "lost credibility with the people that were most supportive of them." Senator Tom Coburn
accused
Heritage Action of "destroying the Republican Party."
Behind the scenes, GOP staffers complained that the organization they once looked to for intellectual ammunition had become a thorn in their side. Brian Walsh's first Washington internship was with Heritage in 1996. He rose in Republican politics to serve as communications director of the National Republican Senatorial Committee. In a scathing op-ed for U.S. News headlined "Conservatives Eat Their Own for Profit," Walsh accused Heritage of taking extreme stands to generate fundraising dollars. "In our great democracy, you affect public policy by offering a vision, influencing a majority of public opinion and winning elections, not by burning down the House, attacking your allies, and falling on your sword," he wrote.
Heritage officials dismiss these gripes as the eternal price of disruptive thinking. "Exposing folks, it certainly makes them angry," DeMint observed to Politico. "Heritage and Heritage Action has gotten in the way of business as usual. And it's made people mad."
But there is more at stake in Heritage's transformation from august policy shop to political hit squad than the reputation of a D.C. think tank or even the careers of a few squishy GOP politicians. It is the intellectual project of the conservative movement itself. Without Heritage, the GOP's intellectual backbone is severely weakened, and the party's chance to retake its place as a substantive voice in American policy is in jeopardy.