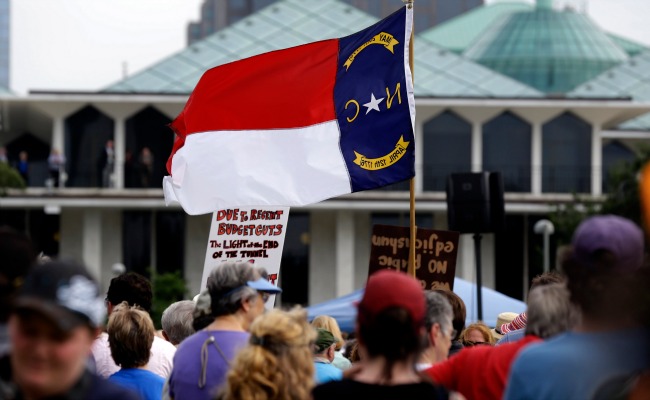 RALEIGH, N.C. — She was the self-described "new sheriff in town," and Bev Perdue promised, a thousand years ago in 2008, to change the way North Carolina did business. As a woman and a Democrat, she embodied the quantum electoral shift that was occurring across the nation, one powered by the nascent Obama coalition. The nation's first African-American president had just edged out a stunning win in this Southern state, and Gov.-elect Perdue had ridden the surge, along with Sen.-elect Kay Hagan. With its diversifying electorate, its thriving cities, and both legislative chambers and the Governor's Mansion in Democratic hands, the state seemed on the verge of a new, more progressive — and, yes, if you want go there — bluer era.
Cut to: The new sheriff's being run out of town on a rail, along with the Democrats running the General Assembly. The state is once again subject to single-party hegemony, but it looks a lot different. Now the only progressives who can be claim to be doing anything meaningful in the state capital are the ones who jammed it in protest every Monday this summer as they watched conservative legislators dismantle as much of their legacy as fast as possible.
The Republicans, too, are out to reshape the way the state does business, but in a much more radical way. They have the keys to the entire kingdom: They own a supermajority in the Legislature and have a compliant ally in Gov. Pat McCrory, Perdue's Republican successor. As such, they essentially govern unchecked and unopposed, exerting their will on everything from taxes to abortion to voting rights to the social safety net to more arcane matters like denying the city of Raleigh the use of state land for a public park.
In this new climate, Barack Obama didn't win the state the second time around; he lost to Mitt Romney by 2 points. And Hagan's reelection next year is in deep jeopardy. "We're pushing legislation we've always dreamed about," says Claude Pope, the chairman of the state Republican Party. North Carolina didn't just step back from its once-imminent purple-to-blue transformation. It now glows scarlet-fever red.
Conservatives nationwide have watched the state with envy — and liberals with horror — as their bedrock ideological principles have alchemized from shopworn cable-news talking points to tangible policy. It's as if the House of Representatives were allowed to run the country, a prospect that must make Eric Cantor gaze at the moon like a dreamy child. The North Carolina Legislature has been cheered by The Wall Street Journal and derided by The New York Times. Pope was so incensed by a Times editorial titled "The Decline of North Carolina" that he fired back an open letter to the paper. ("When you're a Southern boy," he says, "you hear your whole life how stupid you are, how backwards you are.")
The driver of all of it, Republicans say, has been the state's economy, which has remained stubbornly resistant to the lurching national economic recovery. At 8.9 percent, North Carolina's unemployment rate ranks fourth in the nation, right up there with luckless states like Rhode Island and Nevada, neither of which has anything like North Carolina's crown-jewel universities, booming New South cities like Charlotte and Raleigh, or famous Research Triangle Park. This, the GOP thinks, is reason to slash personal and corporate taxes, cut the budget, and ease regulations — all in an effort to make the state more conducive to business, an economic-development strategy that may come at the expense of thriving urban areas like Raleigh. It's an "experiment that has real significance for the rest of the country," says Brent Lane, an economist at the University of North Carolina (Chapel Hill). "They've made an ideologically true bet on free enterprise," he continued. "They've really rolled the dice."
But conservatives being who they are, they didn't leave it at that. The moment, long-awaited, had to be seized by the throat. So they passed a restrictive abortion law that will force most of the clinics in the state to shut down and a measure that will require voters to produce IDs, which is almost certain to disproportionately affect minority voters. They loosened gun laws to allow concealed weapons in bars and restaurants; gutted unemployment benefits; slashed teacher pay; and rejected the Medicaid expansion available through Obama's health care initiative. That, combined with a constitutional ban on same-sex marriage passed by voters last year, has economic-development officials in major cities like Raleigh rattled.
They worry the state's political environment has turned so toxic that, despite all the incentives, businesses won't want to relocate there, that recent transplants to the state will leave, and that college graduates will follow them. At the same time, deep tax cuts could leave North Carolina unable to invest down the road in education, public safety, and infrastructure if (very optimistic) revenue projections don't pan out. "It's hard to get people to understand the impact of what they're doing is going to be," says Nancy McFarlane, the alarmed mayor of Raleigh.
Republicans like Pope dismiss complaints like hers as liberal carping, a hangover from Democrats losing power in a state they ruled — albeit in old-school, business-friendly moderation — for more than a century. "Imagine if you were in power for 140 years and you found yourself out of that power," Pope says. "They don't know how to be the minority."