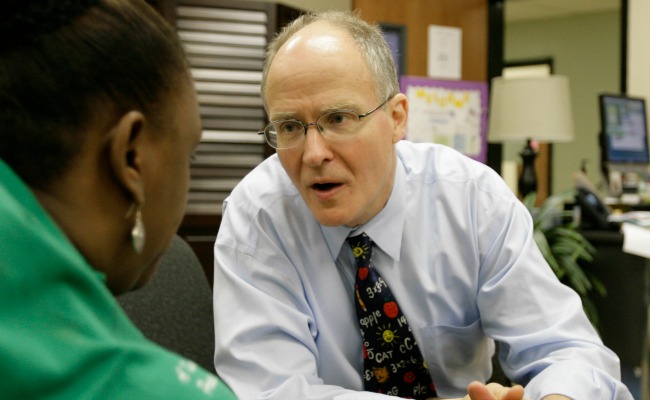 In the world of education reform, Paul Vallas is a superstar. As leader of school districts in Chicago and Philadelphia, he expanded charter schools and testing. In the wake of Hurricane Katrina, he replaced New Orleans' ravaged public schools with a radical experiment in decentralized, charter-based learning. President Obama's education secretary, Arne Duncan, has hailed him as an innovator.
And yet a tiny, little-noticed municipal election in Connecticut last week may have been his undoing -- and a major setback for the self-styled reform movement he champions, which increasingly faces tough political fights after years of ascendance nationally. The results in Bridgeport, Vallas's opponents claim, are proof that communities are mobilizing to defeat the reformers.
For the past two years, Vallas has served as the controversial superintendent of schools in Bridgeport, Connecticut, a depressed post-industrial shipping town that is the state's largest city. Last Tuesday, three Vallas-supporting school-board members were trounced in the city's Democratic primaries. Vallas's opponents -- liberals, labor unions, and angry public-school parents -- are calling it no less than a repudiation of his philosophy. And Vallas is likely to lose his job as a result.
"A coalition of teachers, parents, local activists, working families, and good-government groups -- folks with a stake in the education system in Bridgeport -- came together and defeated the Bridgeport political machine," said Lindsay Farrell, state director of the Connecticut Working Families Party, which backed the winning slate of insurgent candidates. "I think we have reason to be optimistic that the tide is turning against this corporate reform movement that Paul Vallas is the poster child for."
The Bridgeport primaries were the latest front in the ongoing political war over American education. It's a fight that has become intensely polarized, with reformers like Vallas and Michelle Rhee vilified by progressives and unions who see them as working to privatize public schools and undermine teacher unions.
Vallas's opponents say he has a record of closing schools, laying off teachers, privatizing school management, raiding pension funds, and funneling taxpayer dollars to for-profit education companies with dubious track records. Vallas says that in Bridgeport, he has not closed a single school, opened a single charter, or laid off a single teacher.
In an interview, he adamantly defended his record in Bridgeport, arguing that he's ruffled feathers by making much-needed waves. "Anytime you push reform, you're going to create controversy. Why? Because you're upsetting the status quo," he told me. "We closed a massive budget hole. We brought this district back from the brink without cutting a single teacher. If that's controversy, it's made-up controversy."
The Vallas allies who lost last week were Democrats endorsed by the state Democratic Party and town Democratic committee and backed by the mayor. In a nearly 10-to-1 Democratic city, the primary winners are all but guaranteed to win the November elections and team up with Working Families Party members to form an anti-Vallas majority on the nine-member school board.
For the town's Democratic machine, which has traditionally exerted tight control over municipal politics, it was a stunning and unprecedented defeat. "Definitely, I was surprised. Low turnout is usually good for the establishment," said Mario Testa, the local Democratic boss who has chaired the town committee for most of the last two decades, running absentee-ballot operations and hosting state and national Democratic politicians at his Italian restaurant and pizzeria. "As long as I've been involved, it's never happened."