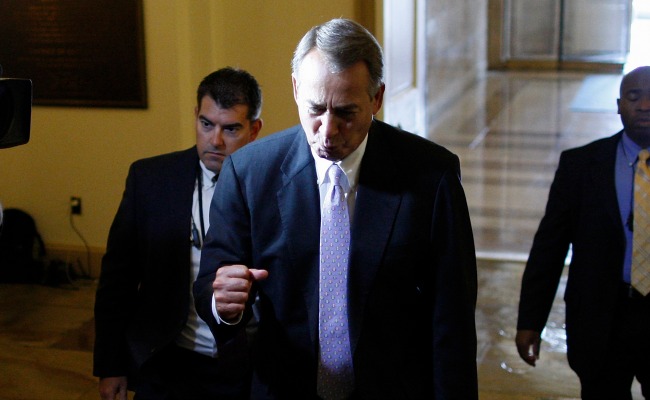 As Monday dawns, there's no sign that Congress is any closer to a deal that will avert a government shutdown at midnight. Despite a flurry of activity over the weekend, the landscape is essentially the same as it was at the end of the day Friday: Republicans want to seriously scale back the Affordable Care Act in exchange for funding the government, Democrats won't allow it, there are no real negotiations in progress, and that means a closure is all but inevitable. In fact, many members of Congress are resigned to that conclusion. Here's a guide to what happened the last two days and what to expect today.
Wasn't there some progress over the weekend?
There was plenty of movement, but no real progress. On Friday, the Senate passed a continuing resolution to fund the government. But first, they stripped out the House's stipulation that Obamacare be defunded. That sent the bill back to the House. Just after midnight on Sunday -- after a contentious debate, and apparently some drinking -- the House passed a resolution to fund the government but delay Obamacare for a year and repeal a tax on medical devices. Both votes were basically along party lines: 17 Democrats voted to repeal the tax; two Democrats voted for the delay, with two Republicans voting against.
Will the Senate just go along and pass the bill?
It's almost out of the question. Even before the House voted, Senate Majority Leader Harry Reid rejected their bill as "pointless." "We continue to be willing to debate these issues in a calm and rational atmosphere," the Nevada Democrat said. "But the American people will not be extorted by Tea Party anarchists." The chances of Democrats accepting the one-year delay are basically zero. Shutdown or no, the insurance exchanges central to the law are kicking in this week, meaning a delay would be a logistical nightmare. And Democrats see the delay as simply the setup for later repeal efforts -- not unreasonably: Republicans have (1) worried publicly that once the law is in place, it will be impossible to repeal, giving Democrats an incentive to resist any slowdown; and (2) described delay as prelude to elimination, as Mitt Romney did in an interview with CNN on Friday.
What about the medical-device tax, though?
Some Republicans hope Reid would accept a deal that eliminated the delay but accepted the repeal of the medical-device tax. That would avoid seriously undermining the health-care law, but allow Republicans to save face with the conservative base (at least theoretically). Yet Democrats have remained unified and shown little appetite for eliminating the tax, which would produce an estimated $29 billion in revenue over 10 years. Of course, even if the Senate did pass both measures, President Obama has vowed to veto them, so it's largely irrelevant.