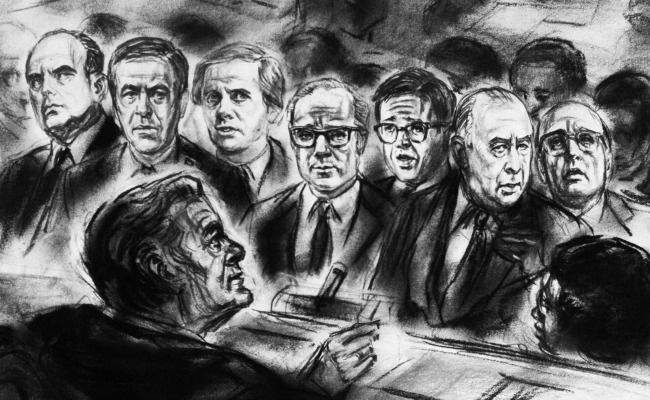 Foul deeds will rise, though all the earth o'erwhelm them, to men's eyes. -- William Shakespeare, Hamlet
Watergate remains the greatest political scandal in modern American history. It culminated not only in President Nixon's announcement of his resignation, 39 years ago Thursday, but in the conviction and imprisonment of his three most senior aides. Attorney General John Mitchell, White House Chief of Staff H.R. Haldeman, and Assistant to the President for Domestic Affairs John Ehrlichman were found guilty of conspiracy, obstruction of justice, and perjury in the three-month Watergate cover-up trial, which ended on January 1, 1975.
I saw it all unfold. I was a young lawyer working on the White House staff and assisting in Nixon's defense efforts. It is true that we failed spectacularly. Of course, I'm disappointed we weren't more successful. But whether the defendants were innocent or guilty, I've always worried on a more basic level that the heightened emotions of the times denied them the due process of law envisioned by our Constitution.
As a result of some recent discoveries I made while researching a book on the Watergate trials, my concern has been vindicated. It turns out that the notion that "no man is above the law" somehow didn't apply to judges or prosecutors involved in the cover-up trial. Documents I have uncovered indicate that the efforts to punish the wrongdoings of Watergate led to further wrongdoing by the very officials given the task of bringing the Watergate defendants to justice.
The new documents suggest that defendants in the Watergate cover-up trial, held before Judge John Sirica, received anything but a fair trial. Indeed, they suggest prosecutorial and judicial misconduct so serious –- secret meetings, secret documents, secret collusion -- that their disclosure at the time either would have prevented Sirica from presiding over the trial or would have resulted in the reversal of the convictions and the cases being remanded for new trials.
It matters not whether you believe that a retrial, under a different judge and perhaps held outside of the District of Columbia, might have resulted in one or more acquittals. That could well have been the result. The strong possibility remains that the Watergate defendants did not receive the fair trial guaranteed by our Constitution. For a nation that prides itself on the rule of law, even in cases of intense publicity and partisanship, this should be cause for concern.
*  *  *
Due process of law requires a trial judge who is both fair and impartial. Central to this tenet is the idea that judges cannot meet in private with just one side ("ex parte") and without keeping a record that can be reviewed on appeal. Indeed, the Code of Conduct for United States Judges contains a specific and explicit ban on ex parte meetings. Canon 3.A.4 provides in pertinent part, emphasis mine:
4. Except as set out below, a judge should not initiate, permit, or consider ex parte communications or consider other communications concerning a pending or impending matter that are made outside the presence of the parties or their lawyers. If a judge receives an unauthorized ex parte communication bearing on the substance of a matter, the judge should promptly notify the parties of the subject matter of the communication and allow the parties an opportunity to respond, if requested. A judge may:

b) When circumstances require it, permit ex parte communication for scheduling, administrative, or emergency purposes, but only if the ex parte communication does not address substantive matters and the judge reasonably believes that no party will gain a procedural, substantive, or tactical advantage as a result of the ex parte communication.
Yet this is precisely what happened in the Watergate cover-up trial held before Sirica. The documents I have uncovered raise two basic and vital questions: How much private contact could Sirica, in his role supervising the Watergate grand jury, legitimately have with prosecutors presenting evidence to that grand jury before the trial began, and still be seen as fair and impartial? And had the substantial contacts revealed in these documents been known, would Sirica still have been able to appoint himself to preside over the trial? The answers to these questions lay bare a series of improprieties that call into question the legitimacy of the Mitchell, Haldeman, and Ehrlichman verdicts.
On November 1, 1973, Leon Jaworski, a past president of the American Bar Association and founding partner of the prestigious Houston law firm of Fulbright & Jaworski, replaced Archibald Cox as head of the Watergate Special Prosecution Force (WSPF). Upon arrival, he found himself sandwiched between the team of eager, politically partisan prosecutors he inherited from his predecessor, and a hanging judge who had taken a personal interest in the case and was eager to assist in its prosecution. Only now can we begin to appreciate how Jaworski responded -- and perhaps admire his ingenuity.
Jaworski served as special prosecutor for just one year -- but what a year it was. He was at ground zero during the denouement of the Watergate scandal, which included bringing the cover-up indictments of Nixon's top aides. Those indictments named Nixon as an unindicted co-conspirator and were accompanied by a grand-jury report designed to be transmitted to the House of Representatives. The grand-jury report was intended to be the "road map" for the House Judiciary Committee's impeachment inquiry.
The special prosecutor's successful litigation to gain access to Nixon's White House tape recordings, coupled with the Judiciary Committee's adoption of three Articles of Impeachment, led Nixon to announce his resignation on August 8, 1974. A month later, President Ford fully and unconditionally pardoned the former president.
When Jaworski resigned as special prosecutor, at the end of October 1974, the only unfinished business was the trial of Nixon's senior aides in the Watergate cover-up case. He didn't hide the fact that he longed to leave the political intrigue of Washington to return to his beloved Texas.  His resignation was announced just days after the cover-up trial jury had been sequestered.
As the special prosecutor's files gradually became available for public review in the decades that followed, one of the troubling omissions was the noticeable absence of any documents from Jaworski's personal files. (Records become available only in response to a Freedom of Information Act request, and even then only after extensive substantive review by National Archives staff. Investigatory files not resulting in indictments become available only upon the death of the individual involved -- meaning that Watergate material is still slowly emerging, even after 40 years.)
This mystery was solved only last year, when Jaworski's Watergate files were discovered to be a part of his posthumous donation to his Texas alma mater, Baylor University. These documents and memoranda were duly retrieved and reviewed by the National Archives, and portions of them became available to researchers earlier this year. If not the first to review these files, I am the first to note the impact and significance of those selected for discussion below.
Jaworski's Predicament
Before reviewing some of the documents that have come to light, it is helpful to review the context in which they were written.
The WSPF had already been in existence for six months before Jaworski's arrival. Many Republicans were critical of this totally independent organization, because its assembled attorneys consisted almost exclusively of Democrats from elite Ivy League law schools and its leadership consisted almost entirely of Democrats who had worked together in Robert Kennedy's Department of Justice. Archibald Cox's pedigree as a Harvard Law School professor and his hand-picked prosecutorial staff of Kennedy alumni and partisans only served to intensify the lines of combat as the WSPF's investigations expanded well beyond the Watergate break-in itself.
Rumors were rife in Washington that Jaworski -- a graduate of Baylor and the George Washington University Law School, and a conservative Democrat who had twice voted for Nixon -- might not fit in with what had become known as Cox's Army, and might interfere with their intended prosecutions of senior Nixon Administration officials. Within the WSPF, the Texan was seen as an untrusted and unproven leader, and it appears that he was sometimes kept in the dark about the full extent of ongoing investigations.
Jaworski's ongoing concerns regarding his staff's partisan attitudes are captured in his draft reply to a memo from his deputy, Henry Ruth, dated January 21, 1974. In it, he complains not only about their lynch-mob attitude towards Nixon but also about his inability to obtain forthright and objective advice:
Now let me address myself to the general tenor of your memorandum which reflects an attitude I discussed with you before – the subjective conviction that the President must be reached at all cost.

What is of some concern to me are the discussions, plans and understandings had and reached between staff members prior to any discussions with me. This results in convictions already formed and frankly, under such circumstances, the meetings are of no help to me.
At the same time, Jaworski had to operate in a judicial environment presided over by Sirica, a feisty former boxer who had been appointed to the bench by President Eisenhower in 1957. While invariably described as a Republican, Sirica had chosen as his career mentor Edward Bennett Williams, counsel for the Washington Post and the Democratic National Committee, and the two men remained very close. Popularly known as "Maximum John" because of his harsh sentences, Sirica was the most frequently reversed judge in the U.S. District Court for the District of Columbia. His clashes with the liberal D.C. Circuit Court of Appeals were legendary -- and frequently turned on questions of giving defendants their rights of due process under the Constitution.
Sirica had appointed himself to preside over the original Watergate burglary trial when the burglary indictments were handed down on September 15, 1972, and had become something of a national hero for his relentless pursuit of the origins and responsibilities for the Watergate break-in. The Watergate burglars themselves -- Gordon Liddy, Howard Hunt, James McCord, and four Cuban Americans -- were convicted when that trial ended on January 23, 1973. Indeed, Sirica's prosecutorial trial conduct and harsh sentencing of these burglary defendants was credited with bringing about the collapse of the Watergate cover-up, which had sought to limit responsibility for the Watergate break-in to low-level officials in the president's reelection committee.
Proving that "the cover-up can be worse than the crime," there was a renewed interest into just who had been responsible for the failed cover-up. After 10 months of intensive investigation, WSPF prosecutors contended that those indicted on March 1, 1974, along with some 17 unindicted co-conspirators, had worked together to protect higher-ups in the Nixon White House and the president's reelection committee from being brought to justice in the first trial. Those higher-ups included Nixon's three top aides -- Mitchell, Haldeman, and Ehrlichman.
It was widely suspected that Sirica was eager to preside over the trial of the cover-up's criminal conspiracy and the obstruction of justice that had come to light as a result of his own actions.
Sirica had become chief judge of the D.C. District Court in 1971. Under federal rules, the longest-tenured judge in each district automatically served as chief judge until he turned 70, when he was required to step down. Thus Sirica would cease to be chief judge on March 19, 1974.
As long as he was chief judge, however, Sirica's duties included two specific responsibilities. First was general oversight of the grand juries operating under the auspices of the district court. These were ministerial and not substantive duties, and involved primarily housekeeping matters. Second was the authority to identify special cases and to assign specific judges to preside over them -- including himself -- rather than have the trial judge assigned by the usual and random system of rotation.
Our system of justice envisions proceedings before fair and impartial judges, who are expected to stay above the fray as they preside over the trials unfolding before them. Those defending Nixon felt Sirica had become anything but disinterested -- and was both biased in favor of WSPF prosecutors and had acquired a vested interest in securing the convictions of Nixon's senior aides. Such convictions would not only vindicate his conduct in the earlier Watergate break-in trial, which had been criticized by many observers for its aggressiveness, but would further cement his national reputation as a vigilant, valiant, truth-seeking judge.