The real importance of Ta-Nehisi Coates's Reparations article, which is still attracting deserved attention, is that it is not mainly about repayment in a literal, financial sense. Instead, as I understand it, it's about a larger historical reckoning or awareness. "Truth and reconciliation," you might call it. 
By analogy: Whether or not Germany had ever made monetary restitution to Israel or to other victims of the Nazi era, to know anything about modern Germany is to recognize that it has attempted to face its past. In contrast, to know anything about modern Japan or China is to recognize their difficulties in facing episodes from their 20th century past, mainly of the '30s and '40s in Japan's case, and the '50s through mid-'70s in China's. 
Reinvention and resilience across the nation
Read more
The importance of recognition is why I was so struck by the monument (shown above) in downtown Duluth, Minnesota, to the three victims of a famous lynching there 94 years ago this month, in June 1920. A traveling circus had visited town; a local white young woman was allegedly raped; six young black men were rounded up and taken to jail. Then a mob of many thousands of white people stormed the jail, seized the black men, "tried" them on the spot, and convicted three. Those three men—Elias Clayton, Elmer Jackson, and Isaac McGhie—were hanged that evening from a lamppost in the center of town, while the police did virtually nothing to interfere.
A history of the episode, The Lynchings in Duluth by local author Michael Fedo, includes a photo of the murdered black men, two still strung up and one's body lying on the street, as a rapt white crowd looks on. That photo was made into a popular postcard, and a cropped version of it, minus the bodies, is the cover of Fedo's book, as shown below with a related work. The full-frame photo of the lynching is too gruesome to include here—but again, in keeping with Ta-Nehisi's theme, it's important to note that there was a time when people bought it and sent it through the mail. This happened more often in the South than elsewhere, but it was an American rather than a Southern evil.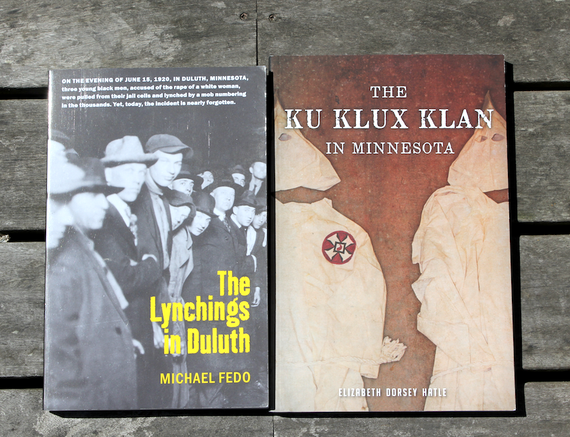 In another book of essays about his growing-up in Duluth, Zenith City, Michael Fedo (whom we happened to hear speak in Duluth earlier this month) describes the region's long, willed suppression of all mention or memory of the lynching, which naturally made me think of the forced-forgetting of Tiananmen Square in China. He had barely heard of it as a child but stumbled upon a reference to it in the 1970s, and wrote his history, which was originally called They Was Just Niggers, after a remark by someone in the lynch mob.
In 2000 a local group began a movement to commemorate the episode. Three years later, the dramatic public-art memorial shown in the photo at top was dedicated at the very site of the lynching. It has full-sized bronze renderings of the three men, unsparing descriptions of the violence, and a large quote from Edmund Burke: "An event has happened upon which it is difficult to speak and impossible to remain silent."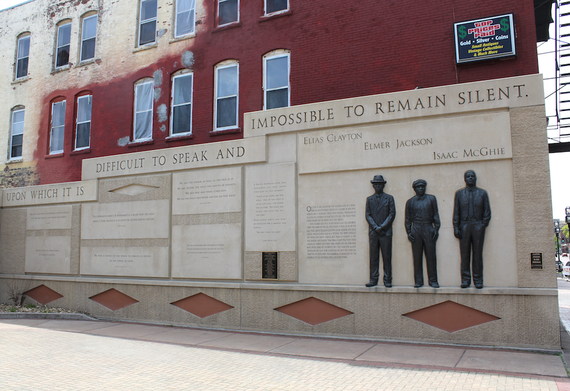 The monument is in a still-rough area of Duluth's unevenly improving downtown. Here is the scene directly across the street, looking from the memorial plaza toward the Paul Robeson ballroom and the site where the three men were hanged.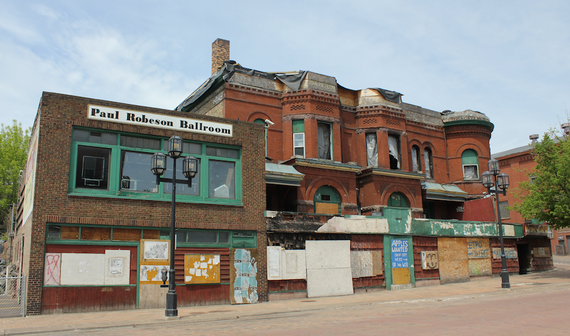 Still the monument is there, barely one minute's walk from the main-drag Superior Street. I can't confirm what I heard from several people in Duluth: that this is the only such monument of its type in America, or at least the most detailed and personalized about its victims. (For a somewhat skeptical perspective on the monument from a Duluther, see this on NPR a few years ago.) But it's different from, and more un-ignorable than, anything I've seen elsewhere, whether in the deep South or in some of the Midwestern states where the Klan flourished in the 1920s. It is in the spirit of the reparation of which Ta-Nehisi writes.
Duluth is a city I've long enjoyed and admired, and in upcoming dispatches my wife Deb and I will go into some of the business-and-technology reasons to pay attention to it now. (Plus, it just won the meaningless-but-interesting Outside magazine 2014 poll on overall best place to live, edging out Asheville, N.C. in the semifinals and Provo, Utah in the finals.) For the moment I'm concentrating on its role in "reparations," and the surprising step this far-Northern, always overwhelmingly white city decided to take.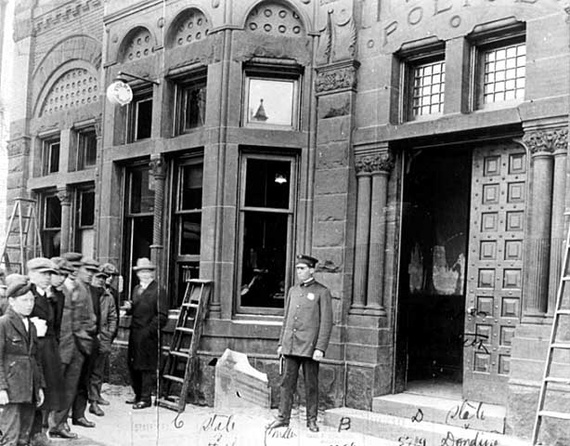 ***
With that prelude, let's dig back into the mailbox on the "Endless Civil War" theme, especially in the wake of the narrow but welcome defeat of neo-Confederate candidate Chris McDaniel in Mississippi. Say what you will about why Sen. Thad Cochran felt that he had to appeal to black voters, the plain fact of his doing so is a plus. Much of what we have reported from the "Golden Triangle" of Mississippi has also been on-balance positive about the state, for instance here, here, here, and here. Readers agreed and disagreed here and here and here.  
In our previous installment, I quoted a Jackson-area attorney, Zachary Bonner, on how tired everyone in Mississippi was of being treated as a specimen of America at its most benighted and, well, Faulknerian. He specifically complained about a CNN "Parts Unknown" feature on the state by Anthony Bourdain. Now some reader response to his views.