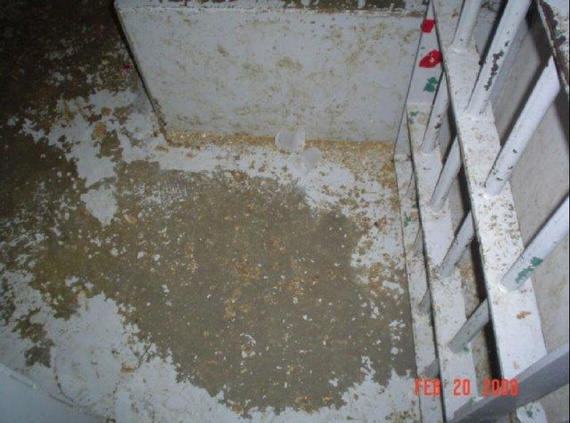 In two months, America will observe the 50th anniversary of one of its most dubious moments. On March 13, 1964, Catherine "Kitty" Genovese was brutally murdered in Queens, New York. What made her case infamous—legendary, even—was that nobody responded to her cries for help. "Please help me, please help me!" she cried, over and over, and at least 38 people in her neighborhood who heard those cries did nothing to help her. They did not call the police. They did not come to comfort her. They did not, they later said, want to get involved. "When good people do nothing" is a timeless moral question, indeed.
One could say the same thing about the citizens of the state of South Carolina, who stand condemned today by one of their own. On Wednesday, in one of the most wrenching opinions you will ever read, a state judge in Columbia ruled that South Carolina prison officials were culpable of pervasive, systemic, unremitting violations of the state's constitution by abusing and neglecting mentally ill inmates. The judge, Michael Baxley, a decorated former legislator, called it the "most troubling" case he ever had seen and I cannot disagree. Read the ruling. It's heartbreaking.
The evidence is now sadly familiar to anyone who follows these cases: South Carolina today mistreats these ill people without any evident traces of remorse.  Even though there are few disputed material issues of law or fact in the case, even though the judge implored the state to take responsibility for its conduct, South Carolina declared before the sun had set Wednesday that it would appeal the ruling—and thus likely doom the inmates to years more abuse and neglect. That's not just "deliberate indifference," the applicable legal standard in these prison abuse cases. That is immoral.
But what makes this ruling different from all the rest—and why it deserves to become a topic of national conversation—is the emphasis Judge Baxley placed upon the failure of the good people of South Carolina to remedy what they have known was terribly wrong since at least 2000. Where was the state's medical community while the reports piled up chronicling the mistreatment of these prisoners? Where was the state's legal community as government lawyers walked into court year after year with frivolous defenses for prison policies? Where were the religious leaders, the ones who preach peace and goodwill?
No one in power came forward. Even as the evidence became more clear and compelling that something horrible was happening inside those prisons. The most telling reaction to Judge Baxley's ruling came from State Senator Mike Fair, who chairs the Senate Corrections and Penology Committee. On Wednesday, after the ruling, he said: "I didn't know that we had a problem with any particular aspect of mistreating or not treating inmates who have a diagnosis of mental illness." But Senator Fair knew. His fellow lawmakers knew. Yet like Kitty Genovese's neighbors, they did nothing, even as the cries for help became louder.
The History
To understand Wednesday's ruling—to understand the extent to which South Carolina ignored what was in front of its very nose—it's important to look at the history of the problem. In the 1980s and early 1990s, South Carolina did a reasonably good job of caring for its mentally ill prisoners. That changed in the mid 1990s. Michael Moore, a renowned prison administrator, came from Texas and implemented a series of harsh reforms that vitiated mental health services for inmates. Jobs for prison psychiatrists were cut. Programs that had helped the mentally ill were shelved. And conditions, predictably, got worse in a hurry.
Moore left for Florida in 1999, but state lawmakers and prison officials in South Carolina never undid the damage he had caused even after they began to appreciate the scope of that damage. Sentencing reform even came to South Carolina, in 2010, courtesy of Governor Mark Sanford and his fellow Republicans in the state legislature, but no reform ever came to the state's mental health programs for inmates. No meaningful influx of money came to fix the problem. No reformers were commissioned to help. Judge Baxley, in his ruling this week, picks up the story from here. He writes:
The evidence is overwhelming that SCDC (South Carolina Department of Corrections) has known for over a decade that its system exposes seriously mentally ill inmates to a substantial risk of serious harm.

In 1999, SCDC retained Dr. Patterson (who became the Plaintiffs' expert in Judge Baxley's case), through a grant, to inspect its mental health program. His report, issued in 2000, characterized the program as being in a state of "profound crisis."

In October 2000, a Joint Legislative Proviso Committee report concluded that "inmates with mental illness are not receiving adequate treatment… and oftentimes leave prisons worse off than when they entered."

In April 2003, a South Carolina Task Force whose members included three former SCDC Directors issued a report that concluded Gilliam Psychiatric Facility was "clearly inadequate."

In May 2003, the South Carolina Department of Mental Health issued a report on SCDC's mental health program, noting "[t]he lack of psychiatric coverage has resulted in a critical situation, with extremes of poor care, inhumane treatment, and dangerousness…"

In September 2003, SCDC Director Jon Ozmint, in a application for technical assistance, stated that "[t]he current plight of persons with mental illness at SCDC is at a crisis level."

In June 2005, the Plaintiffs filed their Complaint in this case, alleging constitutional deficiencies in SCDC's program.

From June 2006-2010 Plaintiffs' experts issued eight site inspection reports criticizing conditions in SCDC facilities.

In October 2007, SCDC psychiatrist Dr. Michael Kirby wrote a letter to his supervisor noting several serious problems with SCDC's mental health system…

In January 2010, a United State Department of Justice report was highly critical of SCDC's medication management and administration practices.
And through all of this time, this 15-year stretch in the state's history, no session of the legislature passed a comprehensive measure to fix the obvious problems. No governor called a press conference to lament the conditions of confinement and demand reforms from the Department of Corrections. No one save a few lonely advocates held a prayer vigil for the ill people who were being treated so poorly. No one brought any ethics charges against the doctors who were supposed to be treating these people or against the state lawyers who were defending these indefensible policies and practices in the state's courts of law.