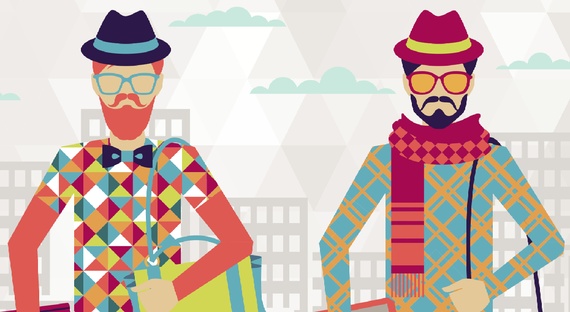 Let me declare what many already know: 2013 was a landmark year for men's facial hair. From flamboyant beards to the proliferation of "old-fashioned" shops, evidence of the trend abounds, embracing groups as diverse as the Boston Red Sox, the men of Movember, and the Robertsons of Duck Dynasty. In dens of hipsterdom, one can hardly throw a PBR without hitting a waxed moustache. And the online craft marketplace Etsy now sells a limitless variety of wares imprinted with images of mustaches, from wine glasses to electrical outlets.
This is not the first time in recent memory that American men have sprouted facial hair in great numbers. The 1960s bristled with sideburns and beards—pared down, in the 1970s, to the decade's iconic mustache. But one characteristic distinguishes this revival from previous ones: Today's facial-hair enthusiasts share an affection for the ornate practices of the 1800s—the exuberant beards and ostentatious moustaches, as well as the elegance and "manliness" of the shops where those styles were cultivated.
What follows is the lost story of American facial hair. Like countless other histories, it is rife with contradictions. It begins with white Americans at the time of the Revolution who derided barbering as the work of "inferiors." It continues with black entrepreneurs who turned it into a source of wealth and prestige. And it concludes with the advent of the beard—a fashion born out of desperation but transformed into a symbol of masculine authority and white supremacy.
*****
It may seem strange that barbering, which required practitioners to hold razors to their customers' throats, was dominated by men of color in Revolutionary America. But the reasons for this were simple. Before the American Revolution, free white workers were few and their was labor expensive—especially in the southern colonies. So slaveholders in need of grooming often turned to their enslaved workforces.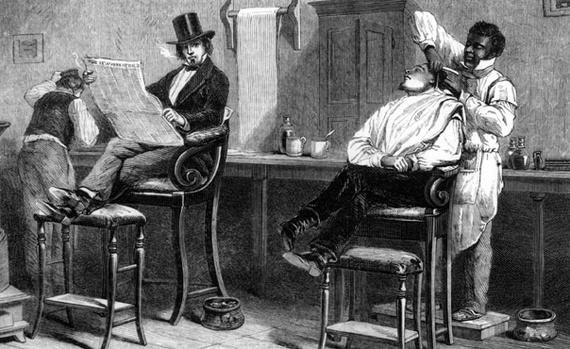 After the Revolution, a different set of factors compelled African-Americans to work as barbers. In a new country that prized personal independence, service work seemed abhorrent to many white citizens. At the same time, the Revolution caused many Americans to rethink the morality of slavery, which led to emancipation in the Northern states and waves of manumission in the South.
Thus, thousands of former slaves—many with experience as valets, manservants, and barbers—were foisted upon a market that offered them little in the way of employment, apart from dangerous jobs in manual labor and demanding positions in household service. One of the few jobs that presented even faint hopes for prosperity was barbering. Not surprisingly, it was open almost exclusively to men.
Barbering was hard work. High-end barbers labored long hours and mastered a range of skills from shaving, cutting, and styling to making and marketing hair and body products. Barbers also typically made and repaired wigs. Even after elites abandoned the powdered wigs of the colonial era around 1800, barbers continued to do a healthy business in toupees as well as false whiskers, although they now fitted these in discreet side rooms. They even groomed the dead.
But barbers' most difficult work was cultural in nature. Especially in the upscale venues for which African-American barbers were best known, customers demanded a high level of gentility from their surroundings. Thus, barbers were also expected to excel as interior decorators. The best of these shops were what historian Douglas Walter Bristol, Jr., author of Knights of the Razor, a painstaking history of African-American barbers, called "first-class." And they looked much as their modern imitators reimagine them.
Barbers cultivated personae to match these surroundings. Refined in dress and graceful in movement, the best offered practical instruction in the gentlemanly arts. They were also expert conversationalists, engaging and entertaining their customers while they worked. A Salem, Massachusetts, barber, according to the Salem Gazette, was "the essence of good-nature … [His] conversation consists of what Wordsworth calls 'personal talk.' He deals with men, not principles. Every flying bit of news, every anecdote, and in fact, every good thing said by the leading wits of the day, seems to come right through his shop window, and to stick to him, like burs to a boy's jacket."
Not every interaction was so amiable. If barbers' embodiment of gentlemanliness was too seamless, their knowledge of politics too extensive, or their jokes too pointed, customers might accuse them of overstepping racial boundaries—with potentially disastrous consequences. A Nashville, Tennessee, barber, for instance, found himself sharply rebuked by a customer when he had the temerity to ask about a piece of legislation his customers were discussing. Chances are, he didn't make the same mistake again.
But appearance and conversation were just the tip of the iceberg. One of the barbers' most vexing tasks involved maintaining order in their segregated workplaces. While the gentility of many shops helped restrain customers' worst behavior, lapses were frequent. In moments like these, white patrons might squabble over politics, grow belligerent when "full of drink and insolence," or even light each other's hair on fire.
Keeping the peace required the lightest of touches. The laws of white supremacy—both written and unwritten—effectively forbade men of color from giving orders to customers or physically restraining them. Besides, many barbers understood the cruel reality that customers' ability to flagrantly disrespect them was part of the space's appeal.
But perhaps barbers' most difficult challenge was the simple intimacy of the shop: the physical closeness of barber and patron. Here, men of color listened in on the schemes and foibles of the American elite, keeping their secrets in confidence.